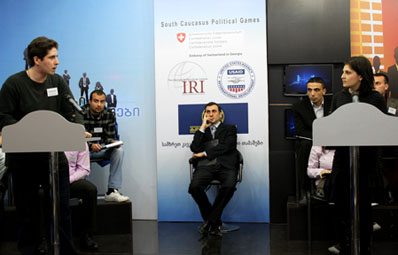 To engage Georgian youth in the political process and to help them better develop platforms and advocate for them, IRI has sponsored three seasons of televised debates between youth representatives of Georgia's main political parties. As a result of the success of the Georgian Political Youth Debates, participants requested that the program be expanded to include young political party representatives from Armenia and Azerbaijan.
The South Caucasus Political Games featured six multi-party teams from Armenia, Azerbaijan and Georgia. Through a bracketed system of contests, youth debated current topics such as foreign policy and regional economic integration. The teams were judged on a combination of audience votes and a panel of four expert judges.
The first two games were held between four multi-party Georgian teams on the topics of foreign policy and South Caucasus regional policy. One of the winning Georgian teams then faced the team from Azerbaijan on the subject of regional economic integration policy while the other Georgian team went up against the Armenians on the role of political parties and civil society in regional integration.
The teams from Armenia and Azerbaijan advanced and debated the European Neighborhood Policy for the South Caucasus in the final round. The debate was significant because Armenia and Azerbaijan have been in a state of war for more than 17 years. This was the first time in recent history that the citizens from the two countries have debated live on television.
The South Caucasus Political Games was sponsored by IRI and the Swiss Embassy in Georgia.
Top