Young people in the Middle East are partnering with IRI and making a positive difference in their communities.
Using a variety of outreach methods, youth in Jordan, Morocco and Tunisia are finding ways to ensure that their opinions and ideas are part of the solutions to the many challenges in this volatile region of the world.
The Youth Leadership Academies (YLA) in Jordan are an example of young civic activists making the effort to contribute to the democratic development of their country. The academies were developed specifically to fill the gap in training for youth who had participated in university-level civic education workshops. Inviting the best and brightest participants from training programs around the country, IRI designed the program to cultivate a new generation of leaders, those who are out of college, just entering the work force and who want to be more politically active.
Participation in the YLA takes two forms, an introductory level program for approximately 60 people, followed by an advanced program for a smaller group of 30 participants. The training modules include communication and leadership skills as well as important information on effective advocacy. This last topic is particularly important, as the program culminates with participants forming teams to conduct civic campaigns at the municipal level. Working together teams design a project, for example a municipal clean up day, which encourages their engagement with local officials and local citizens. For many participants, this is their first-ever interaction with their local government.
A particularly exciting outcome of the YLA project is its sustained impact even after the programming ended. YLA alumni applied the skills they learned through the YLA training programs to develop their own civic education program to better inform young voters about the new changes in the election law and the implications for Jordan's September 2016 elections. As IRI polling demonstrated, there was a lack of understanding what the new election law meant and how that would impact citizens on election day. The YLA alumni approached IRI to support their project, which was highly successful with hundreds of young people attending the voter education workshops to learn why it was important to take part in Jordan's elections.
Furthermore, the success of this approach in Jordan led IRI's Morocco team to implement similar programming. The Morocco program, which kicked off on September 26 and ran through a week-long "We Are the Morocco of Tomorrow" YLA conference, provided an opportunity for youth to see themselves as change-makers rather than consumers of change by learning to communicate stories that can provide solutions to the problems facing their peers, particularly marginalized youth in their communities. IRI trained young Moroccan activists to produce short films, podcasts, photojournalistic pieces and written blog stories documenting the problems and advocating possible youth-generated solutions, which they then submitted for judging during an IRI-sponsored competition. The competition is underway, with results being judged by a jury of Moroccan leaders in new media content production and high profile members of the local press as well as a people's choice component measured through Facebook likes.
In addition to current YLA activities in Morocco, during the lead-up to last year's local and communal elections in Morocco, IRI partnered with Hit Radio, the most popular top 40 radio station in the country, on a unique outreach approach. Traveling around the country, the Hit Radio caravan stopped in 26 cities asking young people what they think of democracy in Morocco, and reminding them to vote in the local elections. The response from youth was so positive, that IRI has replicated the approach in advance of the October 7, 2016 parliamentary elections. For these upcoming elections, IRI has targeted six cities with caravan stops followed by debates between youth and political party representatives.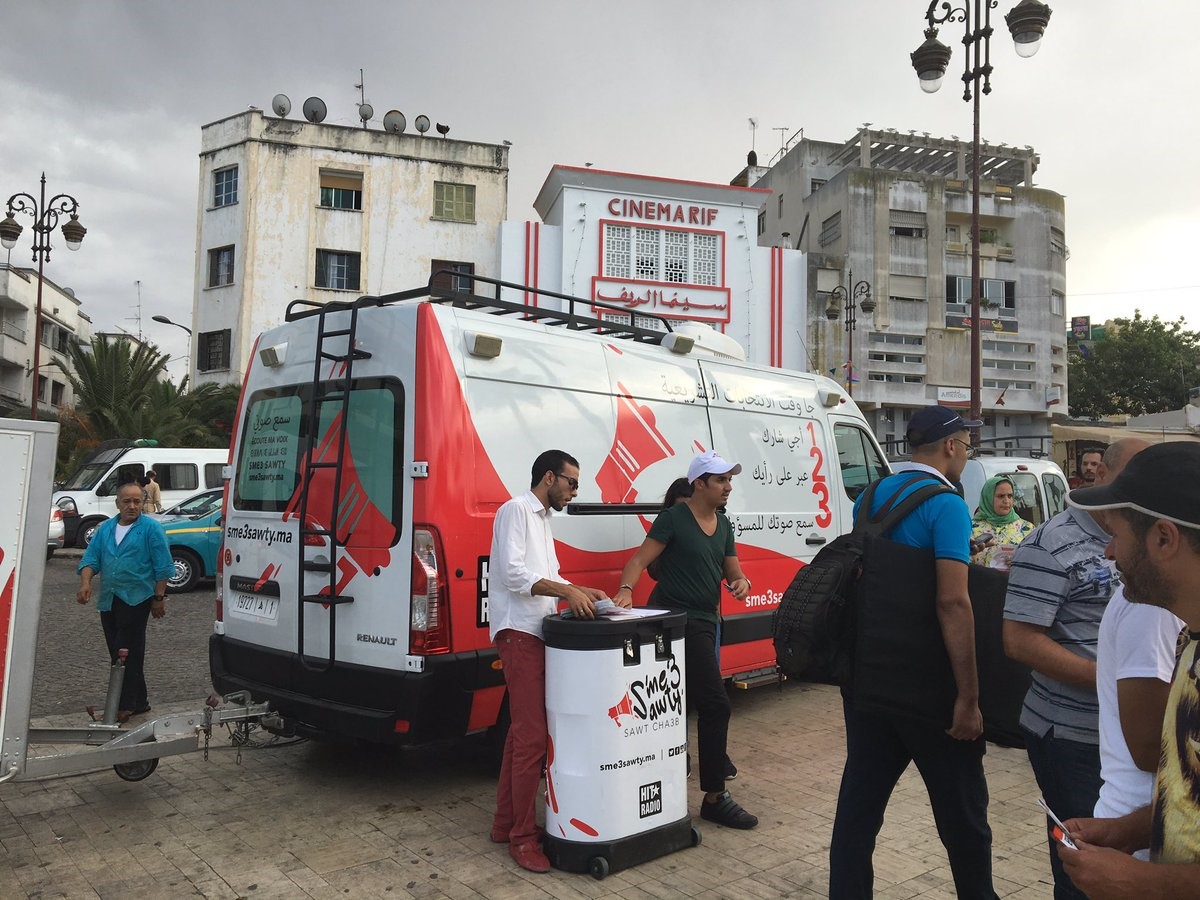 A key factor to the success of the project is Doc Samad, Hit Radio's celebrity DJ, who is lending his name to the radio caravan effort. The Hit Radio project is part of a comprehensive program approach IRI is using in Morocco that encourages greater youth participation in the upcoming vote. IRI's "Who does what for you?" civic education pamphlet is distributed at these events and helps young people better understand the mandates of different government offices in Morocco per the country's recently amended constitution. Other activities include a series of get out the vote workshops on how political parties can encourage young people to take part in the elections and workshops on how to develop issue-based campaign platforms that respond to citizen needs.
These initiatives ensure that young Moroccans, who are often cynical about participation in politics, are included in parties' get out the vote efforts and know that their opinions are counted.
In Tunis, youth are engaging according to the traditions of their culture through 'coffee talks.' Gathering in coffee houses that are hosting the talks at no cost, young people are meeting for a series of conversations to discuss what works and what doesn't work in Tunisia's young democracy. From small to large gatherings, young people are debating the issues important to them in a respectful, reflective manner. For example, one coffee talk has featured students discussing entrepreneurship while another has encouraged young people to share their experiences participating in the political life of the country. One of the coffee talks was held at the American Corner, which was an opportunity for the participants to hear from their peers on economic empowerment ideas. Wherever they are held, the coffee talks are met with great enthusiasm by young people who want to know their ideas are heard.
While the project in Morocco is using radio to engage youth, the coffee talk series in Tunis is informal, with young people themselves experimenting with what topics to discuss. The young Tunisians trust this approach and are using conversation and dialogue to formulate their own recommendations on how to increase youth engagement in politics in Tunisia. The high demand for the coffee talk series underscores the success of the project and the great interest the young people of Tunisia have for exploring what democracy means to them.
Throughout the Middle East, IRI's youth programming is showcasing the great enthusiasm of young people to take an active role in the political processes of their countries. What is particularly noteworthy is the fact that Moroccan, Tunisian and Jordanian youth are sharing the information they learn with their peers, in programs they design themselves. And they are not only sharing new ideas, these young people are applying new skills through community engagement projects at the municipal level. Working together, the young people of the Middle East offer a bright hope for the future of the region.
Top