Bangladesh Poll: Support for Government Rebounds, Concerns over Corruption, Economic Inequality Persist
Dhaka, Bangladesh – A new nationwide poll of Bangladesh by the International Republican Institute's (IRI) Center for Insights in Survey Research shows heightened support for the government in the wake of the controversial 2018 general election, despite concerns over economic inequality and corruption.
"Successes in economic development—particularly improvements in infrastructure — have translated into strong public support for the government," said Johanna Kao, IRI Regional Director for Asia. "However, if the government is to secure sustained support, it must take steps to respond to citizen concerns over corruption and economic issues."
Approval of the government's job performance rose 19 points since IRI's May 2018 survey to a high of 83 percent, and more Bangladeshis now have a positive view of security, political stability and the country's economic future.
However, 76 percent of respondents also believe that economic inequality is increasing, and 31 percent say that corruption has negatively impacted their lives. Further amplifying concerns over corruption, a plurality of respondents (19 percent) say that this is the single most important problem facing Bangladesh today.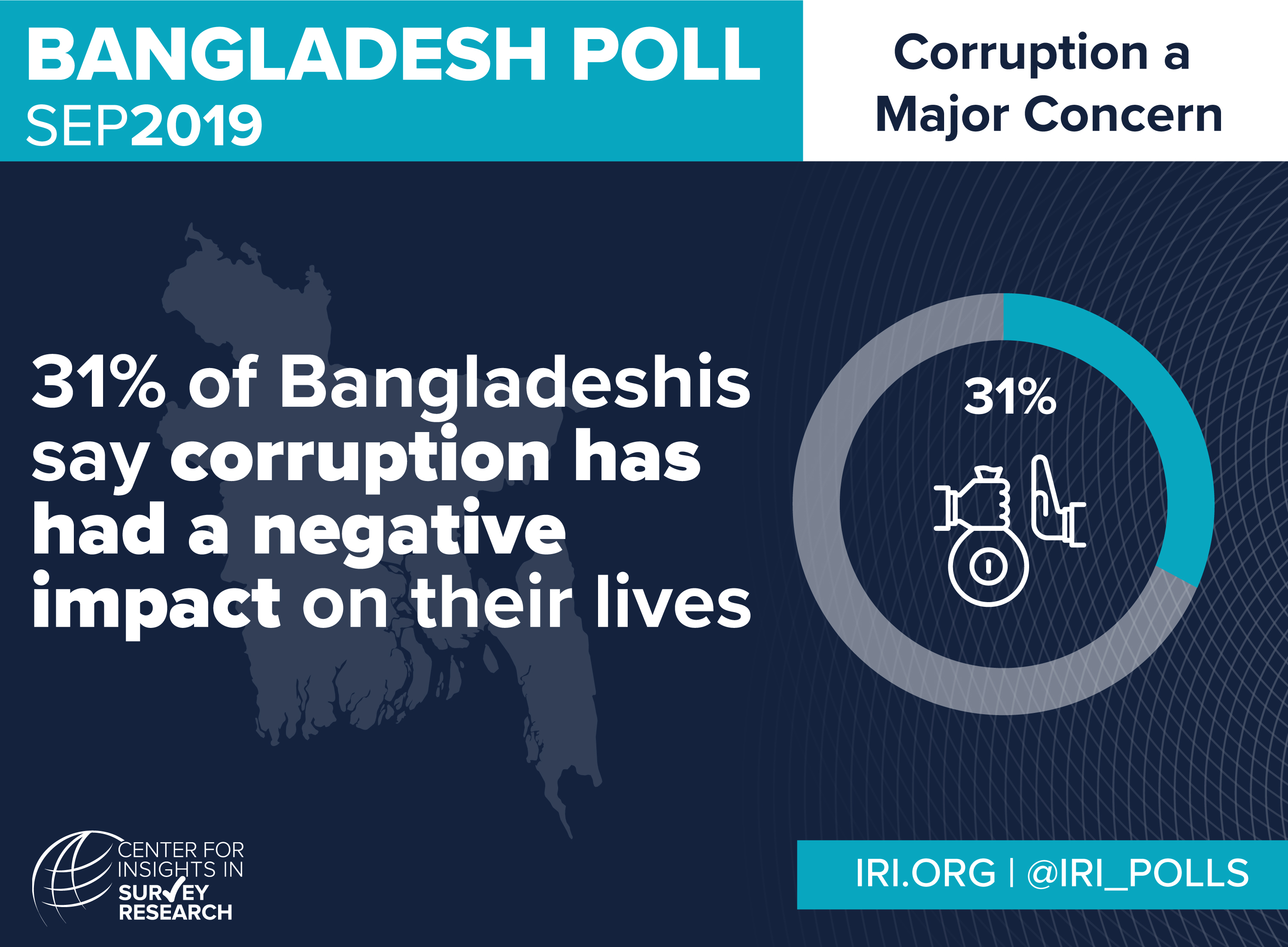 While the public has mostly demonstrated support for government performance, polling reflects anxiety over the government's management of topline issues such as corruption, inflation and jobs. The survey also reflects concerns over the government's response to the Rohingya refugee crisis, as just 37 percent approve of the government's performance on the issue.
The survey was conducted on behalf of IRI's Center for Insights in Survey Research under the supervision of Redstone Scientific between August 1 and September 16, 2019. Data was collected using a multi-stage stratified probability sample through in-person, in–home interviews. The sample consists of 4,993 respondents aged 18 and older and is representative of voting-age adults nationally. The sample was distributed into 500 primary sampling units (PSU) from all 64 districts of all eight divisions. The margin of error does not exceed plus or minus 1.4 percent for the full sample, and the response rate was 67 percent.
A nonprofit, nonpartisan organization, IRI advances freedom and democracy worldwide by developing political parties, civic institutions, open elections and democratic governance. Since 2003, IRI has supported Bangladesh's democratic development through programs that encourage citizen-centered government, promote women's political participation and strengthen the country's multi-party political system. IRI fields public opinion research to help Bangladesh's political parties and elected officials identify citizen priorities and respond to their constituents.
Top