Czech Republic: Poll Reveals Waning Support for Transatlantic Institutions and Vulnerabilities to Russian Influence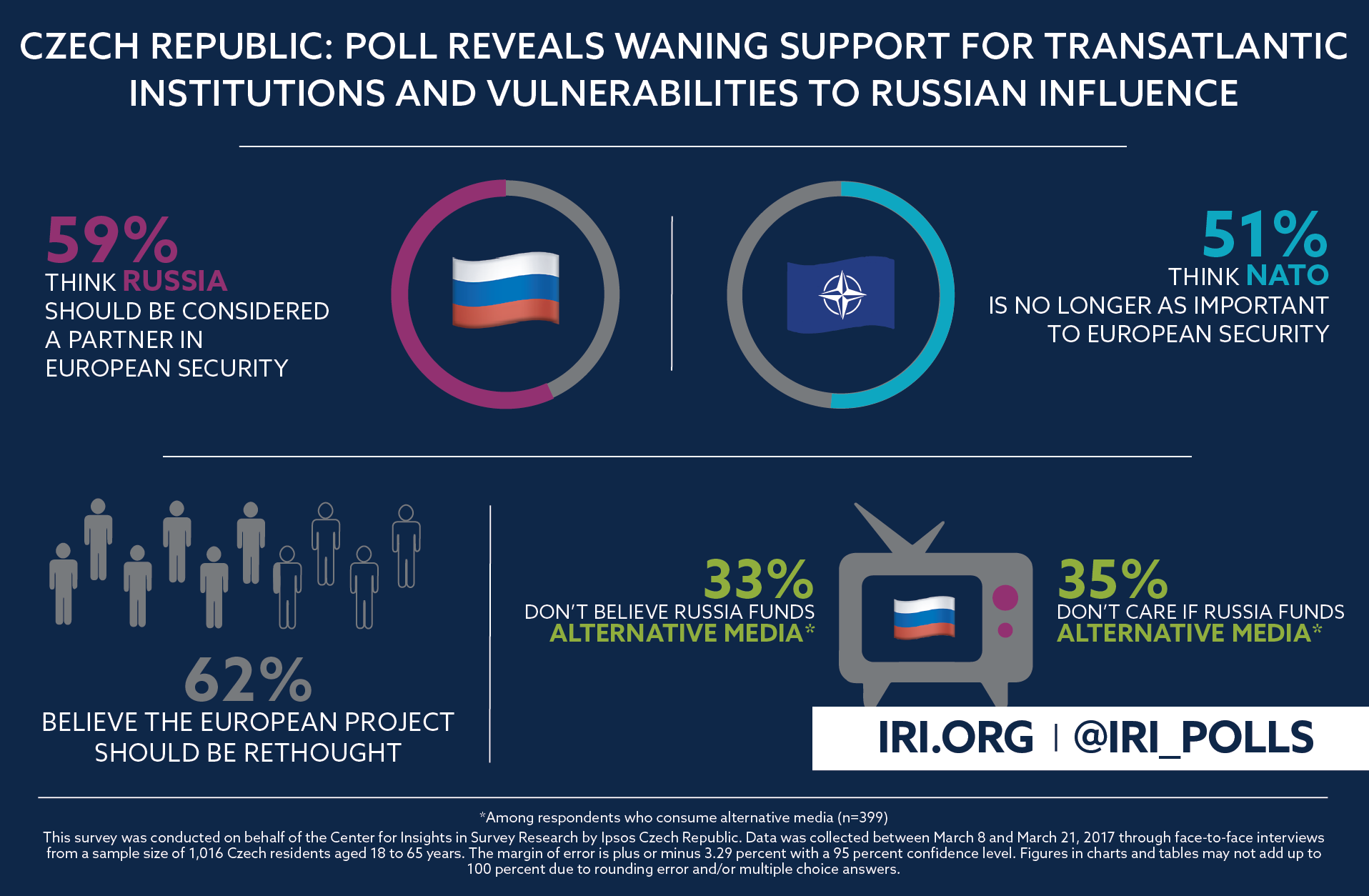 Washington, D.C.—A poll of residents of the Czech Republic released today by the International Republican Institute's (IRI) Center for Insights in Survey Research reveals weakened support for core transatlantic institutions and vulnerabilities to Russian influence.
"Although not surprising, it is worrying to see Czech public opinion veer so strongly against key components of the European Project," said IRI Regional Director for Europe Jan Surotchak. "With the threat posed by the revanchist Putin regime, regional entities like NATO are arguably more important today than at any time since the end of the Cold War. It is vital that political leaders in the Czech Republic make a robust case for the importance of transatlantic institutions to the stability and prosperity of their country."
Fifty-one percent of respondents think that NATO is no longer as important to European security as it once was, and say that the Czech Republic's approach to security should be "rethought." Similarly, 62 percent feel that the European project needs to be "rethought," compared to just 34 percent who expressed unqualified support.
Respondents were split on the extent to which Russia can be an ally of the Czech Republic: 38 percent say "Russia and Putin can be allies against an EU that is pushing us to abandon our values," while another 38 percent would like Russia to be an ally, but "don't trust Putin." Just 22 percent do not think Russia should have any influence over EU policies.
The poll also indicates that Czechs may be vulnerable to Russian disinformation. Among respondents who consume alternative media, 33 percent don't believe that Russia funds "alternative news sources," and attribute such a charge to "anti-Russian interests." Additionally, 35 percent "don't care" if such sources are funded by Russia because "they tell the truth."
Methodology
This survey was conducted on behalf of the Center for Insights in Survey Research by Ipsos Czech Republic. Data was collected between March 8 and March 21, 2017 through face-to-face interviews from a sample size of 1,016 Czech residents aged 18 to 65 years. The margin of error is plus or minus 3.29 percent with a 95 percent confidence level. Figures in charts and tables may not add up to 100 percent due to rounding error and/or multiple choice answers.
Top