IRI Cambodia Survey: Declining Optimism on Country's Direction; Strong Support for Democratic Reforms
Phnom Penh, Cambodia – A recent poll conducted in Cambodia by IRI finds a sharp decline in optimism regarding the country's current path.
Sharp Drop in "Right Direction" View
While the poll finds that 55 percent of respondents still think the country is headed in the right direction, that figure represents a 24 point drop from the number who felt that way less than one year ago, and is the lowest figure since IRI started polling in Cambodia in 2006. The poll also shows that among the main factors in deciding which party to support in the July 2013 elections, voters' most often stated reason was, "the country needs a change."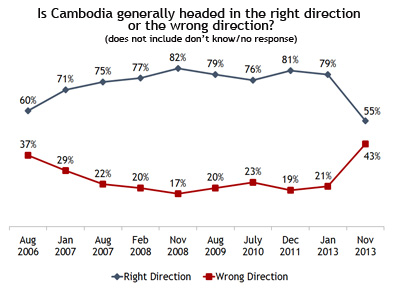 For those who believe their country is moving in the wrong direction, corruption, nepotism and damage to the environment were the most commonly cited reasons. Those who expressed the view that Cambodia is moving in the right direction most often cited infrastructure improvements in roads, schools, health clinics and pagodas as reasons for their conclusions.
Strong Support for Democratic Reforms
The IRI poll demonstrates that Cambodians have strong views on the importance of democratic institutions. When asked about democratic reforms, 83 percent of respondents supported the idea that voters should be able to choose their local government village chief, a position that is currently appointed. Survey respondents pointed to making the judiciary free and independent as well as protecting freedom of speech as important ways to strengthen democracy in their nation.
Thinking about the most recent elections held in July 2013, 71 percent of respondents agreed that people felt more free to speak about politics. Of the 71 percent, nearly two-thirds said they were able to speak more openly because they were less worried about doing so and received fewer threats.
Party Support and Issues
The ruling Cambodian People's Party (CPP) was seen as best representing the views of citizens on infrastructure, education, fighting crime and drugs, and protecting the monarchy. Respondents trusted the opposition Cambodia National Rescue Party (CNRP), which was created in July 2012, on issues related to freedom, workers' rights and food prices. On protecting freedom of speech, nearly half the respondents (49 percent) look to CNRP over the ruling CPP (34 percent). On protecting human rights, CNRP holds a significant advantage (51 percent) versus the CPP (35 percent), and, more significantly, on protecting workers' rights the CNRP garnered 56 percent of respondents to the CPP's 32 percent.
Methodology
The national survey of adults was conducted by the Center for Advanced Study based in Phnom Penh, Cambodia, and coordinated and analyzed by Public Opinion Strategies in consultation with IRI. The Center for Advanced Study conducted face-to-face interviews October 28 – November 10, 2013, in all of the country's 24 provinces including the capital, Phnom Penh. Respondents were a random sample of 2,000 Cambodian citizens, aged 18 and older. The margin of error for the full sample is +/-2.2 percent with an 89 percent response rate.
This survey was funded by the United States Agency for International Development. IRI has conducted surveys in Cambodia since 2006 to provide stakeholders with information on the issues most important to Cambodians.
Top