Technical Election Assessment Mission: Georgia 2020 National Parliamentary Elections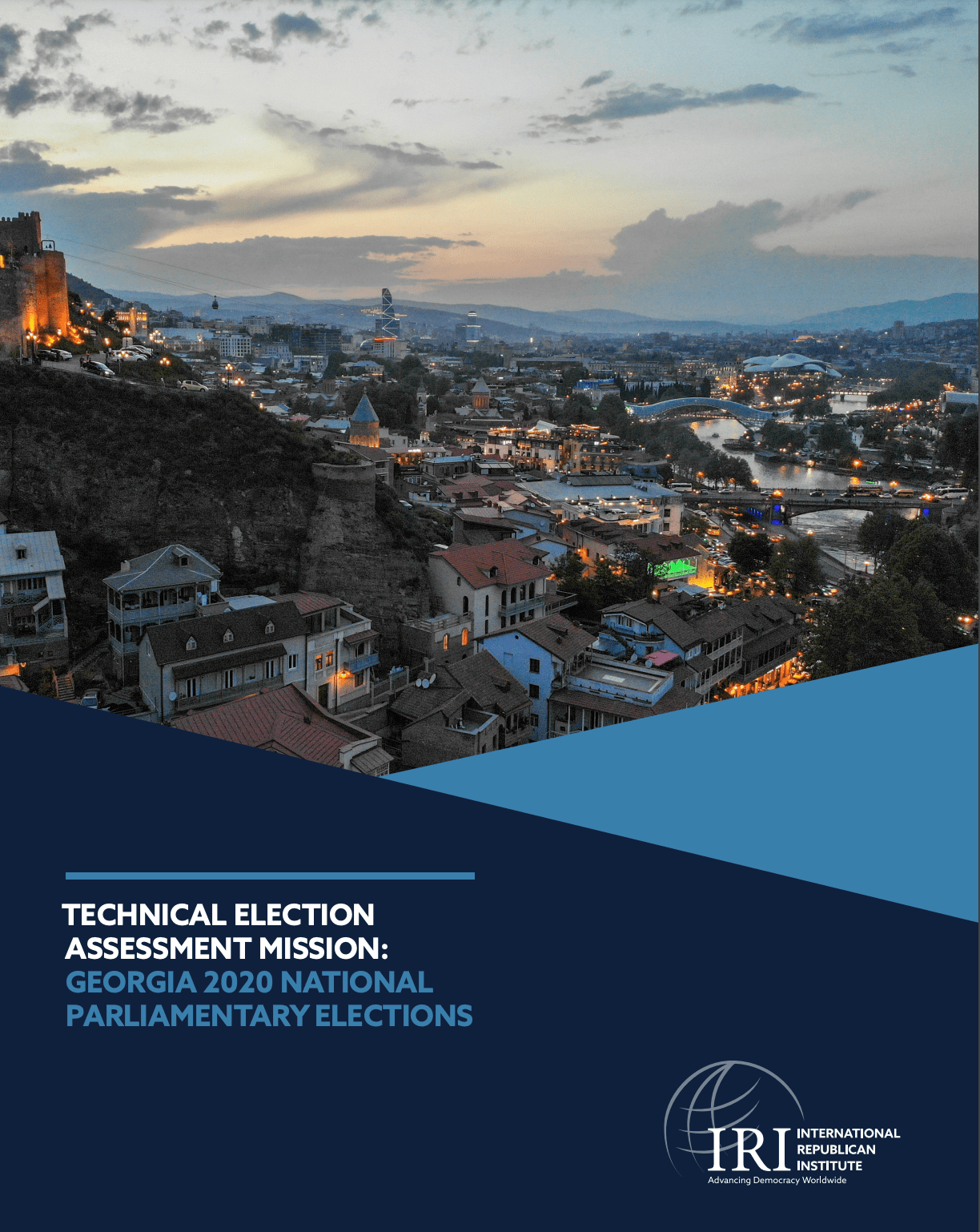 Executive Summary
The International Republican Institute (IRI) conducted a Technical Election Assessment Mission (TEAM) to Georgia's 2020 national parliamentary elections. The elections followed the passage of significant constitutional and Election Code reforms that transpired beginning in June of 2019 and, after several rounds of inclusive negotiations, resulted in a modification of Georgia's mixed electoral system and a reduction in the national proportional threshold from 5 percent to 1 percent to achieve parliamentary representation. The lowered threshold allowed the Georgian electorate to pursue viable third-party options and provided impetus for new parties to compete. It also presented an opportunity for Georgia to test new reforms intended to increase political competition and gender diversity in parliament after decades of single-party domination. The constitutional reforms were perceived as a step forward for Georgia, particularly as they were later coupled with electoral amendments that partially incorporated recommendations from observers following the 2018 presidential election. The lead up to the 2020 election marked commendable steps toward building a more diverse and pluralistic government, increasing transparency in campaign spending disclosures, and strengthening enforcement of the Election Code.
The pre-election period was by-and-large peaceful and politically competitive, with few incidents of violence. Political parties and candidates were able to organize and campaign freely and citizens had access to a variety of political news media and information. However, an insufficient number of substantive candidate debates and a highly polarized media environment meant election content centered on personalities and rhetoric rather than policies and citizen concerns.
The Central Election Commission was proactive in its voter education and demonstrated to the international community its desire to conduct elections and ensure franchise for eligible voters amidst a rare global pandemic. For the most part, the election commission successfully publicized citizens' options for voting modalities during the novel coronavirus (COVID-19) health crisis. These steps were unprecedented and commendable. However, they were overshadowed by public mistrust of lower-level election commissions that were perceived as partisan extensions of the ruling government.
On October 31, Georgians showed their enthusiasm for democracy by going to the polls despite the potential exposure to COVID-19. The Central Election Commission reported 56.1 percent turnout, a 5-percent increase from 2016. The newly reduced threshold resulted in nine parties acquiring the requisite vote share to achieve parliamentary representation, though the reduction of single-member districts from 73 to 30 was expected, the subsequent delimitation of constituency boundaries fell short of international standards for equal suffrage.
Credible observer groups and numerous interlocutors with whom IRI met throughout the assessment period reported irregularities, including allegations of coercion and intimidation of civil servants, misuse of state administrative resources, and interference of party observer representatives among other anomalies. Weaknesses were also identified in the management, verification, and certification of results. Analysis of precinct level results tabulation and verification systems and summary protocol documents identified susceptibility to manipulation. In addition, interlocutors and stakeholders with whom IRI met reported lack of trust in enforcement of the Election Code due to insufficient remedies for election-related complaints, also undermining trust in the judiciary more broadly.
The reforms enacted prior to the 2020 election were a first step to creating a more free, equal, and representative electoral playing field that, if effectively enforced, could have the potential to positively impact Georgia's democratic trajectory. The newly formed Government of Georgia must work in earnest to address shortcomings identified by observers and implement recommendations to improve future electoral processes. By prioritizing recommendations, enacting further reforms to address irregularities, and implementing new reforms according to the spirit and intent of the law, public trust and confidence in electoral outcomes can be restored.
This report is informed by six long-term analysts (LTAs) deployed to Tbilisi from September to November 2020 who engaged with government authorities, political parties, nongovernmental organizations (NGOs), election-commission officials and other stakeholders to assess the process of election administration, the campaign environment, results management, media space, inclusion and preparedness for holding elections during the COVID-19 pandemic. IRI stands with the people of Georgia on their journey to democratic consolidation and hopes that the findings and recommendations presented in this report contribute positively to improving electoral integrity in the short- and long-term.
Top