IRI Poll: Ugandans Generally Satisfied with Government, Committed to Elections but Concerned with Fairness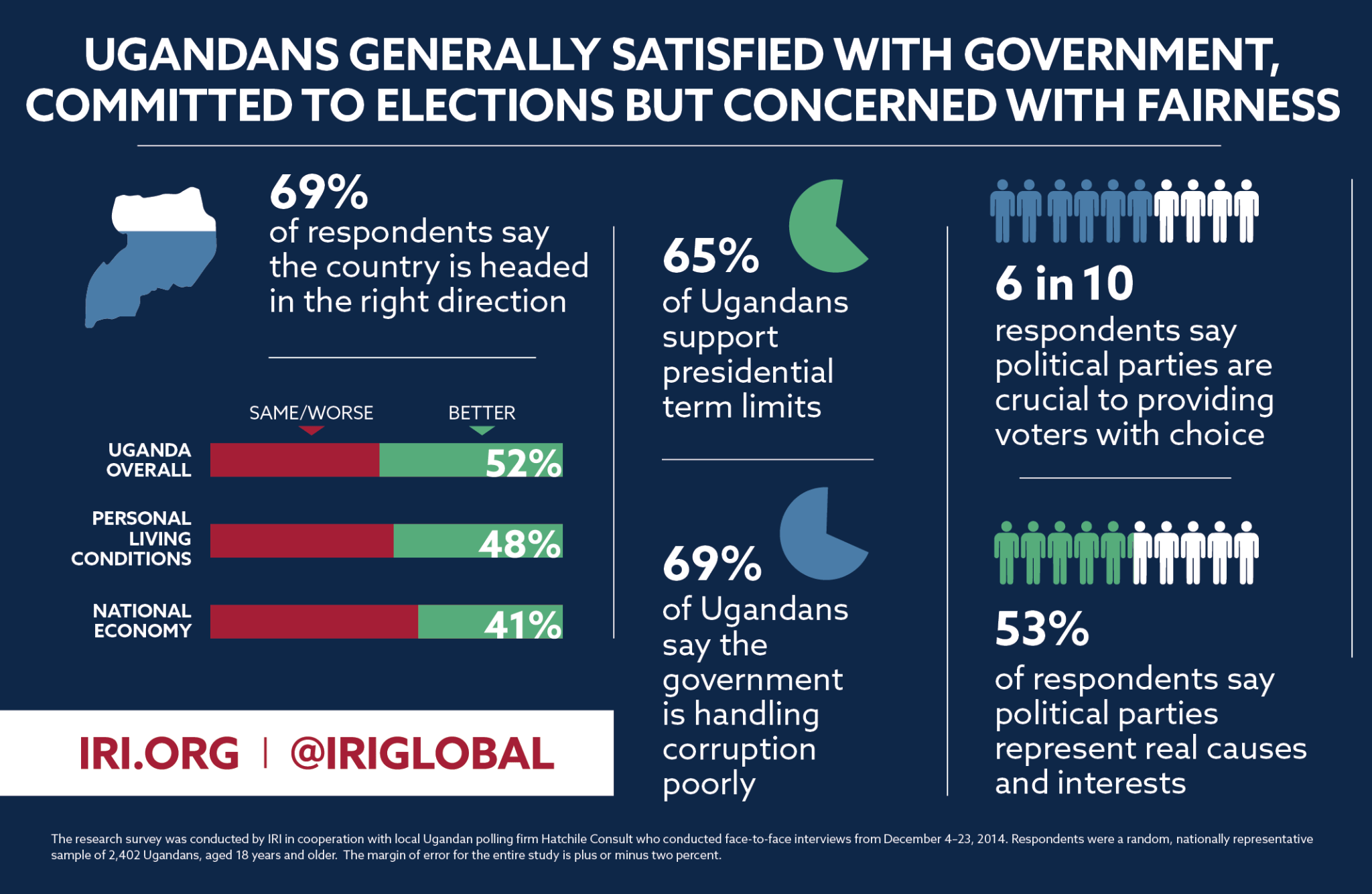 Kampala, Uganda – A public opinion poll released today by IRI reveals that while a majority of Ugandans are generally satisfied with government performance and committed to regular multi-party elections, they don't trust the Election Commission and worry about the fairness of upcoming 2016 elections.
Country Headed in Right Direction
As 2014 drew to a close, Ugandans were in a relatively optimistic mood. On balance, most people thought the country (52 percent), their personal living conditions (48 percent) and the national economy (41 percent) have gotten better (as opposed to stayed the same or become worse) over the preceding 12 months. And more people expected each of these to improve in the next 12 months.
Overall, two-thirds of respondents (69 percent) say the country is headed in the right direction. Furthermore, the majority of Ugandans surveyed felt that overall the government was performing well or very well in managing the economy, reducing crime and delivering basic services in terms of health, clean water, roads and education. However, government performance was rated lower on some items such as fighting corruption, whereby 69 percent of respondents said the government was handling corruption badly or very badly.
Committed to Multi-Party Elections but Skeptical of Process
Ugandans overwhelmingly support regular elections for choosing their leaders, believe leaders can influence the direction of the country and believe that voting matters. Additionally, six-in-10 said political parties are crucial to providing voters with choice, and 53 percent say political parties represent real causes and interests. Most Ugandans say the 2011 elections were completely or mostly free and fair.
Despite views on the 2011 elections, only half of all Ugandans have confidence that the upcoming 2016 elections will be similarly free and fair. The vast majority of people anticipate that they will be able to choose who to vote for freely. However, roughly half of Ugandans said they have to be careful of what they say about politics. Similarly about one-in-two respondents worry that they may become a victim of political violence or intimidation in the upcoming 2016 elections. Additionally, one-in-three voters are concerned that the announced results will not reflect the actual voting results, and one-in-four worry that their vote will not be counted or fairly reflected in the results. Similarly, one-in-five agreed that powerful people can find out how you voted, even though there is supposed to be a secret ballot.
Support Term Limits and Election Commission Overhaul
Two-thirds of all voters agreed that the president should serve a maximum of two terms in office, and that no one should be able to serve as president if they are older than 75 years of age. Additionally, by a large margin, people felt the composition of the Election Commission needs to be changed (70 percent) and that the president should not be involved in the appointment of its members (64 percent).
Methodology
The research survey was conducted by IRI in cooperation with local Ugandan polling firm Hatchile Consult who conducted face-to-face interviews from December 4-23, 2014. Respondents were a random, nationally representative sample of 2,402 Ugandans, aged 18 years and older. The margin of error for the entire study is plus or minus two percent. In total 3,039 houses were visited to obtain 2,402 interviews. Thus, the response rate for this survey was 79 percent. This baseline survey is the first of two polls that IRI will conduct in Uganda to capture citizen views leading up to the 2016 elections.
The poll was funded by the United States Agency for International Development as part of IRI's political competition and consensus building project.
###
Top