Dili, Timor-Leste—In a preliminary statement released today, the International Republican Institute (IRI) found that Timor-Leste's May 12 parliamentary elections were "efficiently administered and met international standards for free and fair elections."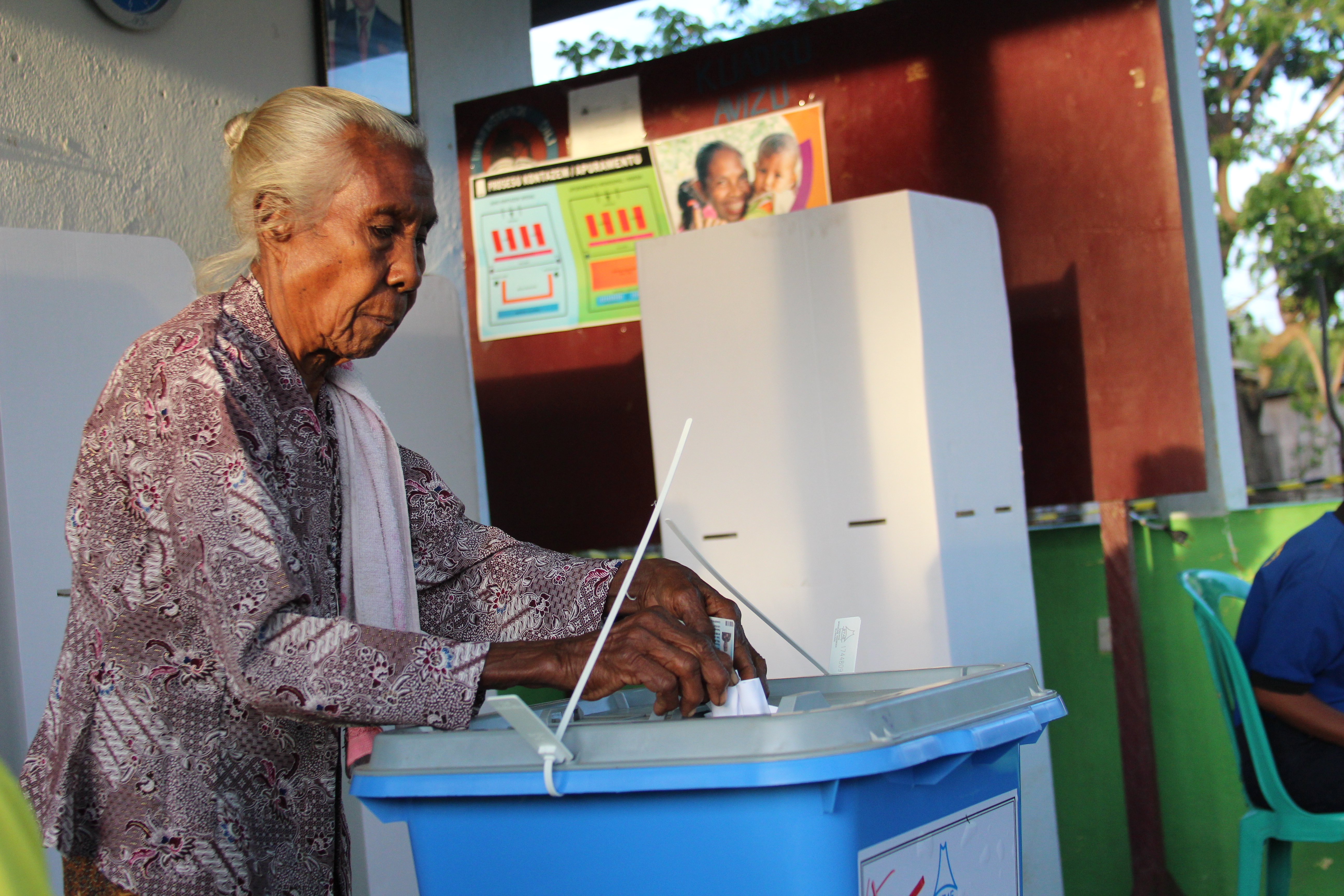 The citizens of Timor-Leste went to the polls to vote for the second time in less than a year after President Francisco "Lú-Olo" Guterres called a snap election when he was unable to form a government and pass a budget in the national legislature.
Delegation co-chairs Randy Scheunemann and Bruce Edwards said, "The Election Day atmosphere was peaceful yet energized, with only minor incidents reported during the campaign period which did not affect the election."
Short and Long-Term Observation Missions
IRI deployed a short-term observation delegation of 18 accredited observers on May 12, 2018 who monitored voting procedures in all 13 municipalities on Election Day at 112 polling stations. The mission was deployed as part of a United States government-led effort to support Timor-Leste's electoral process and help ensure a free, fair and peaceful electoral environment.
IRI also deployed a long-term observation mission of three accredited observers to observe the electoral process leading up to Election Day. Between April 10 and May 5, IRI's long-term observers attended 158 events and meetings with election-related stakeholders in all 13 municipalities, which were documented in weekly public reports issued by IRI.
IRI Commends Election Management Bodies
IRI observers noted that the staff of the two election management bodies, CNE (Comissão Nacional das Eleições) and STAE (Secretariado Técnico de Administração Eleitoral) were professional and dedicated throughout the official campaign period as well as on Election Day. Building on their experience managing the 2017 Presidential and Parliamentary elections, STAE and CNE remained efficient and impartial by following set procedures. IRI observers noted that polling stations were orderly and voting was peaceful and generally well-organized despite minor procedural irregularities.
IRI Short-Term Observers
Randy Scheunemann – Delegation Co-Chair and IRI Board Member
Bruce Edwards – Delegation Co-Chair and International Secretary, Liberal Party of Australia
Curtis Chin – Senior Fellow for Asia, Milken Institute; Former United States Ambassador to the Asian Development Bank
Blanche Fawell – Attorney-at-Law, Fawell and Associates; Retired Circuit Court Judge, State of Illinois
Ian Hanke – Chief Executive Officer, PM&C Group
Sue Ingram – Honorary Senior Policy Fellow, Coral Bell School of Asia Pacific Affairs, Australian National University
Joerg Meier – Key Expert, Association of Southeast Asian Nations (ASEAN) Social Cultural Community (ASCC), Enhanced EU-ASEAN Regional Dialogue Instrument (E-READI)
Robyn Nolan – Former President of the Federal Women's Committee, Liberal Party of Australia
Bill Phillips – Principal, Windrow Phillips Company
IRI Staff
Derek Luyten – Director, Asia Division
Dimitar Stojkov – Resident Program Director, Timor-Leste
Morgan Fincher – Program Officer, Timor-Leste
Jessica Keegan – Resident Program Director, Mongolia
Parker Novak – Program Officer, Indonesia and Timor-Leste
Karlito Nunes – Program Manager, Timor-Leste
IRI Long-Term Observers
Edward Bagnall – Long-Term Observer, Eastern Municipalities
Ken Palmer – Long-Term Observer, Western Municipalities
Natasha Rothchild – Long-Term Observer, Central Municipalities
IRI in Timor-Leste
Since the restoration of Timor-Leste's independence in 2002, IRI has helped Timorese civil society, members of parliament and political parties develop and strengthen their democratic institutions.
As the only non-governmental organization to work directly with Timor-Leste's political parties since 2000, IRI prepared political parties for the 2001 constituent assembly and the 2002 presidential elections. Since then, IRI has provided technical assistance during every subsequent election and deployed an observation mission to the 2012 and 2017 parliamentary elections. With a nuanced understanding of the on-the-ground, in-country realities, our work has supported civic education, bolstered political pluralism, increased political participation of women and youth and strengthened the capacity of the parliament to serve as an independent and representative legislative body.
Top