IRI's Center for Insights Poll: Despite Corruption and Slow Economy, Citizens Feel that Kyrgyzstan is Moving in the Right Direction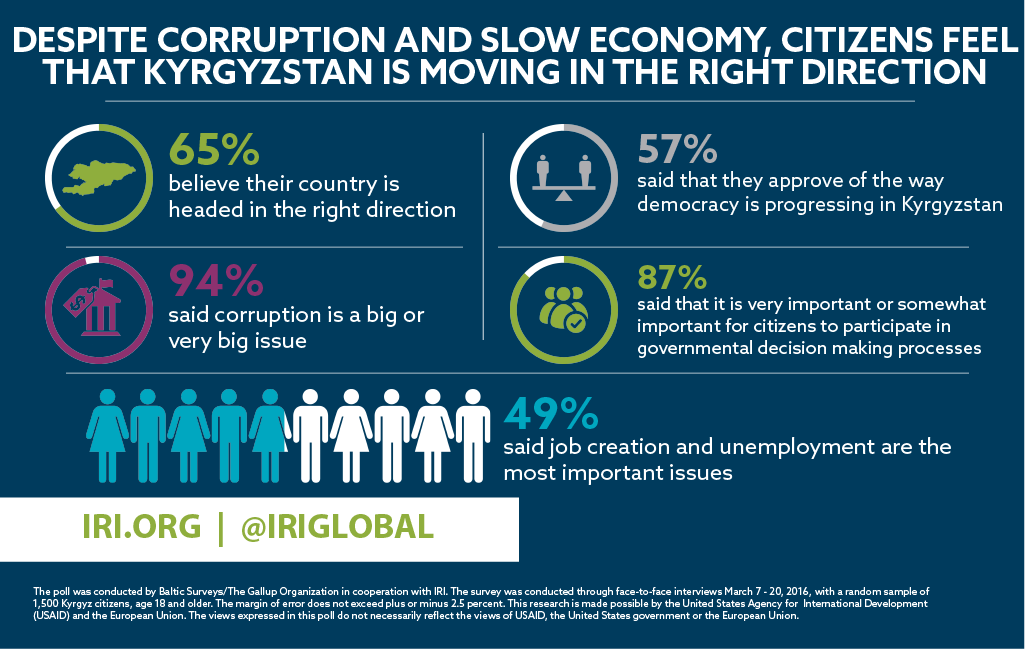 Bishkek, Kyrgystan—According to a new poll released today by IRI's Center for Insights in Survey Research, the people of Kyrgyzstan have mixed views about their country and their prospects.
According to the poll, 65 percent of respondents say they believe their country is headed in the right direction. Yet 94 percent believe corruption is a very big or big issue in Kyrgyzstan and an overwhelming 74 percent say the government isn't doing enough to stop it. The courts, the Prosecutor General's Office and the police were all listed as among the most corrupt institutions in the country.
"The fact that corruption is most entrenched among those directly responsible for finding, prosecuting and ending it indicates the depth of corruption in Kyrgyzstan," said Stephen Nix, IRI's Eurasia director. "Now would be the time for Kyrgyzstan's President to take advantage of his high approval ratings and the public's strong understanding of citizen-driven governance to start pushing for meaningful reform."
Seventy-eight percent of those surveyed say they approve of the job President Almazbek Atambayev is doing in office and 87 percent say it is very or somewhat important for citizens to participate in government decision making. Still, only a combined 37 percent of those asked say they have a high or medium interest in politics, and only nine percent say they belong to a political party.
Among the public's top national concerns, 49 percent say job creation and unemployment are the most important issues. At the local level, improving infrastructure, including fixing bad roads and addressing a shortage of clean drinking water are the top priorities.
Overall, respondents are generally hopeful about their political and economic future with 57 percent saying they approve of the way democracy is progressing in Kyrgyzstan, and 39 percent saying they believe the economy will improve in the next year.
Methodology
The survey was conducted in all regions of Kyrgyzstan from March 7-20, 2016. The national survey had a randomly selected sample of 1,500 residents of Kyrgyzstan, age 18 and older who are eligible to vote. A multistage probability sampling method was used. Respondents were grouped into seven regions plus Bishkek, and settlements were selected at random within each region. The number of selected settlements in each region was proportional to the population living in a particular type of settlement in each region. The margin of error does not exceed plus or minus 2.5 percent and the response rate was 70 percent.
The survey, funded by the U.S. Agency for International Development and the European Union, was conducted by Dr. R. Alisauskiene of the public market research company Baltic Surveys/The Gallup Organization on behalf of the International Republican Institute, with field work carried out by SIAR Research and Consulting.
# # #
Top