IRI's Center for Insights Poll: Ukrainians Struggle against Corruption While Seeing Modest Improvements in Local Government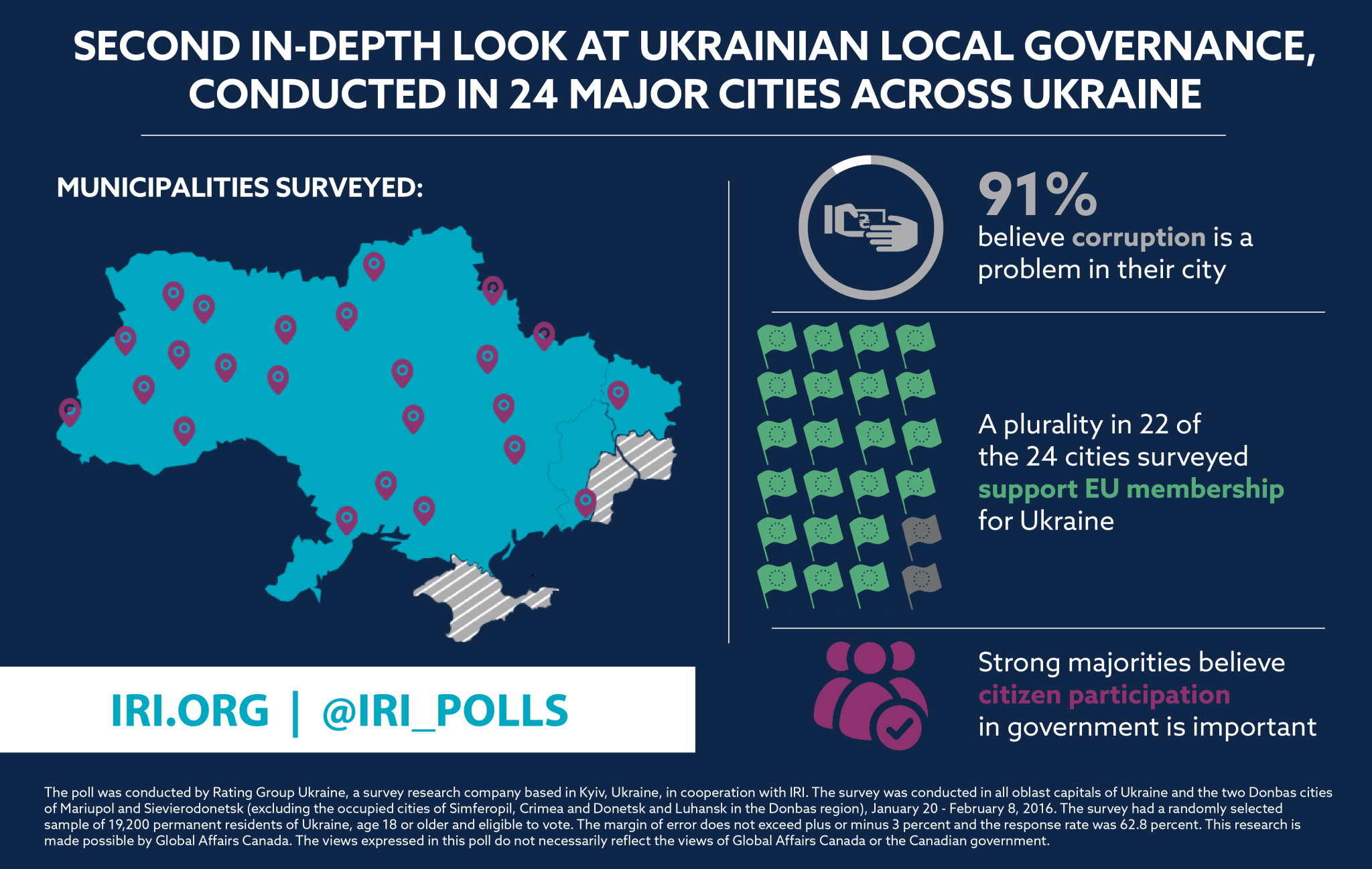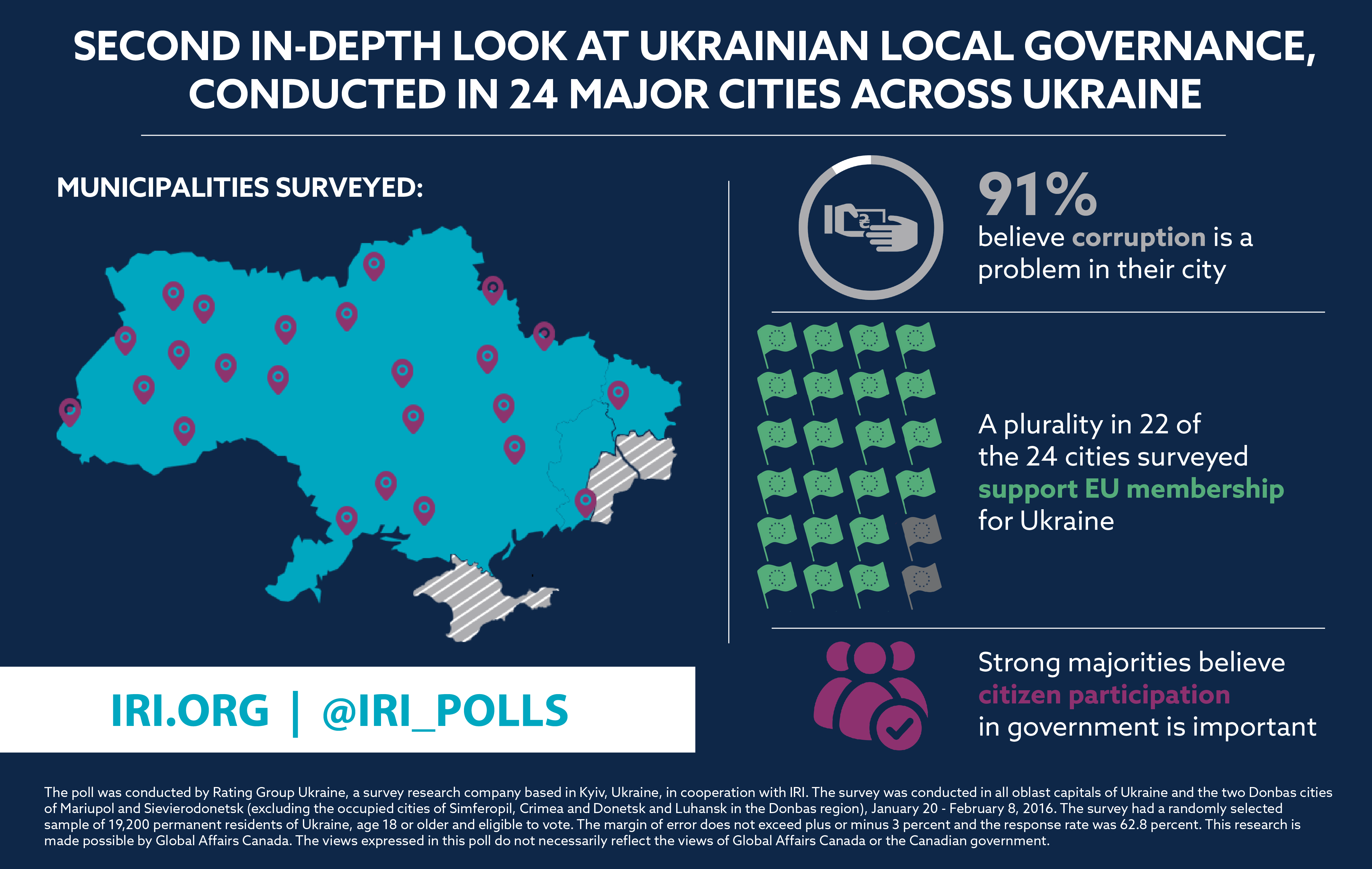 Kyiv, Ukraine— A new poll released today by IRI's Center for Insights in Survey Research shows that corruption remains a serious problem across Ukraine. In the poll, conducted in 24 of the country's largest cities, an overwhelming majority of citizens rank corruption as a significant or serious problem, including more than 70 percent of people in the nation's capital, Kyiv. In some cities, more than a quarter of respondents report having to do a favor, give a gift or pay a bribe to a local official to get things done.
"It's clear Ukrainians know corruption when they see it. The problem is they're seeing it way too often," said Stephen Nix, IRI's director of Eurasia. "This problem can be solved if the Ukrainian government and civil society work together to root out and hold accountable those who corrupt their democracy. One significant reform that may assist Ukraine in its fight against corruption is the government's proposed decentralization reform package, which would give people greater insight into their local governments' activities and hopefully result in more accountability."
While corruption remains a problem overall, trust and approval among Ukrainians of their local mayors has increased since last year. In half of the cities surveyed, more than 40 percent of respondents said they were satisfied with the October 2015 mayoral results and in some places, like Kharkiv, Lviv and Ternopil, well over 60 percent approve of the mayor's activities and reforms. According to the poll, one of the most popular reforms of the last year was replacing patrol police in the cities of Kyiv, Kharkiv, Lviv and Odesa. This reform resulted in a significant boost in citizen approval ratings of the police.
"Having a trustworthy and effective police force is something citizens can see and point to as the result of improved governance," said Nix. "It gives them peace of mind and hope that positive change is possible and worth working toward."
Still, not all local changes over the last year were positive. City council approval ratings remain mostly low, and citizens don't believe the councils operate transparently. Respondents also rate their city's infrastructure, including roads, parking facilities and sidewalks poorly, and the perceived quality of medical care has decreased significantly in the majority of cities surveyed.
Considering Ukraine's ongoing conflict with Russia, its faltering economy and the seeming endemic corruption, most Ukrainians surveyed say they feel the country is headed in the wrong direction and that they disapprove of the work President Petro Poroshenko is doing in office. However, the majority surveyed, 57 percent, still support Ukraine joining the European Union.
"Importantly," said Nix, "the data clearly shows that Ukrainians remain steadfast in their hope for European integration and feel that Ukraine's future lies in Europe."
Methodology
The poll was conducted in all oblast capitals of Ukraine (excluding the occupied cities of Simferopil, Crimea and Donetsk and Luhansk in the Donbas region), as well as the cities of Mariupol and Sievierodonetsk in the Donbas region, from January 20–February 8, 2016. The poll had a randomly selected sample size of 19,200 respondents aged 18 and older and eligible to vote – 800 in each city surveyed. The margin of error does not exceed plus or minus three percent, and the response rate was 62.8 percent.
The survey was conducted by Rating Group Ukraine, in cooperation with IRI's Center for Insights in Survey Research, and was funded by Global Affairs Canada.
The Center for Insights in Survey Research builds on IRI's two decades of experience in public opinion research and leverages traditional public opinion research and analysis and new methods to help political parties become more responsive to voters, assist elected officials at all levels of government in improving services to citizens, and foster greater participation by underrepresented groups and by citizens generally in the political process.
###
Top