Macedonia: Political Instability Escalates while Confidence in Democratic Institutions Declines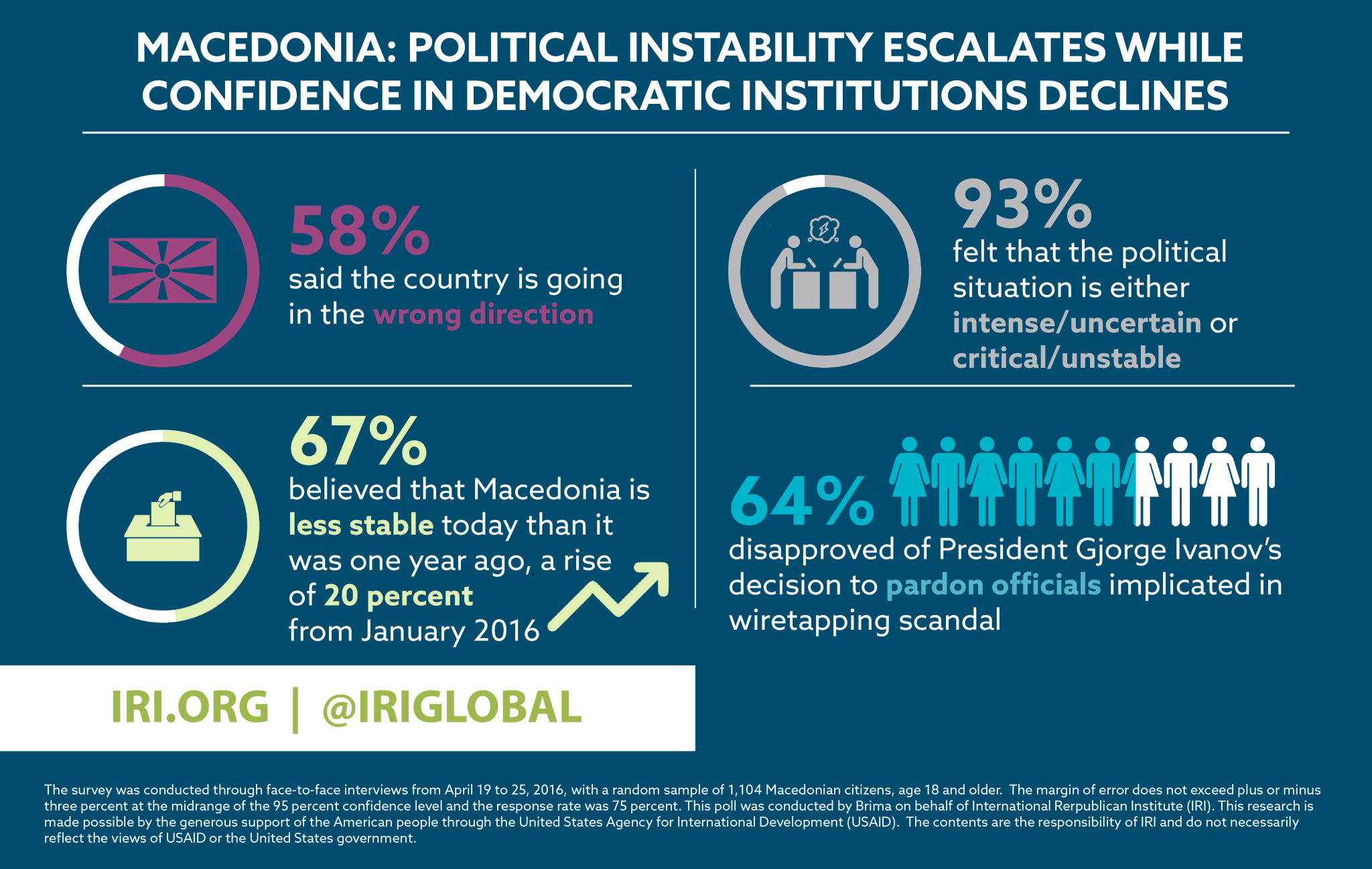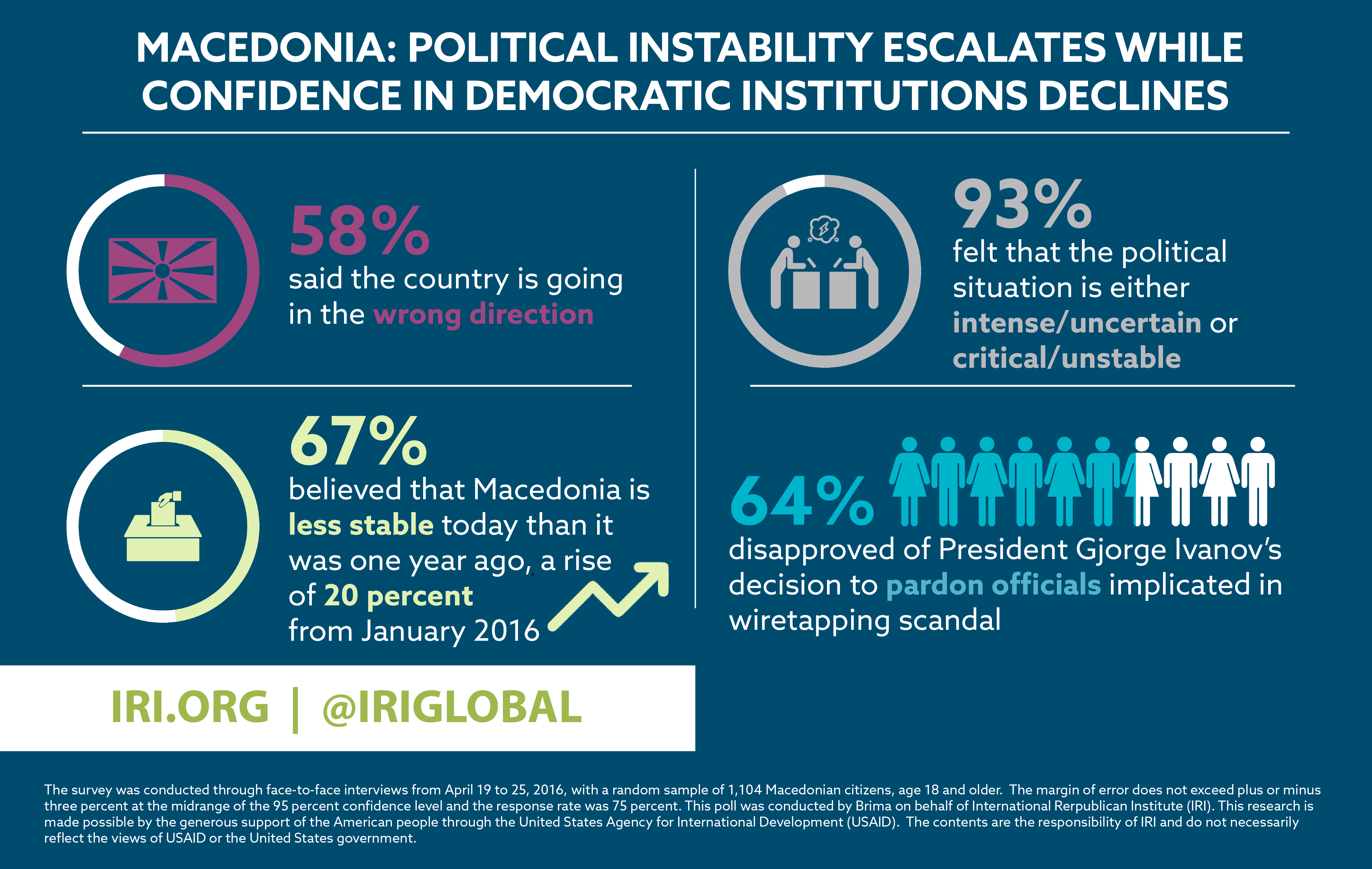 Skopje, Macedonia—A nationwide poll released today by the IRI's Center for Insights in Survey Research indicates that political instability is on the rise in Macedonia. Survey respondents reported a continued decline in public confidence in the conditions for holding free and fair elections.
"Last year's revelations of the surveillance of Macedonian citizens dealt a severe blow to Macedonian democracy," said IRI President Mark Green. "This poll reinforces the critical need for Macedonia's leaders to focus on reforms that will rebuild public confidence in the country's democratic institutions."
The number of people surveyed who feel that the country is "peaceful and stable" dropped sharply from 19 percent in January 2016 to just five percent. The poll recorded a 20-point jump (47 percent to 67 percent) of respondents who find Macedonia to be less stable today than it was one year ago.
A combined 93 percent of respondents say that the internal political situation in Macedonia is either intense or uncertain (55 percent), or critical and unstable (38 percent). More than half of the poll respondents (58 percent) believe Macedonia is going in the wrong direction, a 12 percent increase since January of this year.
Pessimism over the political situation appears to be influenced by the behavior of the government in relation to the wiretapping scandal that came to light in 2015, which revealed the illegal monitoring of thousands of Macedonian citizens. Sixty-four percent of respondents disapprove of President Gjorge Ivanov's decision to pardon officials implicated in the imbroglio, while 63 percent support the work of the Special Public Prosecutor tasked with investigating the scandal.
The political context may also have influenced public confidence in the capacity to hold free and fair elections, with fewer than half of respondents (48 percent) believing that the conditions required to hold free and fair elections are in place. This is a continuous decline from 63 percent in October 2015 and 59 percent in January 2016. Forty-one percent of those polled are confident or somewhat confident in the accuracy of the voter list, and more than a quarter (28 percent) do not believe their vote on Election Day will remain secret. Polling was conducted prior to the postponement of the elections originally scheduled for June 5, 2016.
Methodology
The survey was conducted through face-to-face interviews from April 19 to 25, 2016, with a random sample of 1,104 Macedonian citizens, age 18 and older. The margin of error does not exceed plus or minus three percent at the midrange of the 95 percent confidence level and the response rate was 75 percent. This poll was conducted by Brima on behalf of IRI.
The Center for Insights in Survey Research builds on IRI's two decades of experience in public opinion research and leverages traditional public opinion research and analysis and new methods to help political parties become more responsive to voters, assist elected officials at all levels of government in improving services to citizens, and foster greater participation by underrepresented groups and by citizens generally in the political process.
This research is made possible by the generous support of the American people through the United States Agency for International Development (USAID). The contents are the responsibility of IRI and do not necessarily reflect the views of USAID or the United States government.
Top