New Poll: Amid Political Crisis, Georgians Show Concerns over Economy and COVID-19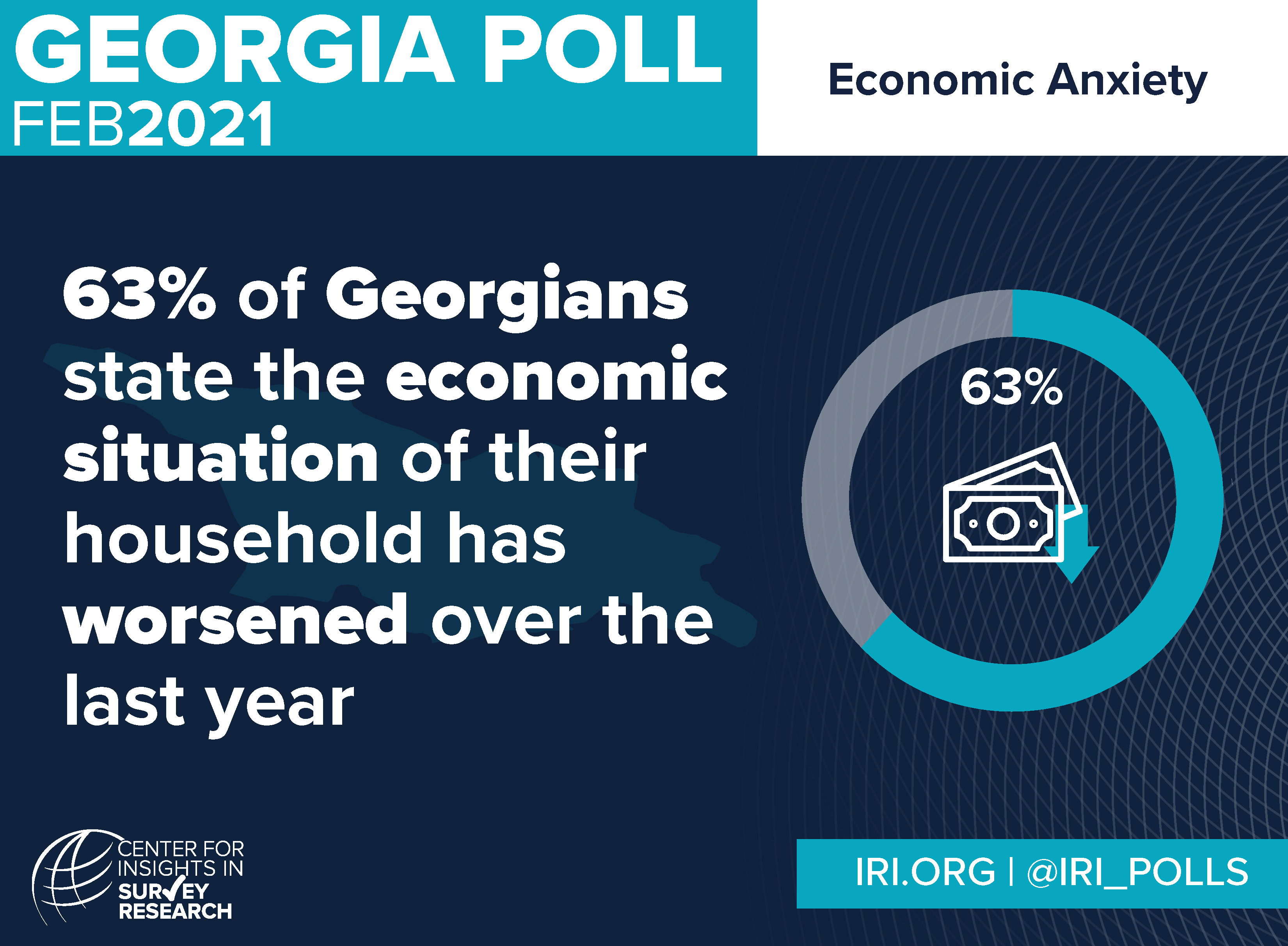 Tbilisi, Georgia – The International Republican Institute's (IRI) Center for Insights in Survey Research conducted its first nationwide poll of Georgia since the 2020 parliamentary elections, revealing widespread economic concerns and decreased satisfaction with the government's COVID-19 response. These findings come as the ruling and opposition parties struggle to forge a consensus on the path forward in the wake of the contested elections last fall.
"Over years of polling, Georgians have distinguished themselves by their consistent optimism," said IRI Regional Director for Eurasia Stephen Nix. "That now seems to be changing, with citizens increasingly anxious over the economy, the pandemic and the country's recent political crisis."
According to the poll, 76 percent of citizens think Georgia's economic situation has worsened either "somewhat" (37 percent) or "a lot" (39 percent) in the past year. At the household level, 63 percent state that their economic situation has worsened, and 71 percent describe it as either "somewhat" or "very" bad. Moreover, unemployment tops the list when asked to name the most important problems facing their country (65 percent), their town (41 percent) and their household (34 percent).
Regarding the pandemic, 59 percent of Georgians are either "somewhat" (44 percent) or "very" (15 percent) satisfied with their government's overall response – a 20-point decrease since IRI's June 2020 survey. In terms of the economic response specifically, 45 percent, as opposed to 56 percent in June 2020, are satisfied with the government's efforts to address the economic fallout of COVID-19.
Amid political deadlock between the opposition and ruling party, 60 percent of citizens either "definitely" (42 percent) or "somewhat" (18 percent) do not support the opposition's boycott of Parliament. Though Georgians by and large want their elected representatives to resume governing, they are evenly split on the need for early parliamentary elections: 45 percent support the opposition demand for snap elections, while 45 percent do not.
"These findings send an important message to both the governing and opposition parties," said Nix. "Georgians want a functioning parliament that reflects their needs."
Methodology
This survey was conducted on behalf of IRI's Center for Insights in Survey Research by Dr. Rasa Alisauskiene of the public and market research company Baltic Surveys/The Gallup Organization between February 2 and February 26, 2021. The fieldwork was conducted by the Institute of Polling and Marketing. Data was collected using a multistage probability sampling method through in-person, in-home interviews. The sample consists of 1,500 Georgians aged 18+ and eligible to vote. The data was weighted for age, gender, region and settlement size. The margin of error is plus or minus 2.5 percent, and the response rate was 75 percent. This survey was made possible by the generous support of the American people through the U.S. Agency for International Development (USAID).
Top