New Poll of 15 Libyan Municipalities Shows Support for Councils, Concerns over Service Delivery
Washington, DC—A new poll of 15 municipalities in Libya, released today by the International Republican Institute's (IRI) Center for Insights in Survey Research, indicates that municipal councils are well-regarded in comparison to national institutions, which tend to be negatively viewed across the board. Respondents from across the 15 municipalities identified poor government services as the single most important issue in their areas and were uncertain about councils' roles and responsibilities within Libya's turbulent political climate.
"The municipal councils are among the few institutions that have some credibility with the Libyan people after years of conflict and national division," said IRI Regional Director for the Middle East and North Africa Patricia Karam. "The importance attached to better service delivery by respondents underscores the need to further develop the capacity of municipal councils, as they are best-positioned to address these concerns in a context of weak central government institutions and continued conflict. Demonstrating that local government can be responsive to citizen needs is crucial to political transition and stabilization in Libya."
In 13 of the 15 municipalities surveyed, a majority of respondents stated that municipal councils are doing a "very good" or "somewhat good" job, with only Ghat and Sabha reporting lower approval ratings. Respondents also view councils as legitimate – in all 15 municipalities surveyed, a majority of respondents said that the municipal councils had a "great deal" or a "fair amount" of legitimacy.
Nevertheless, respondents reported concerns about government's inability to deliver basic needs, with pluralities in 14 out of 15 municipalities surveyed identifying poor government services – including transportation infrastructure, public service delivery or poor health care – as the single most important issue in their area. The economy and security rounded out the top three issues identified by most respondents in all municipalities surveyed.
This survey was conducted on behalf of the Center for Insights in Survey Research by Altai Consulting, under the supervision of Redstone Scientific. Data was collected between December 31, 2019 and January 31, 2019 through computer-assistance telephone interviews conducted from a call center in Tripoli. The sample consists of 4,636 respondents aged 18 and older with cell phone access from 15 municipalities across Libya, with a sample of approximately 300 per municipality. A gender quota and age category cap were used to enhance representativeness. The margin of error for the sample in each municipality does not exceed plus or minus 5.6 percent at the mid-range with a confidence level of 95 percent. Figures in charts and tables may not add up to 100 percent due to rounding. This poll was conducted with support from the United States Agency for International Development.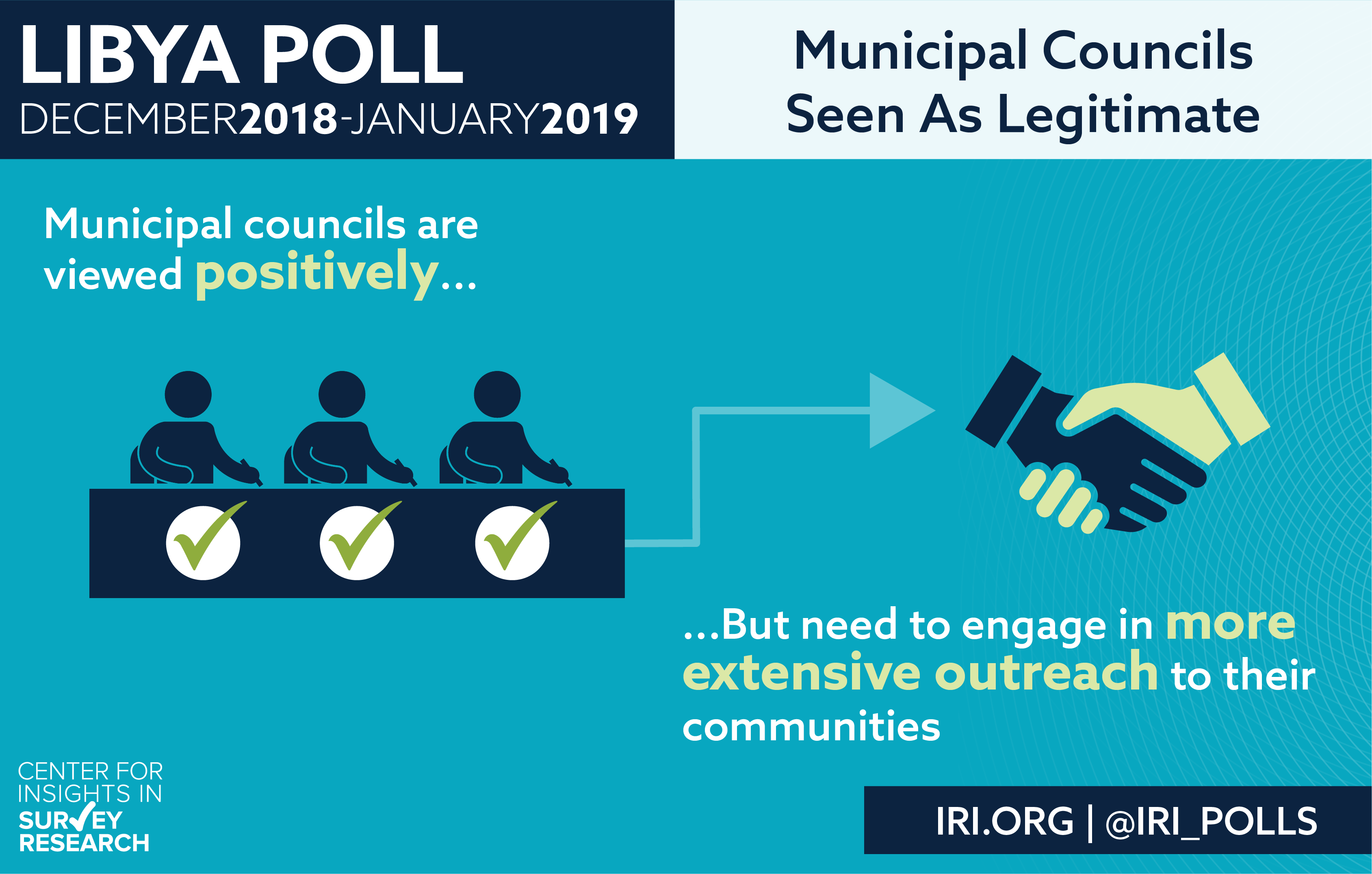 Top