New Research: Kosovars Cite Corruption and Unemployment as Drivers of Violent Extremism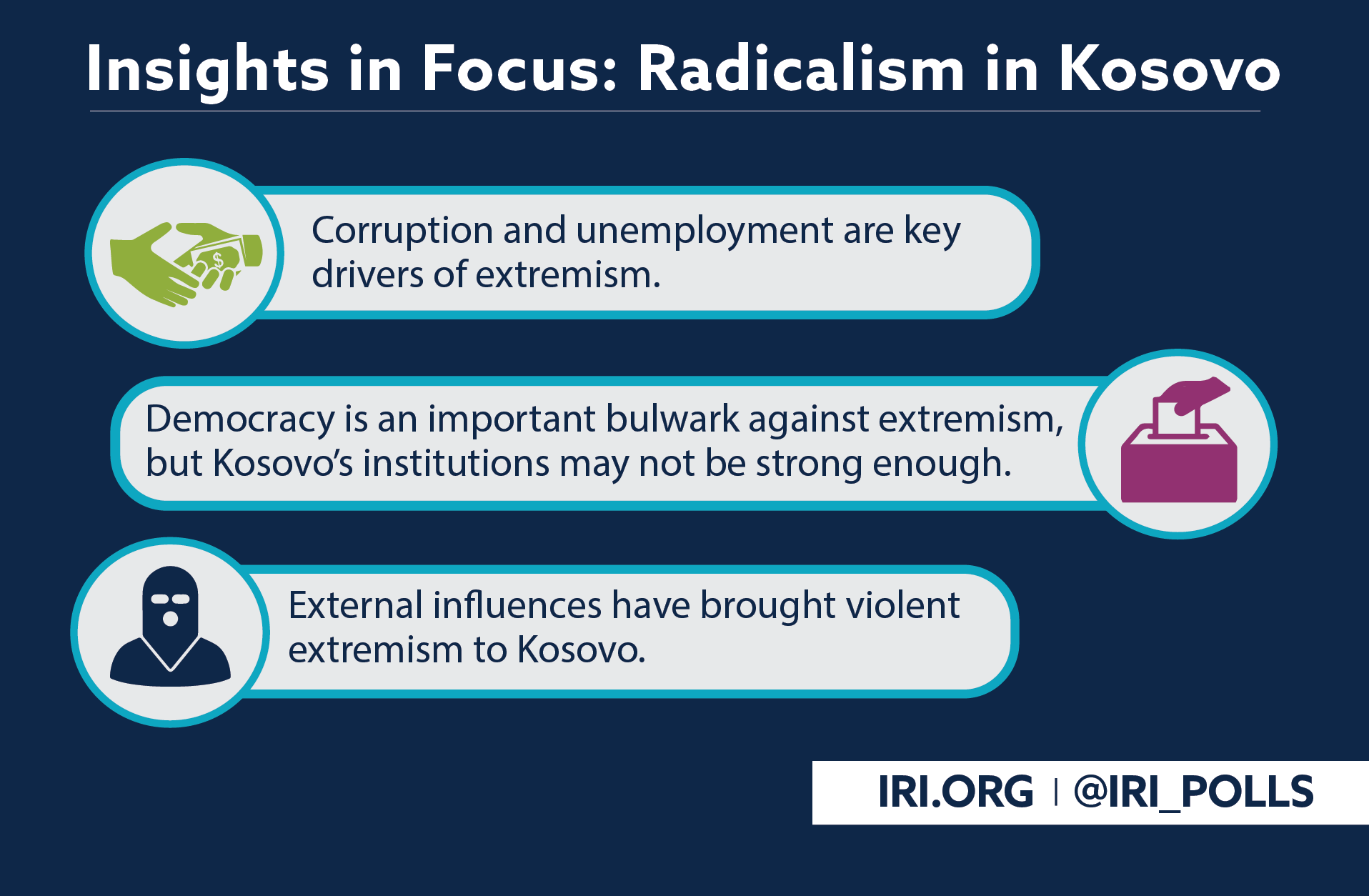 Washington, D.C.—Public opinion research released today by the International Republican Institute's (IRI) Center for Insights in Survey Research offers new insights into vulnerabilities to violent extremism among segments of Kosovo's population. Through in-depth focus group discussions and one-on-one interviews with residents of four municipalities in Kosovo—including three returned foreign fighters who traveled to Syria and Iraq to fight with groups such as ISIS—IRI identified recommendations for community-led initiatives to counter the influence of violent extremism.
"As one of Europe's youngest democracies with a very recent history of ethno-religious conflict, Kosovo is uniquely vulnerable to violent extremism," said Paul McCarthy, Regional Deputy Director for Europe. "This research illuminates some of the weaknesses in the country's democratic development driving some young Kosovars to extremism, and offers important insights into potential solutions to this challenge."
The findings indicate a strong perception that frustrations with corruption and unemployment are driving young Kosovars toward violent extremism. Participants noted the dearth of outlets for young Kosovars, and believe that the government is not doing enough to give young people a sense of purpose.
While participants generally have a positive view of democracy and believe that it is capable of addressing the issues that contribute to the rise of violent extremism, many were doubtful that Kosovar democracy is sufficiently developed to combat this challenge.
As conflict continues in the Middle East, many respondents believe that external influences – namely, foreign and foreign-educated imams, international "charities" and associations – are the primary purveyors of radical ideology, and want to see a renewed emphasis on the moderate practice of Islam that they believe is indigenous to Kosovo.
"As Kosovo continues to develop as a democracy, it is crucial that both the national and local governments work together to formulate policies that address the vulnerabilities identified in this report," said IRI Director of Governance Rima Kawas. "Increasing engagement with citizens, increasing government transparency, and improving coordination between national and local authorities are some key measures that will help strengthen Kosovo's democracy and help prevent violent extremism.
Background
IRI's approach to preventing violent extremism is anchored in three phases: understand, inform, and equip. This report is part of the first phase of that strategy. In early 2017, the Institute conducted research in four municipalities in Kosovo, to understand the local drivers behind increased vulnerability to violent extremism in the community. These municipalities, Pristina, Ferizaj, Hani i Elezit, and Kacanik, were selected because they have been a source of a significant number of foreign fighters. This report is based on focus group research and extensive interviews with residents from these municipalities, including family and friends of foreign fighters.
Download the report HERE.
Top