North Macedonia: Pre-Election Poll Shows Increased Economic Anxiety, Declining Hopes for EU Accession
Skopje, North Macedonia—A new nationwide poll of North Macedonia by the International Republican Institute's (IRI) Center for Insights in Survey Research reveals a decline in the belief that the country will secure European Union (EU) membership in the near future, as well as mounting economic anxieties. These findings come one month ahead of North Macedonia's parliamentary elections and follow the EU's failure to agree to initiate accession negotiations with the country in 2019.
"The breakdown of EU accession talks has dampened the Macedonian public's hopes for future membership," said Paul McCarthy, IRI Regional Director for Europe. "Citizens are now focusing their attention inward, citing economic issues as the most important problems facing North Macedonia today."
Although 80 percent of citizens support North Macedonia becoming an EU member, just 28 percent believe that their country will join the EU over the next five years—a seven-point decline since IRI's last poll in July 2018. Likewise, the proportion of respondents who think EU integration will take longer than ten years has increased by seven points. Respondents also cited "Integration in the EU" as the top issue politicians "talk too much about."
With the prospect of EU integration delayed, the public is turning its attention towards the economy: 52 percent of respondents think issues related to the economy (unemployment, the economic situation, poverty, low or nonpayment of pensions) are the most important problems facing North Macedonia today. However, citizens do not feel that politicians share their priorities: 59 percent of citizens agree that politicians should talk more about these economic issues.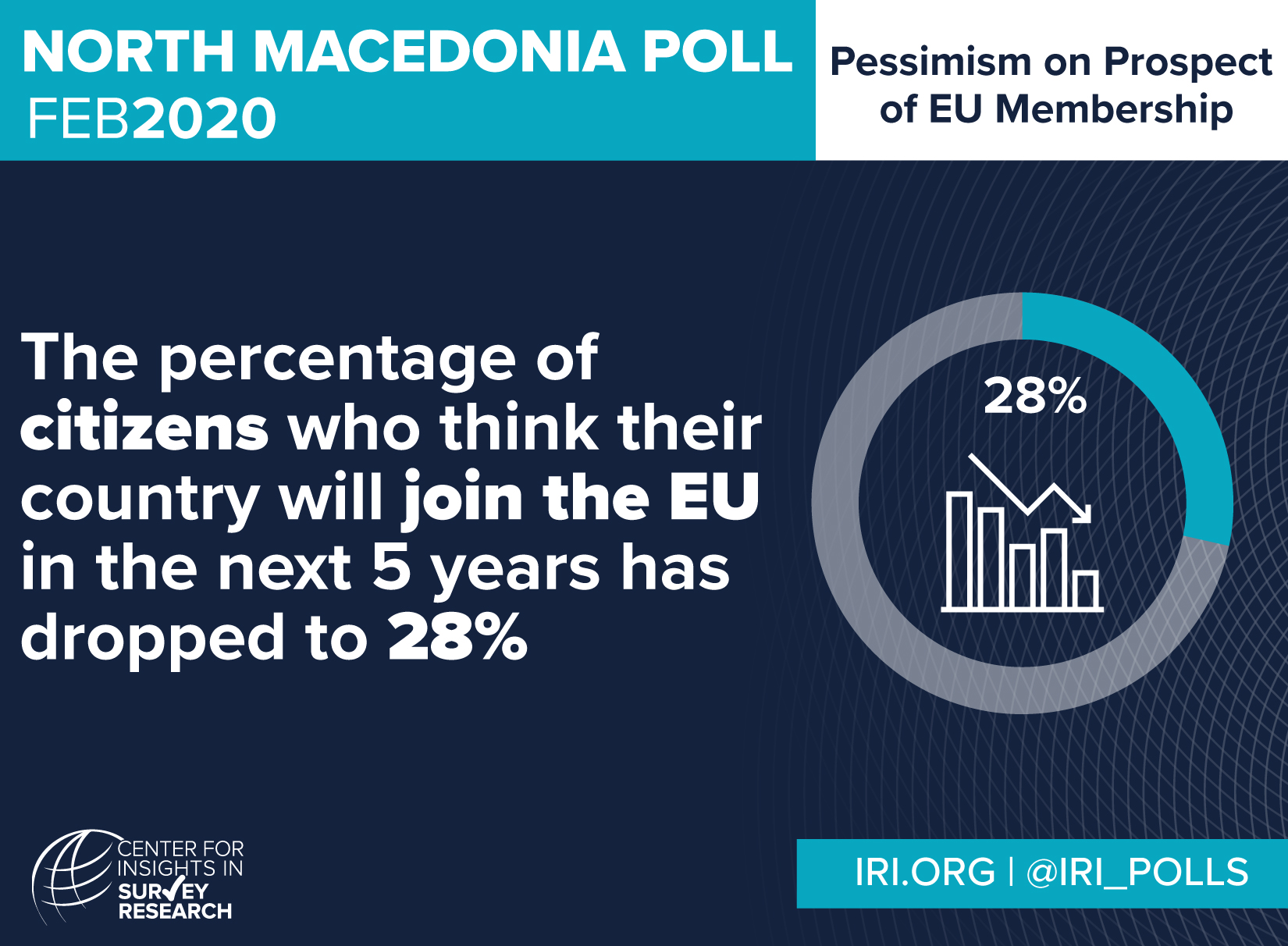 These economic anxieties may contribute to a general sense of pessimism regarding the country's trajectory. Seventy-seven percent of respondents think that today's generation of young people do not have a good future in North Macedonia, while 50 percent of respondents reported that a family member had emigrated in recent years. "The failure of successive governments to address these issues has likely contributed to the public's negative economic outlook and heightened emigration," added McCarthy.
On April 12, North Macedonia will hold parliamentary elections, in which about three quarters of citizens are "very" or "somewhat" likely to vote. While a plurality of North Macedonia's population does not think that any political party is best equipped to grow the economy, the SDSM (18 percent) and VMRO-DPMNE (17 percent) parties share the lead among those who did name a preferred party to revamp the economy. Overall, findings show SDSM and VMRO-DPMNE in a dead heat and ahead of all other parties in the lead up to next month's elections. When asked which party they would vote for if elections were held next Sunday, 17 percent of voters identified SDSM and 16 percent selected VMRO-DPRMNE.
Methodology
The survey was conducted on behalf of IRI's Center for Survey Research by Brima market research firm between January 30 to February 10, 2020. Data was collected using a stratified multistage probability sampling method through in-person, in-home interviews. The sample consists of 1,222 respondents ages 18 and over. The data was weighted for age, gender, region and ethnicity. The margin of error was plus or minus 2.8 percent at the midrange of the 95 percent confidence level. The response rate was 73 percent. This poll was conducted with support from the National Endowment for Democracy.
Top