The Maldives: Nationwide Poll Shows Strong Support for Government, Economic Optimism
Malé, Maldives— A new nationwide poll of the Maldives by the International Republican Institute's (IRI) Center for Insights in Survey Research (CISR) reveals strong support for government performance and a positive economic outlook. However, the survey also reflects residual anxiety over political instability and corruption. This is IRI's first nationwide poll conducted in the Maldives since the September 2018 presidential election that brought the current coalition-led government to power.
"Maldivians are satisfied with the Solih administration's performance after the government's first year in office," said IRI Regional Director for Asia Johanna Kao. "However, in order to build upon this public support, coalition leader President Solih must continue to address citizen concerns over corruption and political instability."
President Solih and the national government secured solid approval ratings at 61 and 56 percent, respectively. These results follow a year in which the administration advanced a number of reforms in areas including anti-corruption, the judiciary, decentralization and women's inclusion. The poll also indicates positive views of the country's economy under the new government, with 75 percent saying their current economic situation is "good" or "very good" and 63 percent expecting it to improve over the next year.
Despite the public's positive view of the government and the economy, some anxiety over corruption and political instability remains. While 62 percent of Maldivians say corruption does not impact their daily lives today, 97 percent still agree it is a serious issue. A plurality, however, believe political instability and internal conflict are the biggest problems facing their country, with 17 percent citing internal conflicts and 14 percent citing political instability as the top issue. Respondents also identified housing, unemployment and illicit drugs as urgent issues for the government to address.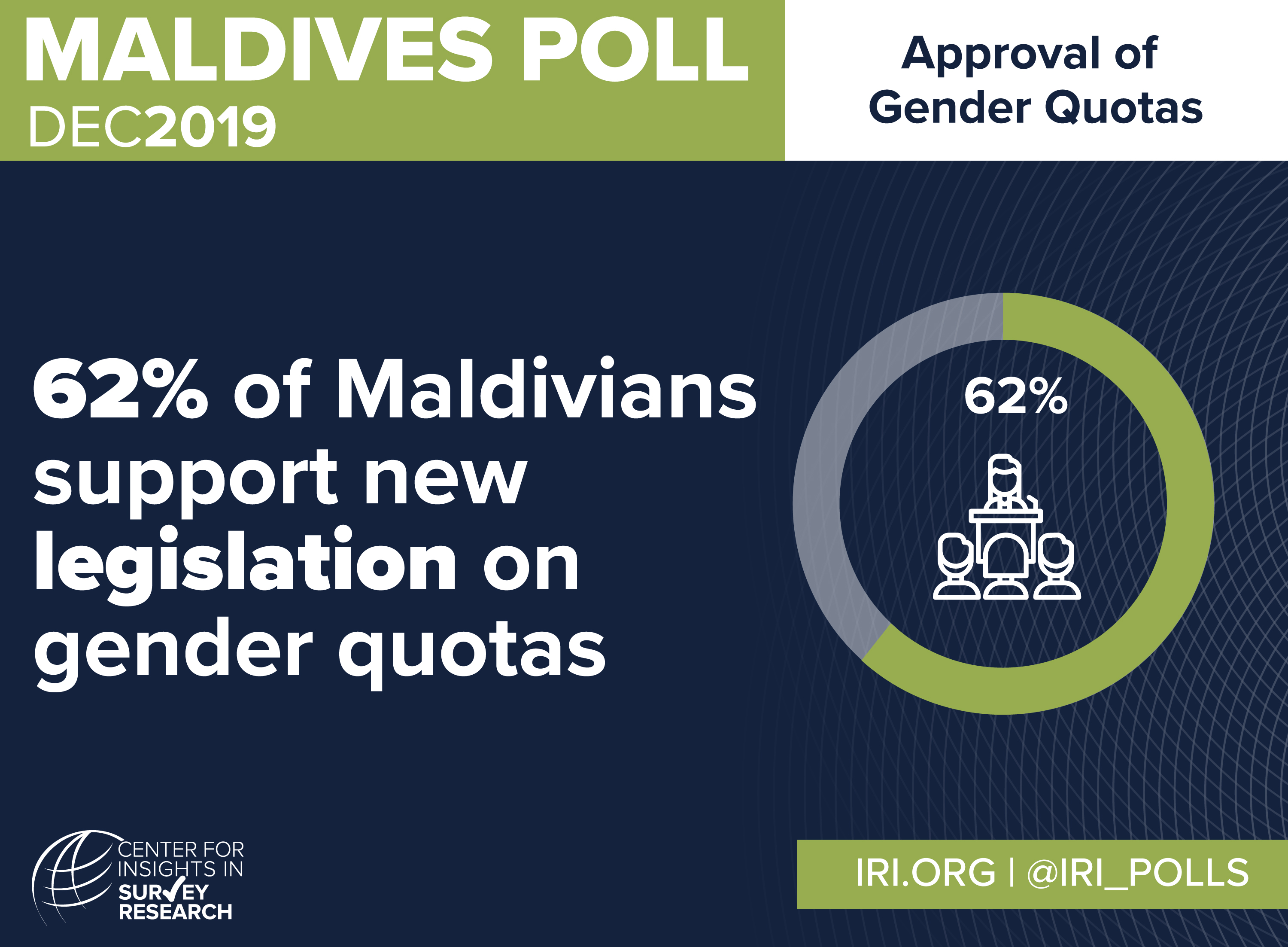 The poll indicates strong support for the ongoing decentralization process, with 75 percent saying decentralization is important and 54 percent supporting the government's policies on the issue. Additionally, 62 percent approve of the recently passed law that reserves one-third of local council seats for women, and nearly half stated a candidate's gender makes no difference to them.
Methodology
The survey was conducted on behalf of IRI's Center for Insights in Survey Research by CDE Consulting between December 3 and 22, 2019. Data was collected using a multi-stage stratified probability sample through in-person, in-home interviews. The sample consists of 1,130 respondents aged 18 and older and is representative of Maldivian adults nationally, excluding the 6% of the population residing on resort islands. The margin of error does not exceed plus or minus 2.9 percent at the mid-range with a confidence level of 95 percent. The response rate was 91 percent.
Background
A nonprofit, nonpartisan organization, IRI advances freedom and democracy worldwide by developing political parties, civic institutions, open elections and democratic governance. Since 2018, IRI has supported democratic development in the Maldives through programs that strengthen civil society, promote women's political participation and encourage accountable, citizen-centered government.
Download the press release in Divehi here.
Top