Timor-Leste's Parliamentary Elections: Voters Demonstrate Commitment to Democracy; Election Day Logistics Need Improvement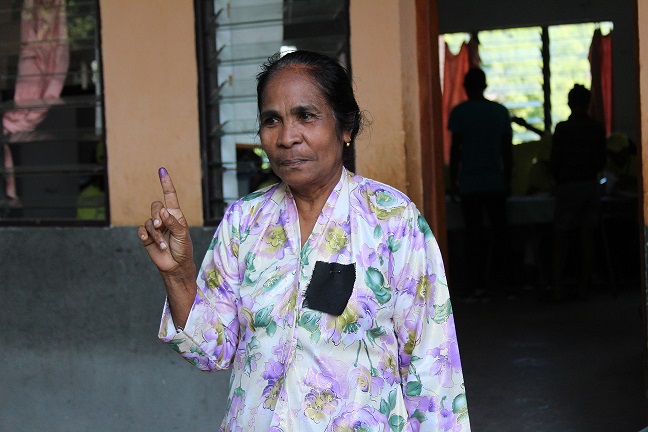 Dili, Timor-Leste—In its preliminary statement released today, the International Republican Institute (IRI) concluded that Timor-Leste's July 22 parliamentary elections were "credible and met international standards for free and fair elections."
The citizens of Timor-Leste went to the polls to vote in the country's fourth parliamentary elections since the restoration of independence in 2002. While there were limited flaws in election procedure, IRI's Election Observation Mission observed a transparent voting process, with Timorese citizens demonstrating their commitment to the democratic process.
"The Timorese people should be proud of the progress they have made in their democracy since their last parliamentary election," said Randy Scheunemann, the co-leader of IRI's delegation and a member of IRI's Board of Directors "This relatively young country has continually demonstrated that democracy is not just about elections, but about putting in place the institutions that ensure those elections are held freely and fairly."
"We were impressed by the clear commitment of the citizens of Timor-Leste to peaceful, democratic elections. Additionally, we would like to applaud the technical conduct and professionalism of the polling agents," said Bruce Edwards, International Secretary of the Liberal Party of Australia and co-leader of IRI's delegation.
For a quick take on the conduct of Timor-Leste's parliamentary election, read IRI's "Election Snapshot."
Deployment of Short and Long-Term Observers
A delegation of 20 accredited observers—including IRI staff and external foreign policy experts—observed electoral activities and polling in all 13 districts of Timor-Leste on Election Day, visiting more than 120 polling stations. This mission was part of an international effort to ensure that the election was free, fair and peaceful, and participated in monitoring activities at the behest of the Timorese government.
The delegation consisted of 20 short-term observers, deployed throughout the country on Election Day; and two long-term observers, deployed on June 21, 2017, who observed preparations for the election. From June 21 to July 15, long-term observers attended 110 meetings and events with election-related stakeholders throughout the country, which they documented as the basis for IRI's report on Timor-Leste's pre-election environment.
IRI's international delegation of short-term observers was co-led by Randy Scheunemann, a foreign policy expert and IRI Board Member; Bruce Edwards, International Secretary of the Liberal Party of Australia; and Thomas Garrett, IRI Vice President of Programs. The delegation also included Curtis Chin, former U.S. Ambassador to the Asian Development Bank, as well as an array of experts in politics and foreign policy.
IRI Commends Free and Fair Process
Overall, IRI's short-term observers witnessed a peaceful, free and fair election process, and noted the close cooperation between electoral authorities, political parties and civil society organizations. This outcome is consistent with the conclusion of IRI's long-term observers in their pre-election assessment, which anticipated a calm, free and fair process.
This peaceful election was another important step towards allaying popular fears surrounding the possibility of election-related violence: according to a recent IRI nationwide poll, 53 percent of Timorese citizens feared the possibility of electoral violence, despite the fact that 96 percent had not observed violent incidents during the recent presidential election in March 2017.
The opening of polling stations was smoothly administered in most cases. Voter turnout was strongest in the morning, with numbers decreasing in the afternoon before the polls closed at 3 pm. The vote counting process was orderly and mostly well-administered. Delegates noted that election officials appeared to be committed to ensuring that the process was conducted smoothly, transparently and without error.
Across the country, IRI teams witnessed Timorese citizens helping each other at polling stations: for example, routinely allowing the elderly, women with children and people with disabilities to move immediately to the front of the lines. Election workers appeared to be well-trained, organized and seemed to understand and respect electoral procedures.
Presence of Independent and Party-Affiliated Election Monitors; Respect for Regulations Governing Elections
IRI observers noted the presence of political party polling agents and domestic observers, which contributed to the transparency, inclusivity and credibility of the overall process. Political parties had party agent observers present at a vast majority of polling stations visited by IRI.
Political parties appeared to adhere to the 48-hour campaign blackout law prior to the election. Additionally, IRI observers noted that a majority of the polling stations visited did not have electoral propaganda inside the polling station or within 25 meters of the polling area.
The Role of Women as Polling Agents
IRI observed women playing a positive role in the administration of the election at the polling station-level, with a significant proportion serving as election officials at the polling stations visited by delegates. IRI commends the Technical Secretariat for the Electoral Administration for its proactive recruitment and training of women to serve in these roles.
Minor Procedural Imperfections
Although IRI observers characterized the election as proceeding in a calm, well-ordered fashion, delegates noted a few instances of procedural imperfections. A number of polling sites did not verify whether voters' fingers were already inked before providing them with ballots. Additionally, IRI delegates also observed cases of election officials not properly inking voters' fingers. A few observers witnessed a ballot paper controller pre-signing and stamping ballots prior to issuing them.
Finally, having observed vote counting processes in 13 polling stations, delegates noted a few instances in which the number of ballots tallied did not equal the number of ballots cast. This problem prolonged the ballot counting process and could have been avoided by providing clear and simplified instructions regarding the ballot counting process to the polling agents.
Recommendations
In the coming weeks, IRI will release a report based upon the observations of our short and long-term observers.
IRI Short-Term Observation Mission Delegates
Delegation Co-Leader: Randy Scheunemann, foreign policy expert; Member, IRI Board of Directors
Delegation Co-Leader: Bruce Edwards, International Secretary of the Liberal Party of Australia
Curtis Chin, Former U.S. Ambassador to the Asian Development Bank; Asia Fellow, the Milken Institute
Christopher Fussner, Owner and Founder, TransTechnology; Member, IRI Board of Directors
Georgina Downer, Adjunct Fellow at the Institute of Public Affairs; Member, Victoria Liberal Party Administrative Committee
Gail Gitcho, Communications Strategist and Partner, McKay-Gitcho Strategies
Sue Ingram, expert in public policy and Timor-Leste; former Australian government official
Trent Hasson, Advisor, Australian Government
Robyn Nolan, Former President of the Federal Women's Committee of the Liberal Party of Australia
IRI Staff
Thomas Garrett, Vice President for Programs
Derek Luyten, Regional Director, Asia
Morgan Martinez, Deputy Director for External Affairs Jessica Keegan, Director of Political Development, Mongolia and Cambodia
Dimitar Stojkov, Resident Program Director, Timor-Leste
Cyntia da Silva, Assistant Program Officer, Timor-Leste
Natalie Trisilla, Senior Monitoring and Evaluation Specialist
Muskan Niazi, Asia Division Field Accountant
Parker Novak, Program Officer, Timor-Leste and Indonesia
Chelsea Catsam, Senior Program Associate, Timor-Leste and Vietnam
IRI Long-Term Observers
Long-term Election Observer, Western Municipalities: Ken Palmer
Long-term Election Observer, Eastern Municipalities: Jörg Meier
IRI in Timor-Leste
Since the restoration of Timor-Leste's independence in 2002, IRI has become a trusted resource amongst Timorese civil society, members of parliament and political parties in helping to develop democratic institutions.
As the only non-governmental organization to work directly with Timor-Leste's political parties since 2000, our initial work prepared political parties for the 2001 constituent assembly and the 2002 presidential elections. Since then, IRI has provided technical assistance during every subsequent election and deployed an observation mission to the 2012 parliamentary elections. With a nuanced understanding of the on-the-ground, in-country realities, our work has supported civic education, bolstered political pluralism, increased political participation of women and youth and strengthened the capacity of Parliament to serve as an independent and representative legislative body.
Top