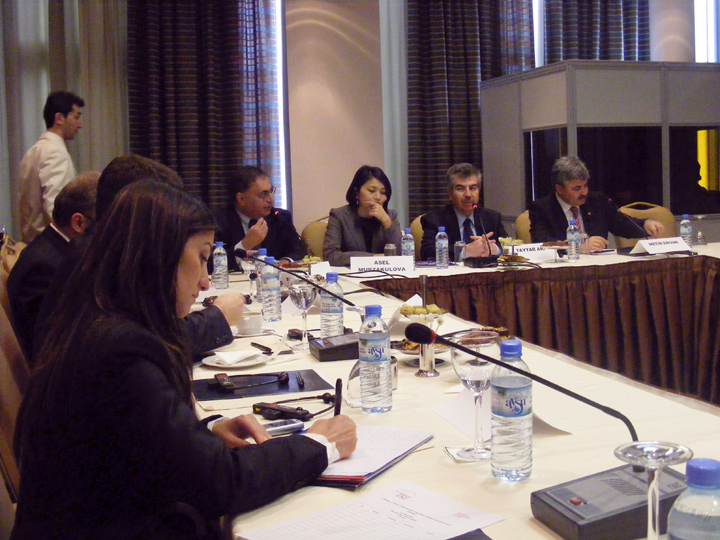 The International Republican Institute hosted another roundtable as part of its Turkey in the World series. This forum focused on cooperation between Turkey and the Turkic republics, and on whether cooperation could encourage democratic development in the region. A panel of policy experts, academics and politicians from Turkey, Azerbaijan, Kazakhstan and Kyrgyzstan examined the challenges to democracy in their respective countries and expanded discussion to explore how Turkey might support democratic processes.
Murat Mercan, a member of the parliament with the Justice and Development Party and Chair of the Turkish Grand National Assembly's Foreign Affairs Commission, opened the discussion. Mercan commented that many of Turkey's interests in the region were driven by historical factors and Turkish public opinion, but suggested it would be beneficial for Turkey to share its experience as a parliamentary democracy with neighboring countries as a way to build a more stable political environment. At the same time, Mercan cautioned that it should be Turkish non-governmental organizations and think tanks that take the lead on regional democratization intiatives.
Following Mercan, a panel of experts from Azerbaijan, Kyrgyzstan and Kazakhstan discussed the challenges facing government opposition, democracy and the rule of law in their respecitve countries and debated potential solutions. The speakers included: Asim Mollazade, Chair of the Democratic Reforms Party and member of parliament in Azerbaijan; Asel Murzakulova, Consultant with the Bishkek Branch of the International Institute for Monitoring Democracy Development; Zauresh Battalova, Former Senator and President of the Foundation of Parliamentary Development in Kazakhstan; and Dr. Metin Ergun, Turkish member of parliament with the Nationalist Movement Party.
Top