IRI Western Balkans Poll Shows Support for Pro-Western Institutions, Persistent Ethnic Tensions, and Commitment to the Open Balkan Initiative
Washington, DC – The latest multinational survey of the Western Balkans by the International Republican Institute's (IRI) Center for Insights in Survey Research (CISR) shows support for pro-Western institutions, an acknowledgement of longstanding ethnic tensions, and a commitment to the Open Balkan Initiative. The countries surveyed were Bosnia and Herzegovina (BiH), Kosovo, North Macedonia, Montenegro, and Serbia.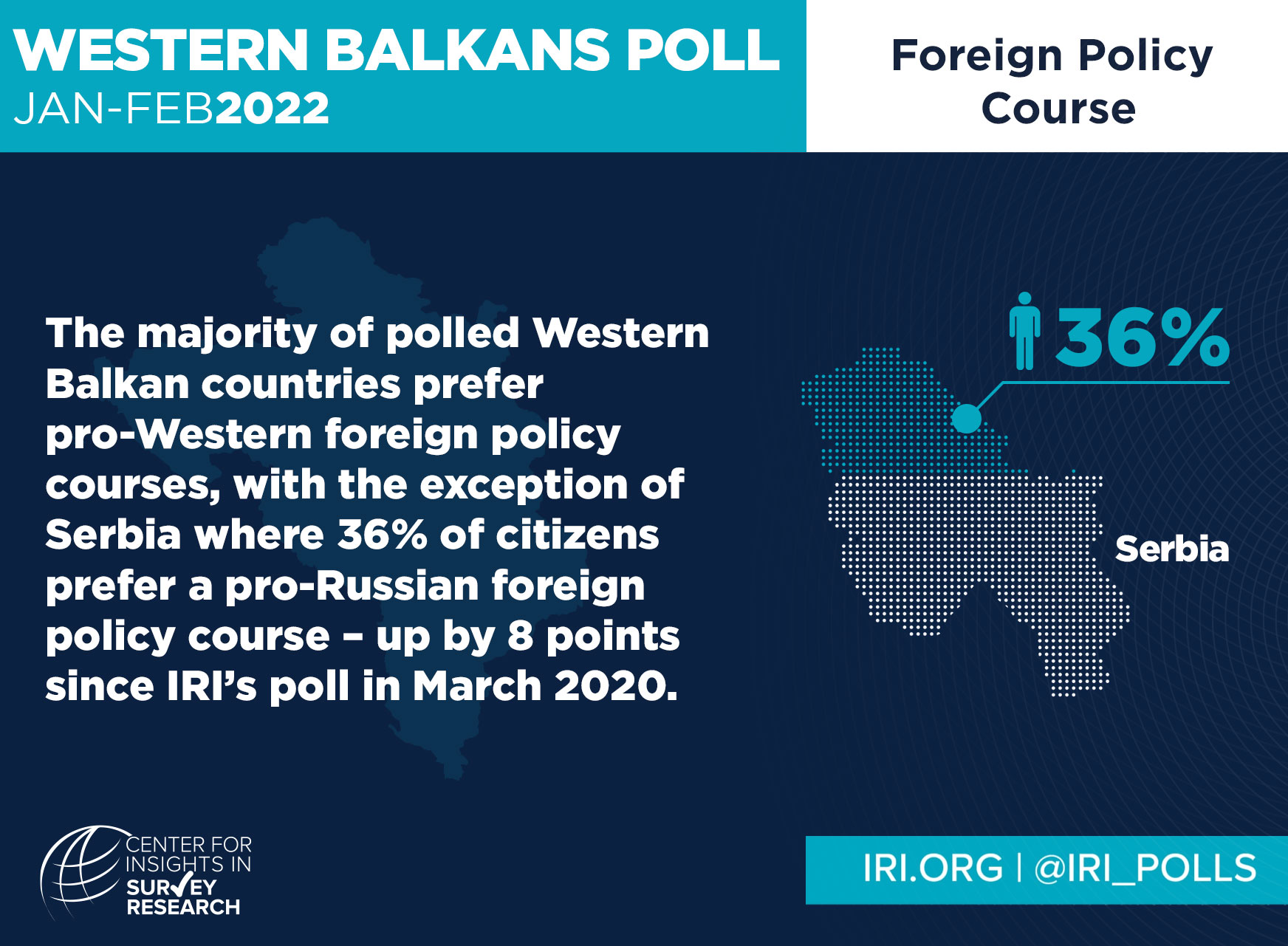 When asked about the course of foreign policy, majorities in Bosnia, North Macedonia, and Kosovo favor a Western orientation while majorities in every country except Serbia favor EU membership. Support for NATO also increased in BiH and Montenegro, since the previous IRI poll in 2020.
"Our research clearly shows that most people in the Western Balkans desire a strong connection with successful democracies and free societies," said Paul McCarthy, Regional Director for Europe at IRI. "Even before Putin's aggression, respondents in the region felt that their future was with the West."
The poll also highlights longstanding tensions among ethnic groups throughout the region. Majorities in all surveyed countries except Kosovo acknowledge that there is at least some level of tension among different ethnic groups in the Western Balkans. However, majorities in all countries polled believe that an armed conflict in their respective country is unlikely in the near future.
"It is not surprising to see that perceptions of tensions among ethnic groups remain," said McCarthy. "Conversely, the fact that a strong majority of people do not anticipate armed conflict in the region is a positive sign for long-term stability in that part of Europe."
Additionally, the poll found strong support for the Open Balkan Initiative, an agreement among North Macedonia, Serbia, and Albania to support the free movement of people, goods, services, and capital and cooperation in addressing public emergencies among the three countries. A majority of people polled in BiH (68%), Montenegro (66%), North Macedonia (61%), and Serbia (75%) all support the initiative, with Kosovo as the outlier with only 42% support.
Methodology The survey was conducted on behalf of IRI's Center for Insights in Survey Research by Ipsos Strategic Marketing between December 30, 2021, and February 20, 2022. Data was collected through CAPI administered face-to-face interview in respondents' homes through a multistage probability method designed to yield nationally representative samples in each country. Response rates range from 33% percent to 39%. Sample size by country varies between n=1,008 and n=1,520 and the margin of error ranges from 2.9 to 3.5 points.
Top