Lebanon Parliamentary Elections: Political Elite Maintained their Hold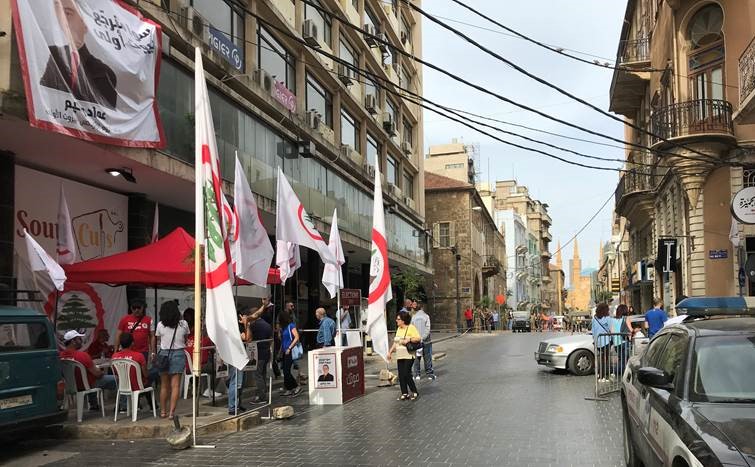 After nine years of political deadlock, Lebanon finally held parliamentary elections on Sunday, May 6. The historic day saw both democratic achievements, the election of six women, and a few setbacks, markedly low turnout.
Only 49.2 percent of all eligible voters went to the polls, down from 54 percent in the previous 2009 election. Analysts and pollsters attributed this to confusion over the new electoral law. As of 2017, the new law replaced the previous winner-takes-all system with a proportional system and introduced a preferential vote, whereby voters would cast a vote for a preferred candidate as well as for a candidate list. The structure of the law encouraged the formation of non-intuitive alliances among parties and candidates, with some parties forming alliances in one district only to compete with those allies in another.
Additionally, many voters have expressed disillusionment with the political class and their inability to make meaningful changes through the parliamentary process. A number of recent polls have shown that the primary issues among Lebanese citizens are high unemployment, a lagging economy, rampant corruption and a crumbling infrastructure. Yet, research conducted by the Lebanese Center for Policy Studies shows that the previous parliament was both out of touch with Lebanese priorities and committed little effort to address citizen calls for improved services and economic opportunities.
Preliminary election results indicate that the traditional parties and players in Lebanese politics prevailed. Hezbollah, a powerful Shia paramilitary organization with ties to Iran, maintained its parliamentary bloc in coalition with its long-standing ally and concurrent Shia party, Amal. Hezbollah and its allies together won over half of the total parliamentary seats, at the expense of their main rivals, the Sunni affiliated Future Movement. Across the country, despite an anti-establishment fervor that arose from the government's mismanagement of a trash crisis in 2015, familiar faces from Lebanon's political elite maintained their hold on parliament.
Despite these disappointing results, some found a glimmer of hope in the election of a woman candidate from the Kulna Watani "civil society" list in Beirut. Paula Yacoubian, a former IRI trainee from the anti-establishment Sabaa Party, represents a break with the traditional parties and serves as a foot in the door for challengers of the status quo. Kulna Watani candidates campaigned on an anti-corruption, economic development and social services platform that struck a chord with many voters. Kulna Watani supporters hope that Yacoubian's election is the foundation of a sustained movement away from traditional politics in Lebanon. Yet, Yacoubian will face significant challenges both within a fractured opposition in parliament, as well as the dominance of traditional personality-based parties.
As the dust settles after Election Day, blocs will begin to solidify in parliament and government ministries will divide up. In the ensuing period, those looking for change in Lebanon will have to work doubly hard to shake up the system and to engage the interest of citizens who have chosen to opt out of the traditional Lebanese politics.
Top