Tunis, Tunisia—A new poll (also available in Arabic and French) of Tunisians by the International Republican Institute's (IRI) Center for Insights in Survey Research suggests increasingly pessimistic attitudes toward the electoral process ahead of the 2019 parliamentary and presidential elections.
Check out our new interactive data dashboard here for customized insights into the poll.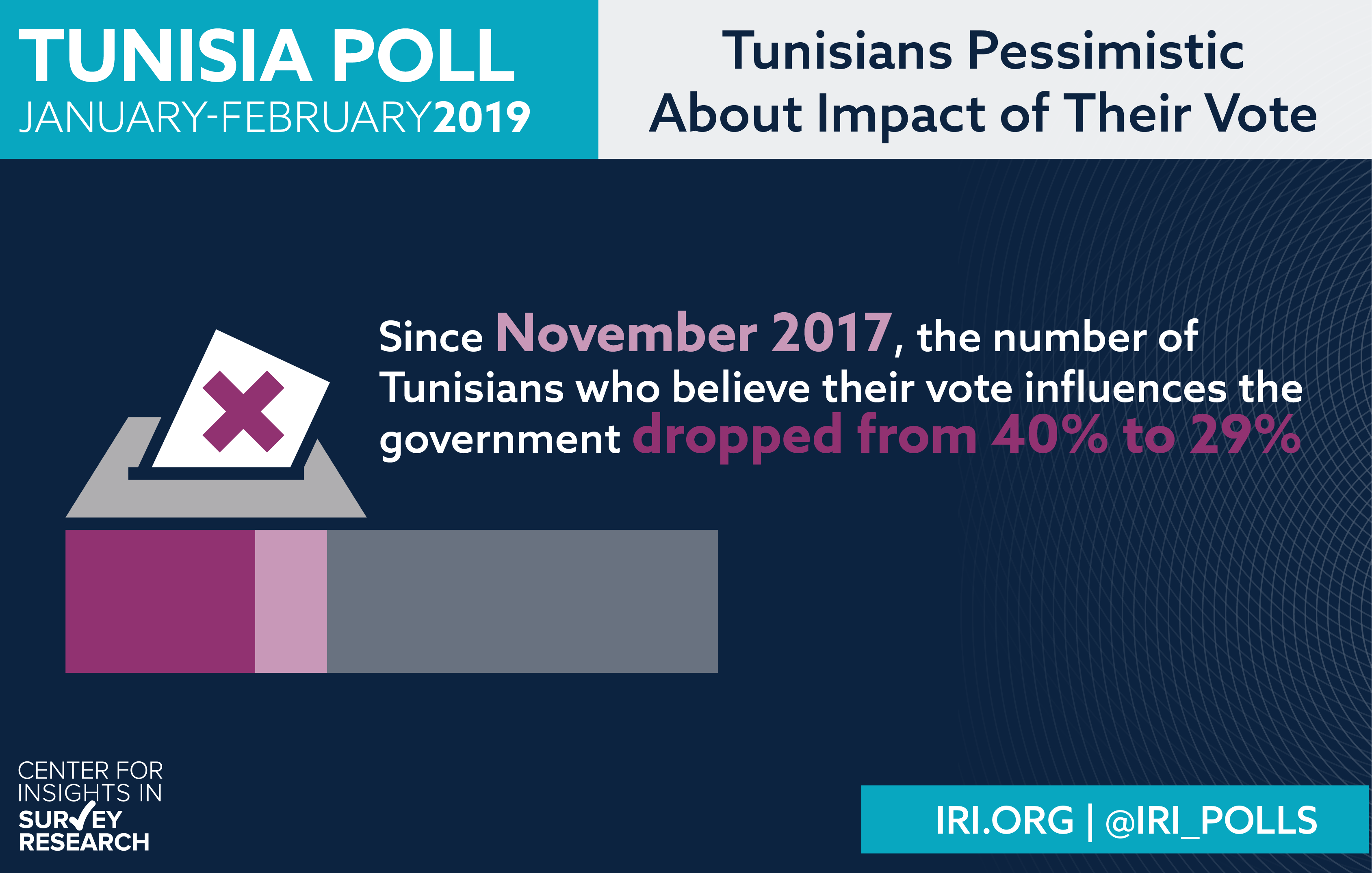 "The results signal growing frustration with political infighting and leaders' inability to tackle deepening economic divides and convert democratic advancements into economic prosperity," said IRI's Regional Director for the Middle East and North Africa Patricia Karam. "The data also corroborates linkages between a declining confidence in the political reform process and voter turnout, and reveals that an overwhelming majority of Tunisians want more youth participation in politics and government."
A majority of Tunisians (55 percent) intend to vote in the upcoming elections, with 31 percent being "very likely" and 24 percent being "somewhat likely." However, the percentage of people who believe that voting gives them "some say about how government runs things" dropped from 40 percent in November 2017 to 29 percent.
Pessimistic views of the electoral process are more prevalent among Tunisian women: just 26 percent of women are "very likely" to vote in upcoming elections, compared to 36 percent of men. Only 20 percent of women are "highly confident" in the ability of the Independent High Authority for Elections to organize and supervise elections, compared to 30 percent of men. Women are also significantly more concerned (73 percent are either "very" or "somewhat concerned") about election-related violence than men (58 percent).
A strong majority (84 percent) of Tunisians across all age groups believe there should be more youth in politics. Sixty percent report that they would be "more likely" to vote for a candidate aged 35 years old or younger.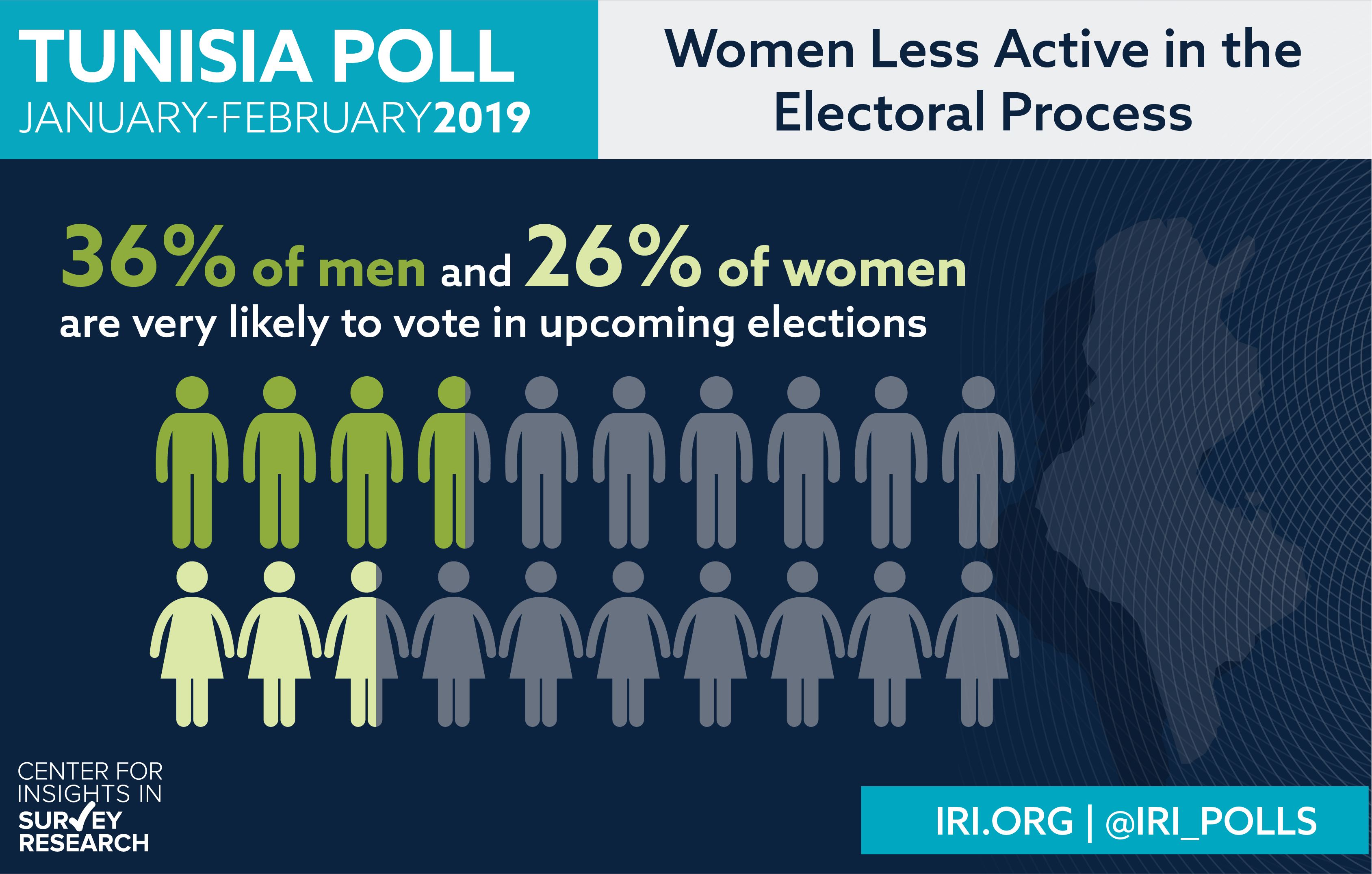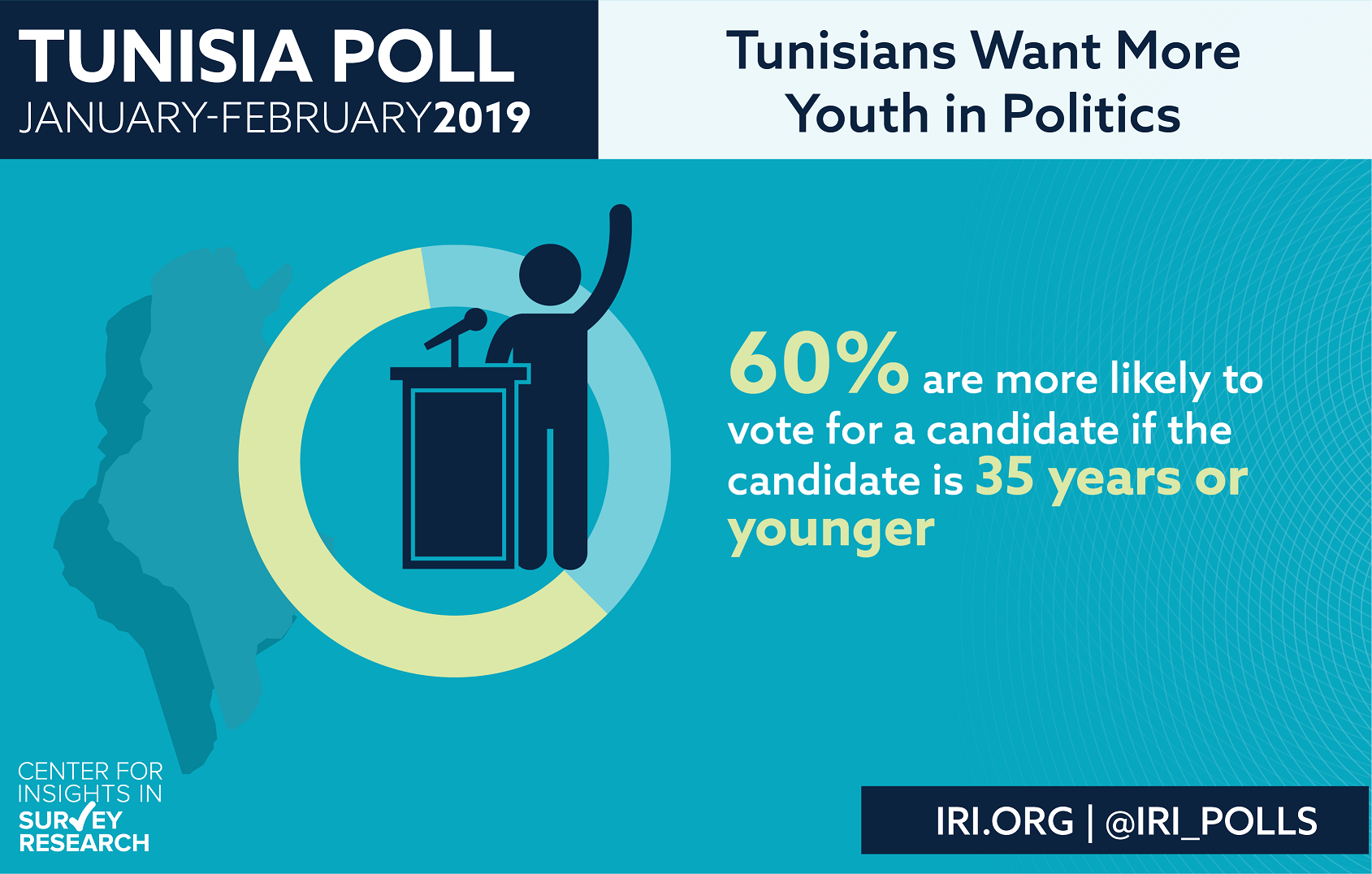 Methodology
This survey was conducted on behalf of the Center for Insights in Survey Research by ELKA Consulting, a Tunisian-owned and operated marketing research firm. Data was collected between January 25 and February 11, 2019 through face-to-face interviews at respondents' homes by trained interviewers in Arabic. The sample consisted of 1,226 respondents and is representative of the population of Tunisia aged 18 and older. Figures in charts and tables may not add up to 100 percent due to rounding. The overall margin of error is plus or minus 2.0 percent at the midrange of the 95 percent confidence level.
Click here to read the survey in Arabic.
Click here to read the survey in French.
Top