Nicaraguan Journalists Raise Awareness of Challenges to Independent Media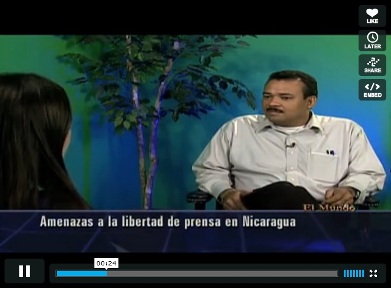 As space for independent media shrinks in Nicaragua, IRI hosted a group of journalists in Washington, DC to help them raise awareness of the situation in Nicaragua and to provide them with information and tools which they can use to improve their work.
Participating in the trip were: Roberto Nicolás Mora Cano with Radio ABC Stereo in Estelí, Manuel Jesús Lozano Portobanco with Radio Rumbos in Rivas, Marisol Balladares Blanco with Radio Corporación in Managua, Sergio Warren León Corea with Radio La Costeñísima in Bluefields and Hugo Eddie Pérez Altamirano with Radio Hermanos in Matagalpa.
During the five-day trip, a part of IRI's Media Freedoms program in Nicaragua, the journalists met with staff of Congressman Mario Diaz-Balart (FL-21), Bill Simmering at the organization Developing Radio Partners, Frank Smythe at the Committee to Protect Journalists and representatives at the bureau of democracy, human right, and labor at the U.S. State Department, and National Public Radio affiliate WAMU 88.5. Some of the topics discussed during their meetings were the economic challenges that media face in Nicaragua and how to overcome these obstacles by involving their community and listeners, and how their stations can make an impact without the use of expensive equipment and technology.
While they were in DC, some of the journalists wereinterviewed by Voice of America television, where they explained some of the challenges placed on independent journalists in Nicaragua. Journalist Roberto Mora spoke about the fear felt by independent journalists that has led to self-censorship, stating, "In order to avoid problems with the government, independent journalists are forced to censor themselves and avoid covering any controversial issues that may arouse the ire of the government."
Through the trip, the journalists gained a new perspective on the challenges they face in Nicaragua and an appreciation of the impact of their work. They also had a chance talk with their peers about role media plays as a government watchdog. Through the contacts they made, the journalists will strengthen the foundation for a free press in Nicaragua.
Top