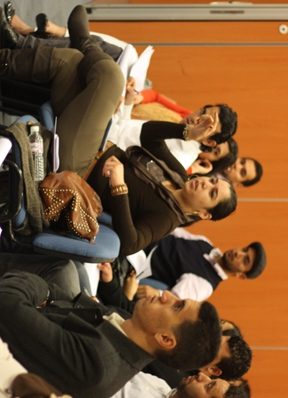 Youth played a pivotal role in the revolution that swept Tunisia in January 2011, demonstrating an untapped source of political activism within the country. To help channel the energy of Tunisian young people into political engagement, IRI kicked-off its inaugural Party Youth Leadership program March 27-28. Youth from seven political parties attended the training, held in Tunis.
The two-day event was the first in a year-long series of leadership and technical trainings meant to build the capacity of up-and-coming leaders within Tunisia's emerging political parties. Given the critical role youth played in bringing democracy to Tunisia, it is important this demographic also find a meaningful role in post-revolution political life. The Party Youth Leadership program focuses on the areas of candidate development, campaign management and get-out-the-vote techniques to allow youth to be key assets within their parties and the wider political arena.
Slovak trainer Eva Ohrablova, campaign manager for the Slovak Democratic and Christian Union-Democratic Party, provided practical knowledge and insight into electoral systems and campaign management. Drawing on her extensive background in campaigns, Ohrablova explained the steps of basic campaign strategy and grassroots advocacy. Working in groups, participants were tasked with developing a compelling door-to-door campaign to win votes for their party. Participants were also engaged in a case study from a real local mayoral race held in Slovakia, culminated in a mock mayoral election.
The program also emphasized the role of young leaders in transitioning democracies. Ohrablova shared lessons from Slovakia's path to democracy and the legacy on the political system in Slovakia today. Discussing these common experiences gave participants a broader understanding of the challenges and opportunities to come in their own system.
The Party Youth Leadership program is one component of IRI's broader political party work in Tunisia, which strengthens the capacity of parties to contribute to Tunisia's democratic progress.
Top