Uzbekistan: Connecting Government to Citizens, Seven Years Post-Karimov
As democracy continues to be challenged globally, it remains critical that Western engagement not waver in supporting emerging democracies. The International Republican Institute (IRI) and a group of American legislative experts recently visited Tashkent, Uzbekistan for a series of discussions with members of the Uzbek Parliament (the Oliy Majlis), Ministries, and Courts. Throughout the consultations, these government officials signaled increasing political will to improve citizen centered governance and data driven decision-making, because there is an understanding that in democracies the legislators rely on voters to keep their job. "I know I am replaceable," noted one long-serving legislator.
Situated in the heart of Central Asia, Uzbekistan is making good strides toward responsive governance, which is no small feat given its Soviet past and the subsequent authoritarian regime of nearly 30 years, led by Islam Karimov. Karimov's death in 2016 opened the doors to an opportunity to draw a new political path for Uzbekistan.
In the last seven years, under President Shavkat Mirziyoyev, the country has forged ahead with a reform agenda that empowers regional governments, improves the business climate, and engages citizens in lawmaking in parliament. However, challenges remain to secure these new, promising democratic gains; specifically, the parliament has limited power to initiate lawmaking, and legislators are mostly disconnected from their constituency due to low competition elections as well as several executive branch appointments to the Senate. Yet, lawmakers and government officials are making progress in incorporating human rights benchmarks and citizen engagement goals as they strive toward a positive future.
The Ombudsman Office, an intra-parliamentary support agency, responsible for hearing from citizens about their concerns, is leading the way in connecting citizen feedback to their legislators, thereby ensuring citizens' human and civil rights are protected. With its satellite offices in each of Uzbekistan's 12 regions, the Ombudsman Office has a wide mandate and assumes the representative and citizen consultative functions many systems require of legislators. Most recently, the regional offices are coordinating their efforts with the legislators from specific constituencies to aid citizen casework requests; which is slowly building trust between citizens and their representatives in parliament.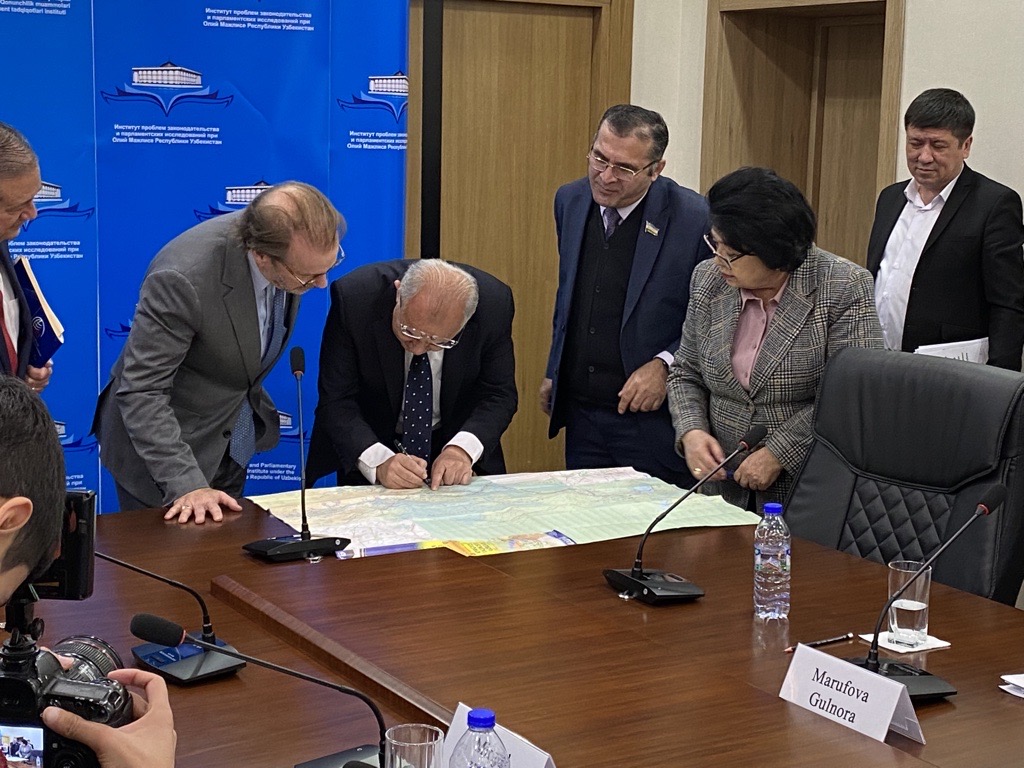 Due to the Soviet legacy of top-down, single-party decision making alongside a history of low competition elections, the 150 deputies and 100 senators of the Oliy Majlis have limited experience in constituent services and responsive lawmaking. However, the lawmakers have taken significant steps to execute their democratic governance responsibilities and have set goals to incorporate human rights benchmarks and to engage citizen voices into their processes. Leveraging the resources at their disposal, such as the Ombudsman Office and its regional presence, parliament is closing the gaps between government and citizens to improve responsive lawmaking.
As parliament and its support agencies continue efforts to become independent and responsive institutions, IRI believes it would be mutually beneficial to advance the following:
Prioritize regular citizen engagement and a decentralized approach to governance,
As a body (and as individual members), communicate the priorities and responsibilities of parliament to the average citizen to build their trust and buy-in for the legislative process,
Strengthen the institution of parliament and the supportive agencies to ensure the work of lawmaking is done thoughtfully, effectively, and efficiently.
Like every people, Uzbekistan citizens want to see their government deliver. There are committed stakeholders in government interested in responding to their people, yet significant challenges remain to achieve those goals. Democracy must be carefully tended and cultivated, and there is a promising road ahead in Uzbekistan to reach its democratic aspirations and goals. Strong institutions that have clear duties, recognized constituents, accountability, and truly democratic elections are a central piece of any progress toward success.
IRI looks forward to more consultations with members of the Oliy Majlis and local councils on best practices of inclusive lawmaking and policy implementation.
Top