A Decade After the Revolution, Tunisians Worried About the Future
Tunis, Tunisia – A new nationwide survey of Tunisia by the International Republican Institute's (IRI) Center for Insights in Survey Research reveals that, ten years after the 2011 revolution, Tunisians remain distrustful of the political class and dissatisfied with their failure to deliver economic prosperity and an end to corruption.
"A decade after the revolution, Tunisia has made progress in its democratization, but challenges with the economy and corruption remain," said IRI Regional Director for the Middle East and North Africa Patricia Karam. "The ongoing COVID-19 pandemic has exacerbated these issues, encouraging citizens to seek new reforms and leadership to address them."
When asked about the national government's most important achievement in 2020, 75 percent of Tunisians said it accomplished nothing, and even more believe the government (85 percent), ministries (81 percent) and parliament (88 percent) are doing little or nothing to address the needs of ordinary citizens. This has likely contributed to the negative outlook Tunisians have for their country's future, with 87 percent agreeing Tunisia is headed in the wrong direction – a notable 20 point increase since IRI's last poll in December 2019.
Of the concerns fueling Tunisians' discontent, the economy tops the list, with 88 percent of citizens describing the current economic situation in the country as either "somewhat" (16 percent) or "very" (72 percent) bad. Also, one in four Tunisians claim they have trouble purchasing even food and the most essential goods for survival for their families. When asked what concern the government's top priority should be, youth employment took first place (20 percent), with COVID-19 – which has only worsened Tunisia's economic devastation – following at 16 percent.
Beyond the economy and COVID-19, corruption is cited as the next most important problem facing Tunisia. Corruption has had a negative impact on 78 percent of citizens, and 74 percent claim personal relationships are either "very" (11 percent) or "somewhat" (63 percent) important to "getting things done" with the government. Nearly one in four Tunisians have personally experienced corruption with police (23 percent) and nearly one in five Tunisians have personally experienced corruption with hospitals (18 percent).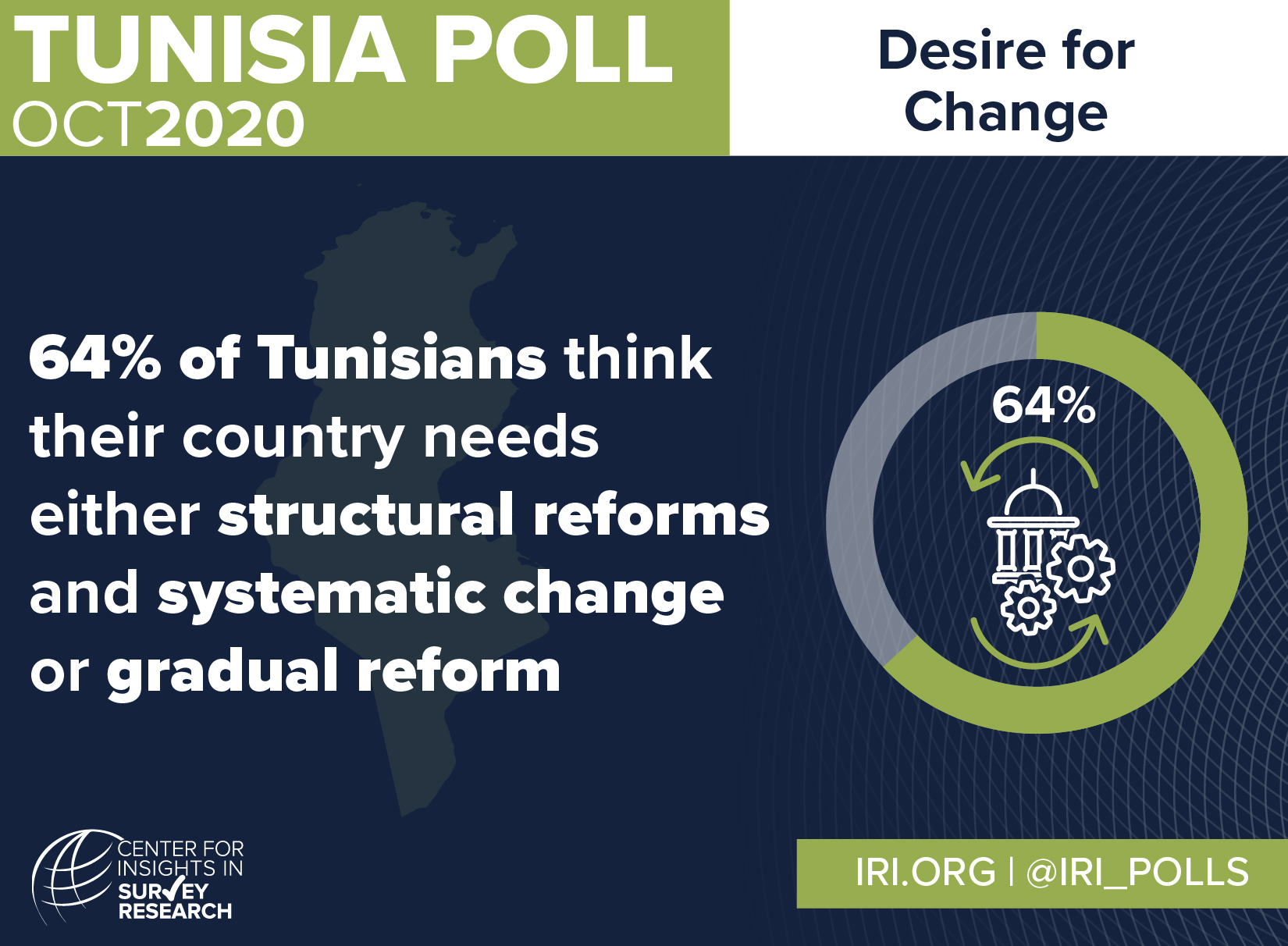 Given their frustration with the political class and the pace of reforms, 64 percent of Tunisians think their country needs either structural reforms and systematic change (42 percent) or gradual reforms (22 percent). Moreover, 53 percent of respondents want to see new political parties in future elections.
This survey was conducted on behalf of IRI's Center for Insights in Survey Research by ELKA Consulting between September 24 and October 11, 2020. Data was collected using a stratified multistage probability sampling method through in-person, in-home interviews. The sample consists of 1,200 respondents aged 18 and older, and the data was weighted for region, gender and age. The margin of error does not exceed plus or minus 2.8 percent at the 95 percent confidence level, and the response rate was 70 percent.
Top