Moldova: First Poll Since Government Dissolution Indicates Confidence in Democracy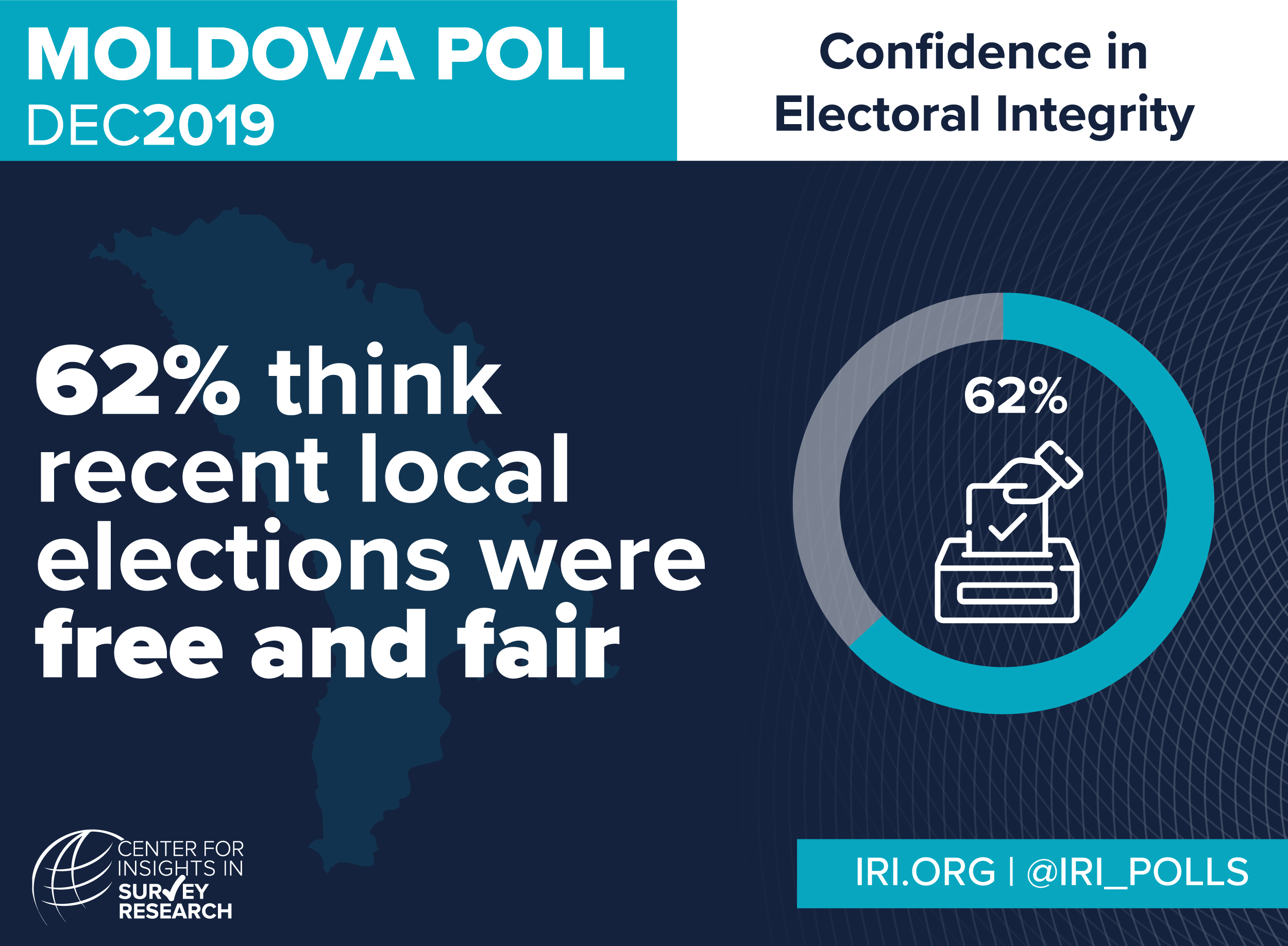 Chișinău, Moldova— A new poll by the International Republican Institute's (IRI) Center for Insights in Survey Research (CISR) indicates improved confidence in Moldovan democracy but persistent economic anxiety. The survey was conducted following the dissolution of Moldova's government in November 2019 and the president's subsequent appointment of a new government.
"Despite the governing coalition's collapse, Moldovans are increasingly optimistic about political institutions and the integrity of local elections," said IRI Regional Director for Eurasia Stephen Nix. "However, concerns over issues such as jobs and the cost of living suggest that the new government must prioritize economic improvements if it is to retain the confidence of the public."
Positive views of Moldova's public institutions—including the parliament and local authorities—both improved by 11 points since IRI's last poll (up from 19 and 51 percent respectively). Confidence in the credibility of local elections is also high, with 62 percent of Moldovans saying the October 2019 elections were "definitely" or "probably" free and fair.
Economic issues top the list of priorities that respondents would like to see the government address: low income (30 percent), unemployment (28 percent) and pensions (18 percent). Dissatisfaction with the economy appears to be linked to emigration, as 51 percent Moldovans report that they would "definitely" or "probably" go abroad if given the opportunity. Fifty-seven percent of those willing to emigrate cite the poor economic outlook and 23 percent name the lack of job opportunities as motivations for emigration.
The poll also shows a more positive perception of the relationship between Moldova and the United States since IRI's last poll. Fifty-six percent of Moldovans consider U.S.-Moldovan relations to be "good", compared to just 39 percent in IRI's June 2019 poll. Perceptions of Moldova's relationship with Europe also improved, with a 14 point increase in those who see relations with the European Union (EU) as "good." This development corresponds with the continued interest in EU integration amongst Moldovans (56 percent "strongly" or "somewhat supporting").
The survey was conducted by Magenta Consulting on behalf of the International Republican Institute. The data was collected throughout Moldova (with the exception of Transnistria) between November 16 and December 9, 2019 through face-to-face interviews at respondents' homes. The sample consisted of n=1,204 permanent residents of Moldova aged 18 and older and eligible to vote. It was weighted to be representative of the general population of Moldova by age and gender. The margin of error does not exceed plus or minus 2.8 percent. The response rate was 62 percent.
Top