Moldova Poll: Public Satisfaction Plummets as Concerns Over Economy and Corruption Persist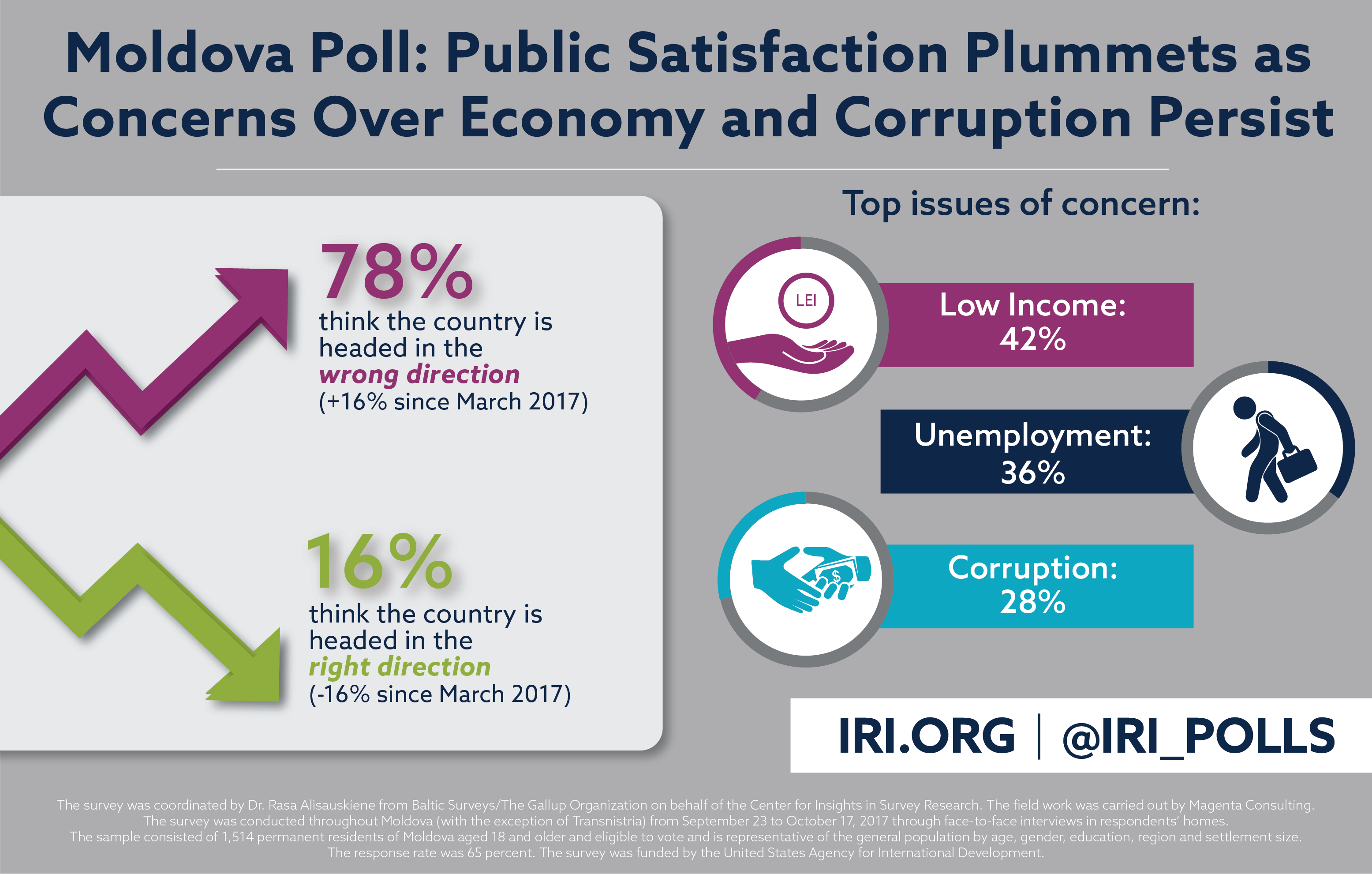 Chisinau, Moldova—A new poll by the International Republican Institute's (IRI) Center for Insights in Survey Research reveals a sharp rise in pessimism over the country's trajectory and continued concerns over the state of the economy and corruption.
"The dramatic increase in the number of Moldovans who feel the country is headed in the wrong direction indicates that the optimism that followed the November 2016 presidential election has soured," said IRI Regional Director for Eurasia Stephen Nix. "Clearly, the high level of anxiety over the flagging economy and rampant corruption requires a meaningful response from the government."
Seventy-eight percent of Moldovans think that the country is headed in the wrong direction—a 16-point increase from March 2017. Likewise, the proportion of Moldovans who think that the country is headed in the right direction declined from 32 percent in March to just 16 percent.
According to the poll, the top three issues of concern to Moldovans are low income/pensions (42 percent), unemployment (36 percent) and corruption (28 percent). Eighty-five percent of respondents describe corruption as a "very big problem," and think that corruption is "most present" within the parliament and among public servants (doctors, teachers, police) (30 percent and 22 percent).
The survey suggests that support for EU membership continues to rise and is particularly strong among young people. Nearly half (49 percent) would join the European Union in a choice between the EU and the Eurasian Customs Union—a seven-point increase from March 2017. The level of support leaps to 65 percent among Moldovans between the ages of 18 and 29.
"The heightened appetite for EU membership—particularly among young Moldovans—should be interpreted as a signal that citizens increasingly favor a more European-oriented approach to the economy," said Stephen Nix. "This presents an opportunity for the government to engage with Moldovan youth and offers insight into the direction of citizen priorities."
Methodology
The survey was coordinated by Dr. Rasa Alisauskiene from Baltic Surveys/The Gallup Organization on behalf of the Center for Insights in Survey Research. The field work was carried out by Magenta Consulting. The survey was conducted throughout Moldova (with the exception of Transnistria) from September 23 to October 17, 2017 through face-to-face interviews in respondents' homes. The sample consisted of 1,514 permanent residents of Moldova aged 18 and older and eligible to vote and is representative of the general population by age, gender, education, region and settlement size. The response rate was 65 percent. Charts and graphs may not add up to 100 percent due to rounding. The survey was funded by the United States Agency for International Development.
Top