New Data from Ukraine Highlights Higher Levels of Economic, Security Anxiety in Cities Near Occupied Donbas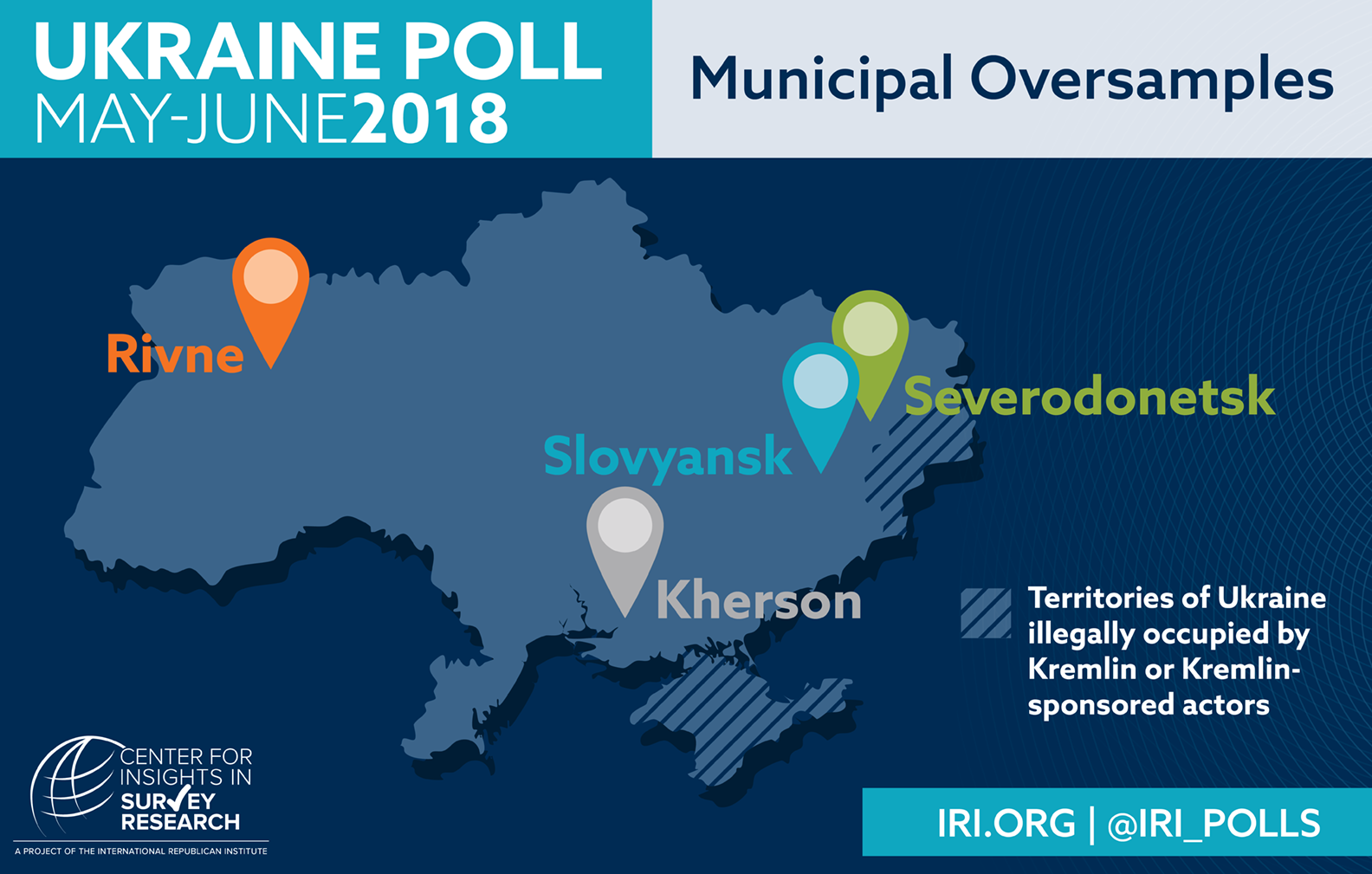 The International Republican Institute (IRI) continues to work with local communities across Ukraine to strengthen the bonds between civil society and government so that they can collaboratively address issues of importance to citizens. As part of this effort, IRI's Center for Insights in Survey Research employs data to help local stakeholders understand the priorities and needs of local residents and better respond to their demands.
IRI's most recent public survey in Ukraine included oversamples in the four cities where it is implementing the USAID-funded "Ukraine Responsive and Accountable Politics (U-RAP)" project, an-in-depth governance program that brings together civic activists, public officials and political parties to jointly address areas of political and policy concern. IRI's 2018 cities are Rivne, Rivne oblast; Kherson, Kherson oblast; Severodonetsk, Luhansk oblast; and Slovyansk, Donetsk oblast.
The concerns expressed in IRI's latest national poll are even more pronounced in the cities closest to the line of contact in Ukraine's war-torn Donbas region. For instance, while a combined 34 percent of respondents nationwide said they either understood or somewhat understood the healthcare reforms led by Acting Minister of Healthcare Ulana Suprun, only 25 percent of respondents in Slovyansk said they understood the reforms, and just 20 percent in Severodonetsk reported that they understand the reforms. (Slide 51). This lack of understanding could be easily exploited by Kremlin-affiliated or anti-Kyiv-government disinformation campaigns. It could also further alienate Donbas residents from national authorities.
Residents in the eastern cities were adamant that ending the war in the Donbas would increase their trust in the authorities. Nationally, 71 percent of respondents named the war as a major problem and claimed that its resolution would lead to an increase in trust. In Slovyansk and Severodonetsk, 77 percent and 83 percent respectively said ending the war would increase trust in authorities (Slides 27-29).
The poll also shows higher levels of economic anxiety in the Donbas. Sixty-two percent of respondents in Slovyansk and 74 percent of respondents in Severodonetsk said that the economic situation of their household has worsened or somewhat worsened in the past 12 months—compared to the 49 percent nationally who report a decline in the economic well-being of their household (slide 7).
IRI will continue to work with local stakeholders in these communities so that concerns of citizens are communicated and resolutions to these problems are discussed in an open, accountable manner.
Top