Nigerian Voters Demonstrate Commitment to Process, Election Day Logistics Need Improvement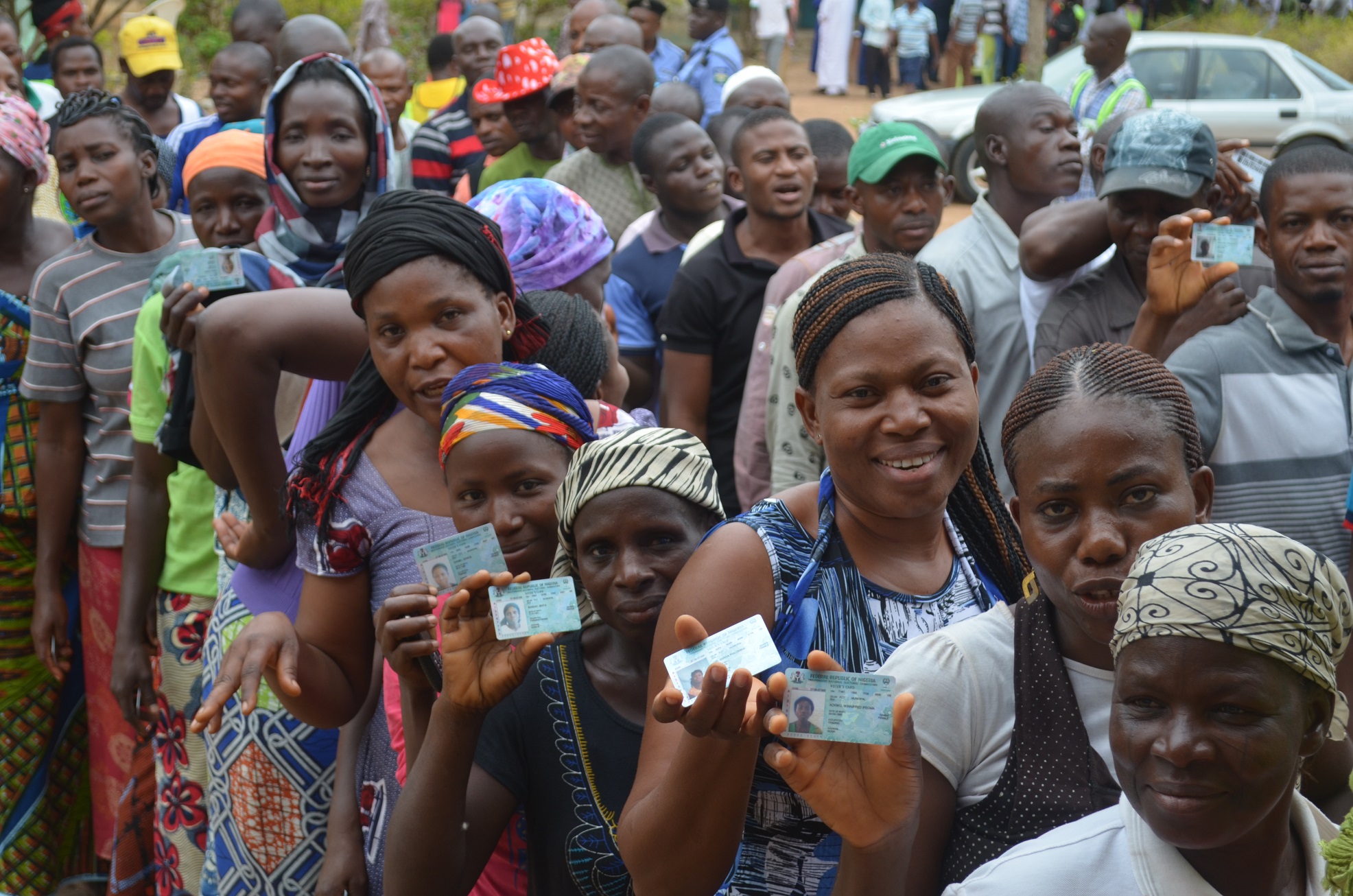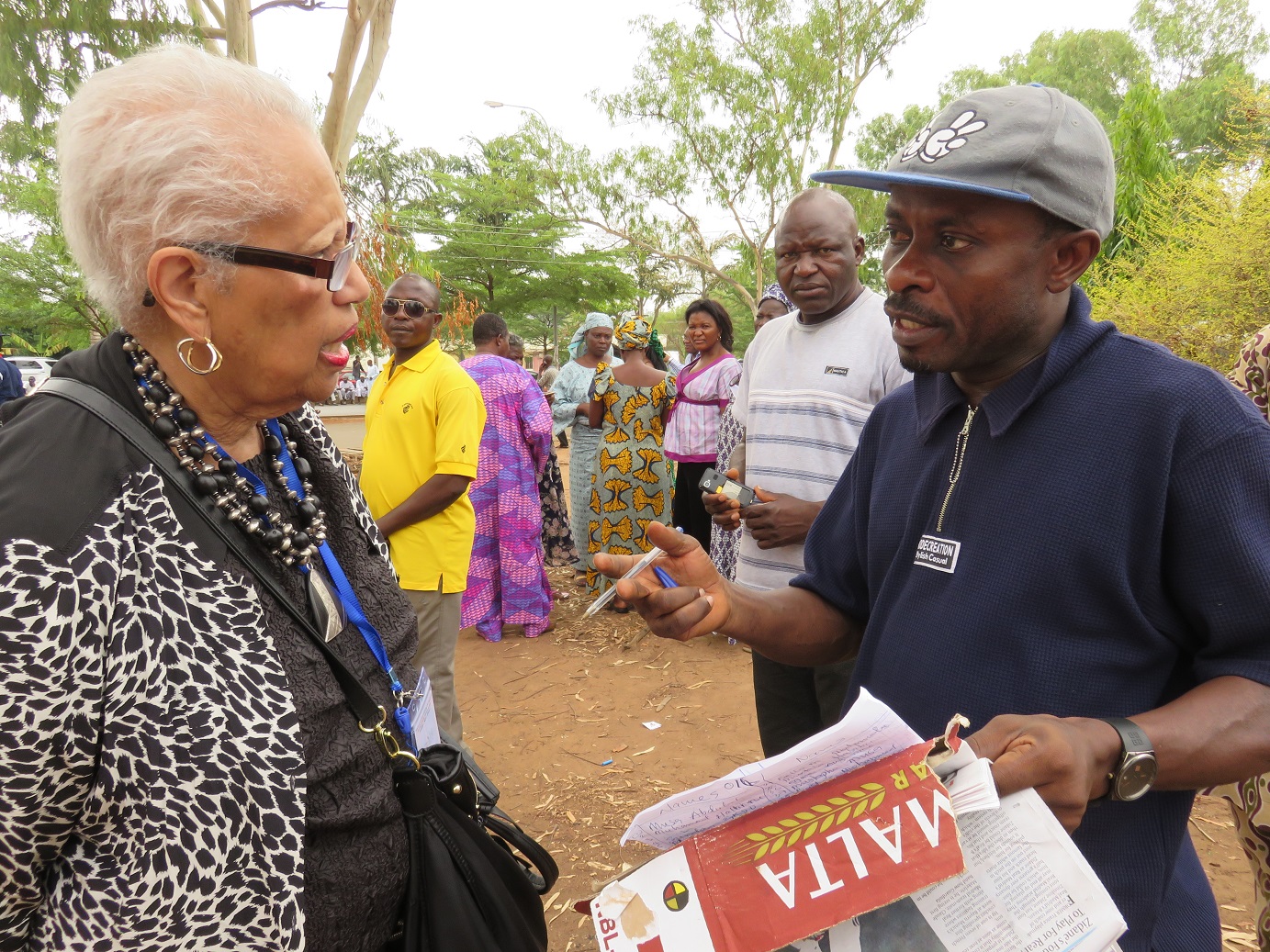 Abuja, Nigeria – On March 29, Nigerian citizens completed voting for president after what was the closest electoral contest since the country's post-1999 transition to multi-party democracy.  The process was defined by the introduction of new technology to combat voter fraud, including a permanent voter card (PVC) and card reader to accredit voters.  And while there were some flaws in the system, IRI's delegation observed a transparent voting process, with Nigerian citizens protecting their voting mandate. 
"While IRI's delegation witnessed some shortcomings in the procedures, such as hours-long delays, overall, delegates praised the determination of Nigerian voters to see the process through to the end, even if it meant returning to their polling units the next day to complete the voting process," said Constance Newman, the leader of IRI's delegation.
Although Election Day is over, the process is not yet complete – collation of results continues and the country will go to the polls again on April 11 to elect state assemblies and governors in many states. For these reasons, it is incumbent upon all Nigerians to remain peaceful and for the country's political leaders to do everything they can to ensure their supporters accept the results and pursue their grievances through legal means, never through violence. As the process moves forward, through IRI's office in Abuja, staff will continue observing and reporting on the post-election period and the upcoming elections.
"The success or failure of these elections will impact not only Nigeria, but the region and the world," said Thomas E. Garrett, co-leader of IRI's delegation. "As the most populous and richest country in western Africa, people here and in the international community are looking to Nigeria as a role model for successful democratic transition and a peaceful election will be critical to achieving that success."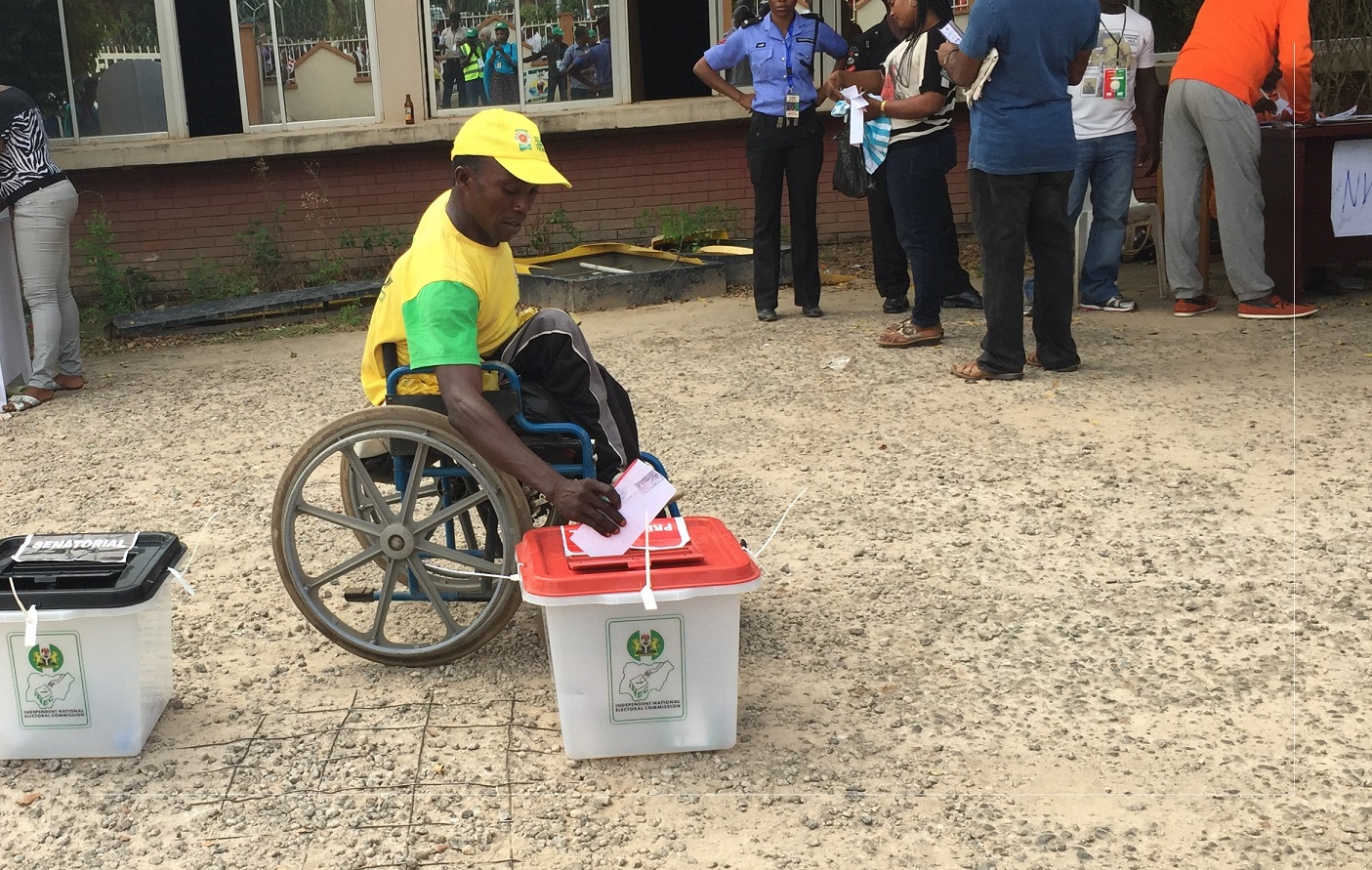 IRI's teams, which covered Nigeria's six geopolitical zones – observing in Adamawa, Anambra, Cross River, Ekiti, Kaduna, Kogi, Rivers, Sokoto and the Federal Capital Territory – saw voters waiting in line for accreditation and balloting, and remaining at their polling units to watch their votes being counted. Throughout the day, voters were clearly concerned about making the process work for everyone.
Across the country, IRI teams saw Nigerians helping each other at polling units – letting the elderly, women with children and people with disabilities move immediately to the front of the lines. During vote counting, citizens were given full access to observe the process and when expected procedures and timelines were not met, such as during morning delays in the delivery of voting materials, Nigerians took it upon themselves to self-organize, reflecting a resilient, determined spirit to make this election process a viable one.
Regrettably, there were reports of isolated incidences of violence, in some cases extreme, including reports of two people killed in Rivers State and others reportedly killed by Boko Haram militants in three northeastern states.
"However, the people of Nigeria are to be commended for their courage and commitment to express their choices despite the security challenges, and for their efforts before the election to promote messages of peace and nonviolence, including during the campaign, on Election Day and most importantly after final results are announced," said Newman. "The efforts around the National Peace Committee and the Abuja Accords, and among Nigeria's religious leaders, are testimony to the commitment of the vast majority of Nigerian citizens to see a peaceful electoral process in their country."
Overall, the delegation saw some improvement in the Independent National Electoral Commission's (INEC) administration of the electoral process since the 2011 elections, including completing and implementing a new strategic communications plan and gender policy, and, most significantly, introducing new technology in an effort to bring greater transparency to the process. However, election officials at the state level were extremely late in delivering sensitive voting materials to many polling units on the morning of March 28, which resulted in delays in the entire accreditation, polling and counting process. In addition, there was little to no communication from election officials as to what caused the delay and what was being done to address it. The lack of communication exacerbated the frustrations voters felt as they waited, often for hours, for polling units to open. Although voters showed tremendous patience, this is something that must be addressed prior to the April 11 elections.
To strengthen voter confidence in the process, INEC introduced PVCs with a voter's biometric data to replace the former, paper card. In addition, an electronic card reader was introduced to confirm voter identity and help eliminate voter fraud. While the card reader had mixed results, in this first usage, these two innovations do address many of the voter fraud issues that have been a concern in past elections.
To ensure the success of the card readers in future elections, it is apparent that INEC needs to strengthen its training for polling officers. While some officers were able to operate the card readers effectively, others had difficulty. At many polling units, the officers' unfamiliarity with operating the card readers led to significant delays in accrediting waiting voters, and thus affected the timeliness of the entire process. Delegates observed that some card readers did not register a voter's fingerprints, a requirement for full accreditation, and some polling officers were unsure of backup procedures if the card readers failed. While the card readers worked in a majority of polling units, a small minority experienced malfunctions which caused voting to be extended to a second day, as allowable under Nigerian election procedures.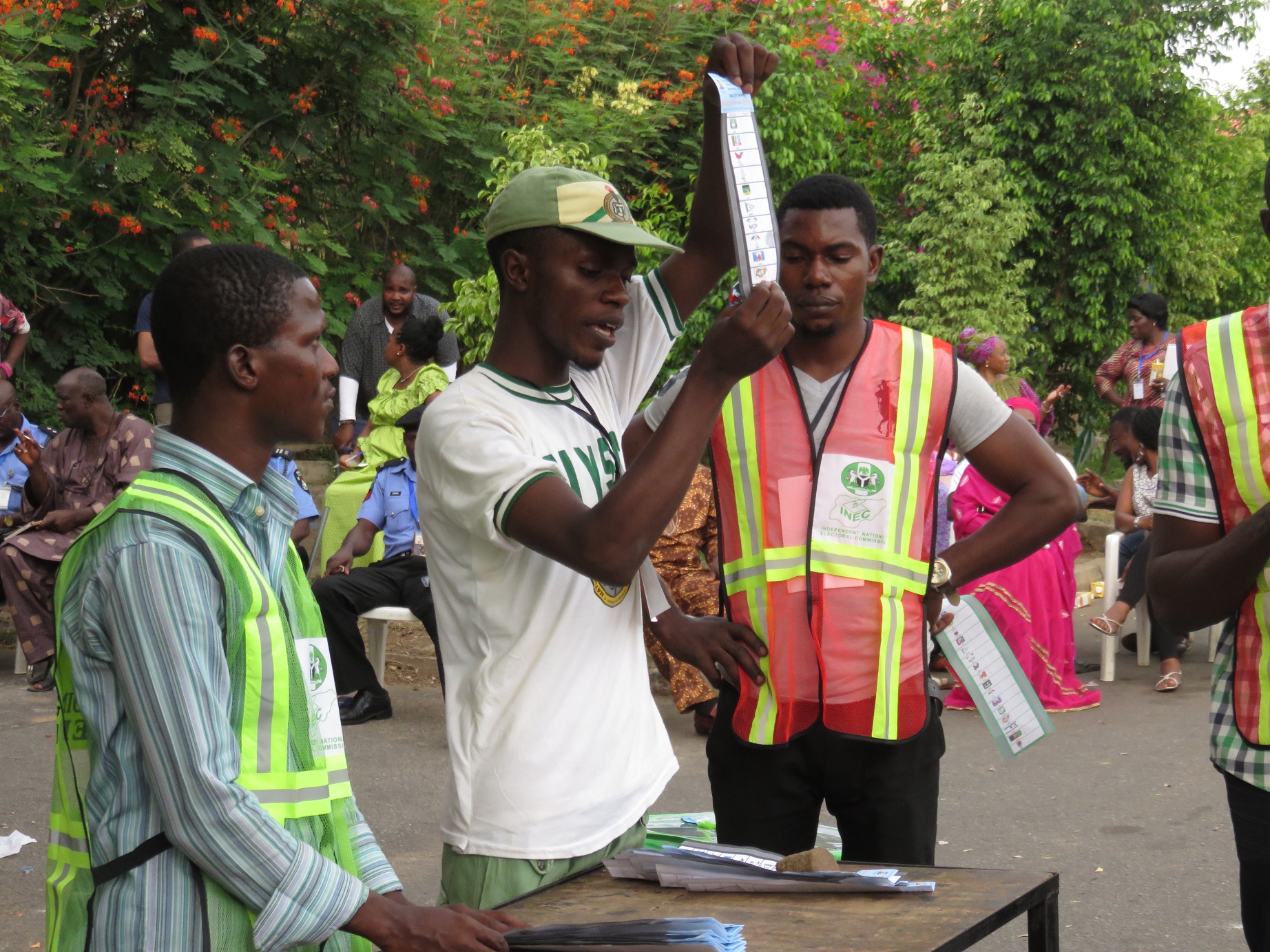 Not only are the voters to be commended for their role in the process, but the efforts of the Nigerian Youth Service Corps (NYSC) should also be recognized for the way this newest generation of Nigerian democrats carried out a very difficult job, staffing more than 150,000 polling units and voting points across the country. Not only were they dedicated and patient, as in the 2011 elections, the members of NYSC proved themselves to be professional and committed to Nigeria's democratic process. Their commitment was particularly notable given the loss of life the corps suffered in election related violence in 2011.
Another aspect of the election that deserves praise is the role the police and military played in ensuring security on Election Day. While civil society, voters and the media raised important questions about the role police and military would play and concerns about the potential for intimidation, in the end, observers did not witness this. Furthermore, after long delays at polling units when tensions were high, police played a critical role in maintaining calm and order. By-and-large, Nigerians remained peaceful throughout the process and IRI's delegation has the expectation that support for nonviolence will carry through the announcement of final results and the April 11 elections.
The delegation's findings are further informed by IRI's Election Snapshot, which measures the delegation's finding in nine categories: electoral laws, guidelines and processes; electoral environment; voter empowerment; freedom to campaign; women and youth participation; freedom to participate; Election Day logistics; and, counting and tabulation process.
The Snapshot measures each category against a set of indicators and criteria, many based on observations from Election Day and provides a quick analysis of the overall election process. Specifically for the March 28-29 elections, the Snapshot reflects a need to better address the adjudication process and logistics, and positive results on issues related to transparency and citizen participation in the electoral process.
IRI has observed 204 elections worldwide, including Nigeria's 1999, 2003, 2007 and 2011 elections. Leading the Institute's delegation was Constance Berry Newman, member of IRI's Board of Directors, former assistant secretary of state for African affairs and former U.S. Agency for International Development assistant administrator for Africa; and Thomas E. Garrett, IRI's vice president of programs.
Other delegates who observed the election were:
Karin Alexander, of Zimbabwe, noted author and African expert specializing in democratization, governance and conflict management;
Worku Gachou, professional staff member-majority overseeing the African affairs portfolio for the U.S. House Foreign Affairs Committee

;  

Doug Heye, communications consultant and deputy chief of staff for communications for then-House Majority Leader Eric Cantor;
Djingarey Maiga, of Mali, head of Women and Human Rights and a member of the Women's Democracy Network

;

Peter Manu, of Ghana, pconsultant and former nc;
Okumu Ronald Reagan, member of the Ugandan Parliament;
W. Douglas Smith, program officer at the U.S. Institute of Peace

;

Gretchen Birkle, director of Africa programs at IRI; and
Robina Namusisi, of Uganda, director of IRI's Nigeria program.
This election observation mission follows IRI's January 2015 pre-election assessment mission, which was conducted along with the National Democratic Institute.
In addition to its pre-election assessment, its election observation mission and the Election Snapshot, IRI also supported local monitoring efforts through its work with the Nigerian Women's Trust Fund, a local civil society group that is monitoring gender participation in the elections. Through this effort, and its endorsement of the Declaration of Global Principles for Non-Partisan Election Observation and Monitoring by Citizen Organizations, IRI recognizes the important role citizen observers play in ensuring transparent, open elections. In cooperation with Nigerian political parties, IRI trained more than 14,000 political party polling agents to observe Election Day activities.
IRI's observation mission, which followed the Declaration of Principles for International Election Observers, was funded by the U.S. Department of State's Bureau for Democracy, Human Rights and Labor.
###
Top