Tunisia: Poll Reveals Economic Dissatisfaction, but Reduced Pessimism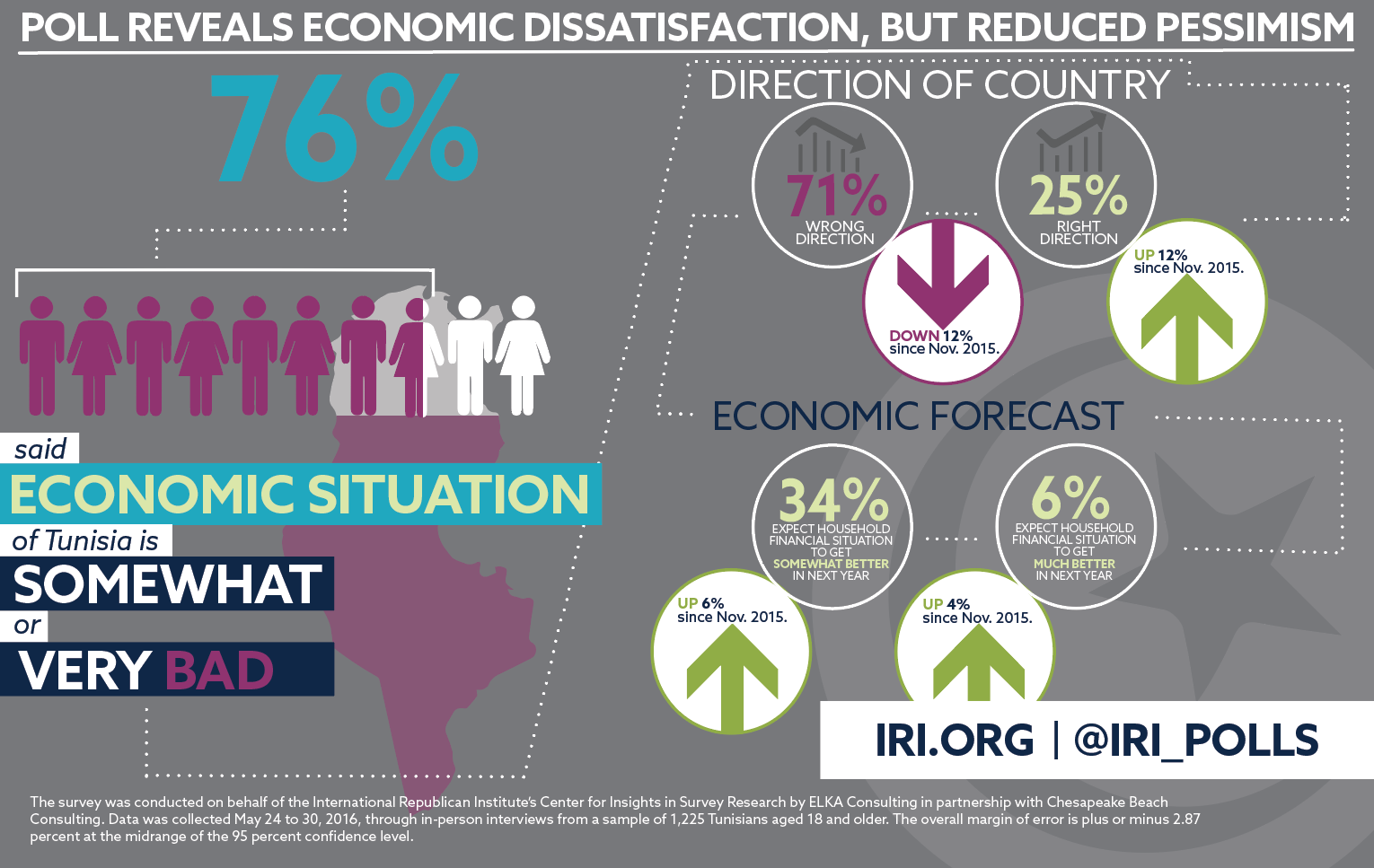 Tunis, Tunisia—A nationwide survey of public opinion in Tunisia by IRI indicates persistent dissatisfaction with the economy and increasing awareness of corruption. The poll reveals a stable perception of the country's democratic development, and a more optimistic outlook on the country's future.
"Though not as pessimistic as previous polls, this survey reinforces the need for meaningful economic reforms in Tunisia," said Scott Mastic, IRI Regional Director, Middle East and North Africa. "Since the Jasmine Revolution in 2011, corruption has remained a consistent cause of frustration for Tunisians. If the government is to consolidate democratic gains, it must be responsive to these concerns by implementing measures to undercut corruption and improve economic conditions."
Seventy-six percent described the economic situation as either "somewhat" or "very" bad. Respondents reported that the top priority for the government should be unemployment (33 percent), followed by security (17 percent). When asked for specific recommendations for government policies to address the country's problems, 40 percent believe reducing corruption should be a key priority—a six percent increase from November 2015.
While 71 percent of survey respondents said the country is going in the wrong direction, that figure has dropped since last fall, when it reached a high of 83 percent. The number of people who said that the country is headed in the right direction rose to 25 percent from a low of 13 percent in November 2015. Although views of the government's performance improved, only 42 percent describe it as "somewhat good."
Perceptions of democracy in Tunisia continue to be positive. A majority of those surveyed (61 percent) affirmed that they are "somewhat satisfied" with democracy in Tunisia at present, and 53 percent endorsed the view that democracy is preferable to any other kind of government, the highest number yet seen in an IRI survey.
Methodology
The survey was conducted on behalf of the International Republican Institute's Center for Insights in Survey Research by ELKA Consulting in partnership with Chesapeake Beach Consulting. Data was collected May 24 to 30, 2016, through in-person interviews from a sample of 1,225 Tunisians aged 18 and older. The overall margin of error is plus or minus 2.87 percent at the midrange of the 95 percent confidence level.
Survey participants were selected proportionate to population sample distribution based on three stages: a proportional division among Tunisia's 24 governorates, proportional division of urban and rural categories and proportional division by gender and age group according to the most up-to-date data from Tunisia's National Statistics Institute collected in 2014. The sample was then post-weighted to make it proportionate to national representation by province.
Top