Tunisians Believe Country Is Headed in Wrong Direction; Pessimistic on Economy, Concerned over Terrorism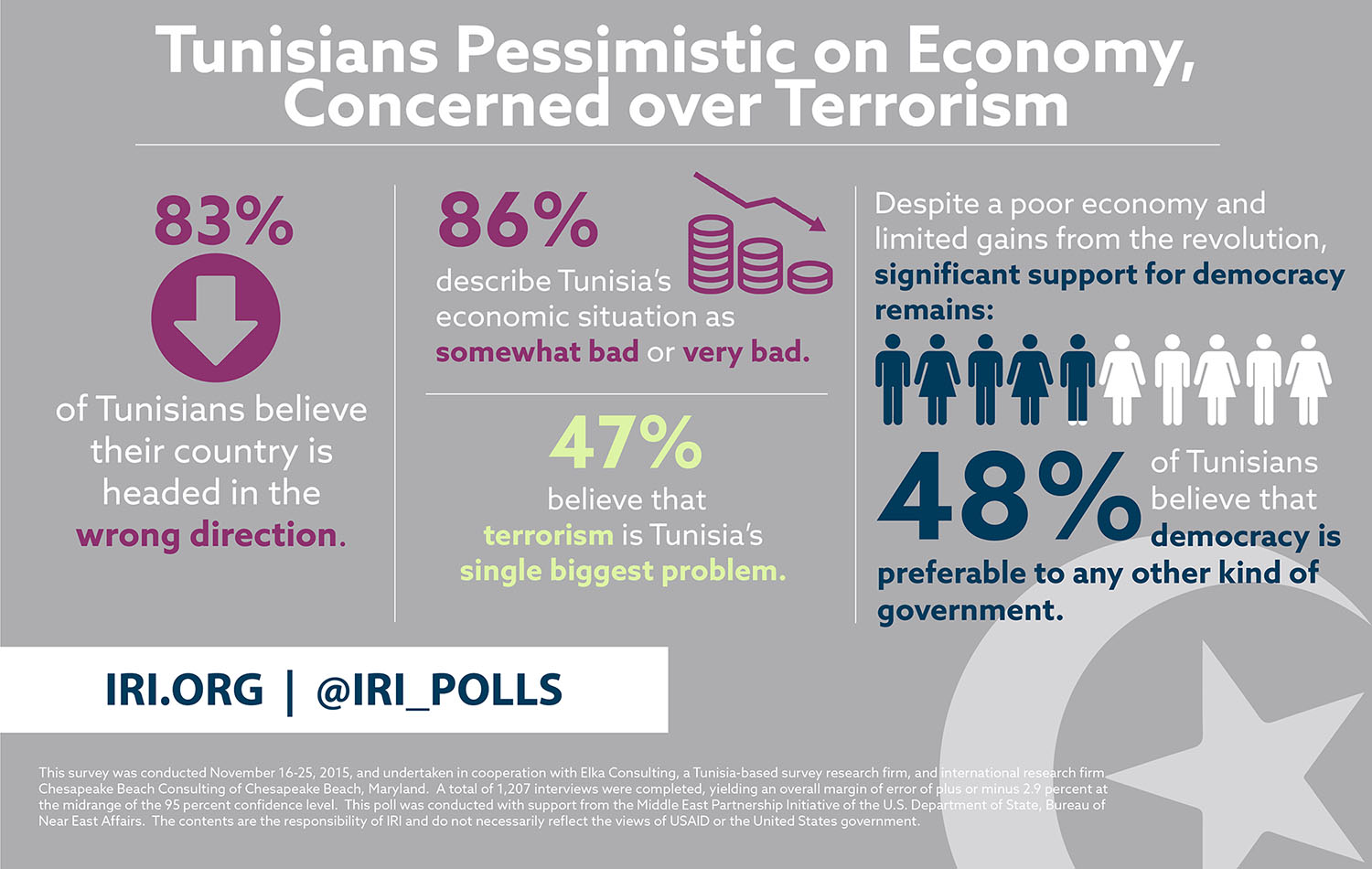 Tunis, Tunisia – A new poll released today by IRI Center for Insights in Survey Research found that pessimism regarding the economy has reached its highest point since Tunisia's democratic transition began in 2011. With continued economic stagnation and terrorism weighing heavily on the public, 83 percent of respondents believe Tunisia is headed in the wrong direction.
Tunisians' Frustration Peaks amid Economic Stagnation
With few tangible economic improvements, 86 percent of those polled rate the economy as bad or somewhat bad. Only 36 percent have a favorable opinion of government performance, with 1 percent highly favorable. Tunisians' pessimism about future economic growth is also at its highest since IRI polling began in 2011, with only 30 percent believing their economic situation will improve in the next year.
Tunisians continue to believe job creation should be the government's top priority, followed by improved living standards and the development of the interior and southern regions. Thirty-four percent of Tunisians believe that the government should reduce corruption to fund spending on its policy priorities, followed by reforms that promote entrepreneurship and the expansion of the private sector. When asked to select the best policy measure to improve the economy, 75 percent of respondents selected facilitating the start of new businesses and allowing small businesses to reach new markets.
Concerns Rise about Recent Terrorist Attacks
"The challenges the government faces in improving the economy are made greater by the public's current worry about terrorism," said Scott Mastic, director of Middle East and North Africa programs at IRI.
Since the two terrorist attacks on Tunisian soil in the past year and the attack in Paris*, Tunisians are increasingly mindful of the threat posed by violent extremism. Forty-seven percent feel that it is the number one problem facing Tunisia as a whole, the first time in IRI's polls that terrorism has overtaken the economy as Tunisians' first concern.
Support for Democracy Is Mixed
Nearly one year into the government's tenure, 62 percent of Tunisians are dissatisfied with the performance of the government. However, Tunisians have not yet lost faith in their newfound democracy; there remains significant support for a democratic system of government.
Reflective of overall pessimistic feeling throughout the country, 33 percent feel that Tunisia is not a democracy. Also, limited economic opportunities and a fluid security situation make 56 percent feel prosperity is somewhat more important than democracy. Yet there remains support for a democratic form of government. Forty-eight percent believe democracy is preferable to any other kind of government, despite frustration with the transition.
"The issues of economic opportunity and support for democracy go hand in hand. Tunisia's ability to implement reforms, increase growth and create jobs, allowing citizens to experience the dividends of democratic governance, is paramount," said Mastic.
Methodology
This is the fifteenth poll IRI has conducted in Tunisia since January 2011, the eleventh since national constituent assembly elections on October 23, 2011 and the second since the 2014 parliamentary and presidential elections. The survey, conducted November 16-25, 2015, was undertaken in cooperation with Elka Consulting, a Tunisia-based survey research firm, and international research firm Chesapeake Beach Consulting of Chesapeake Beach, Maryland. A total of 1,207 interviews were completed, yielding an overall margin of error of plus or minus 2.9 percent at the midrange of the 95 percent confidence level. This poll was conducted with support from the Middle East Partnership Initiative of the U.S. Department of State, Bureau of Near East Affairs.
The Center for Insights in Survey Research builds on IRI's two decades of experience in public opinion research and leverages traditional public opinion research and analysis and new methods to help political parties become more responsive to voters, assist elected officials at all levels of government in improving services to citizens, and foster greater participation by underrepresented groups and by citizens generally in the political process.
*The bombing of the presidential guard bus in Tunis occurred after data collection was completed.
Top