Ilija Vojnovic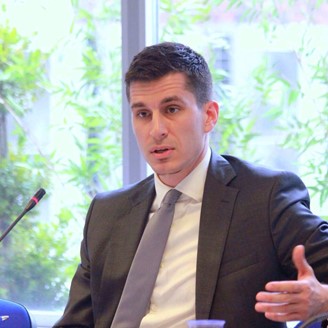 Ilija Vojnovic took over International Republican Institute's (IRI) Resident Program Director position in Turkey in 2015. He is in charge of drafting and overseeing the programs of enhancing political competition, research, and promoting policy-oriented politics in the country. IRI's program in Turkey largely focuses on assisting multi-party democratic actors in their data-driven policy development and advocacy efforts, youth political empowerment, and policy and public opinion research.
Prior to his assignment in Turkey, Ilija worked on support to political parties and government institutions in his native Serbia and the Western Balkans, in the areas of good governance and policy development.
Ilija is a part of the founding team of the first fact-check website in the Balkans, Istinomer (www.istinomer.rs). Istinomer (Serbian for Truth-o-Meter) quickly gained strong credibility and public recognition, and now employs dozens of researchers, journalists and activists who represent the most prominent fact-checking authorities in Serbia. Ilija also serves on the Administrative Board of the Centre for Research, Transparency and Accountability (CRTA) which oversees the work of Istinomer and a number of other civil society projects.
Prior to his arrival to IRI, Ilija worked as a reporter for the national TV station in Serbia, B92.
Top