The International Republican Institute (IRI) Moldova hosted its first youth conference in the capital of Moldova on October 22 and 23, drawing more than 120 youth participants and political leaders together to engage in dialogue about the country's democratic future and the role of youth in it.
The Moldova Youth Forum, co-organized by IRI and the Konrad-Adenauer-Stiftung, with assistance from USAID and the EU Delegation in Moldova, featured panels focusing on issues concerning young people, how they can be involved in politics, civil society, and community service, and what opportunities could exist within Moldova. Youth participants posed several questions to elected leaders and traded ideas about the best path forward for the country.
"Youth should participate in democracy," said Krzysztof Lisek, IRI's country program director. "This is exactly why we decided to organize this forum as a place of debate between young people but also between young people and their party, political, and government leaders."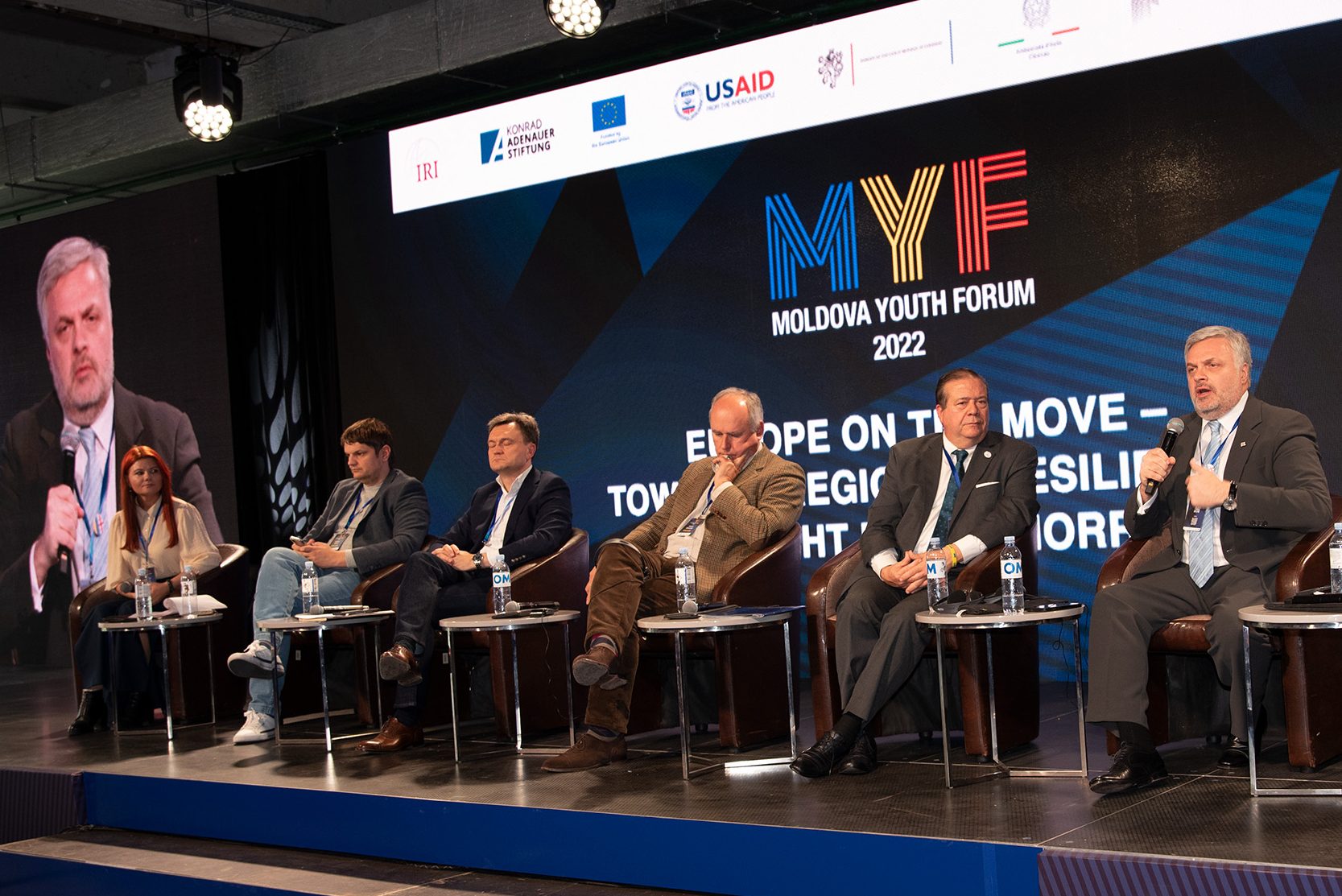 Leaders present at the conference included President Maia Sandu, Prime Minister Natalia Gavrilița, President of Parliament Igor Grosu, Chisinau Mayor Ion Ceban, and international figures such as Polish MP Pawel Zalewski, former Polish Prime Minister Jan Krzysztof Bielecki, and the US, Italian, and EU ambassadors to Moldova. Also among the speakers were Member of European Parliament Siegfried Muresan, former Georgia Deputy Prime Minister Giorgi Baramidze, and Elmar Brok, Vice President of Centrist Democrat International.
The conference both fulfills and reflects a demand for youth to get more involved, as seen in a recent IRI poll. 70% of young people surveyed said they were interested in community service and 20% suggested they are somewhat or very likely to run for office by the age of 35. A majority of youth polled, however, indicated they had never engaged in political activities, such as joining a political organization (96%), participating in a protest (88%), or contacting a political official (87%).
This forum provided an opportunity to not only change this but create a channel between political leaders and youth and highlight prospective areas of change. Areas of particular concern involving youth were the quality of education, why they should stay in Moldova, the need for young people with integrity to work in government, and ongoing security issues.
The program, while large in scale, was also one of many IRI programs in Moldova seeking to include more young people in democratic politics. For example, IRI works with the Generation Democracy Network and European Democracy Youth Network (EDYN). It also routinely hosts capacity building workshops for youth organizations and trainings for young government staffers, providing more opportunities to make a difference in their country.
We want to motivate youth for a greater role in the building of democracy in Moldova today.

Stephen Nix, Senior Director of IRI's Eurasia division
"Our goal is greater youth involvement whether that's in politics or in government or civil society activity," said Stephen Nix, Senior Director of IRI's Eurasia division. "We want to motivate youth for a greater role in the building of democracy in Moldova today."
IRI Moldova expects to host another youth forum in 2023.
Related Content
Moldova holds competitive elections, and the rights of free assembly, expression, and religion are protected. Pervasive corruption and a weak rule of law remain concerns. But drawing on the vast Moldovan diaspora, IRI Moldova seeks to highlight the talents, resources, and knowledge of the people to build a more transparent, inclusive, and citizen-focused political culture.
Top