IRI's Center for Insights Poll: Mongolia Faces Rising Pessimism Amid Struggling Economy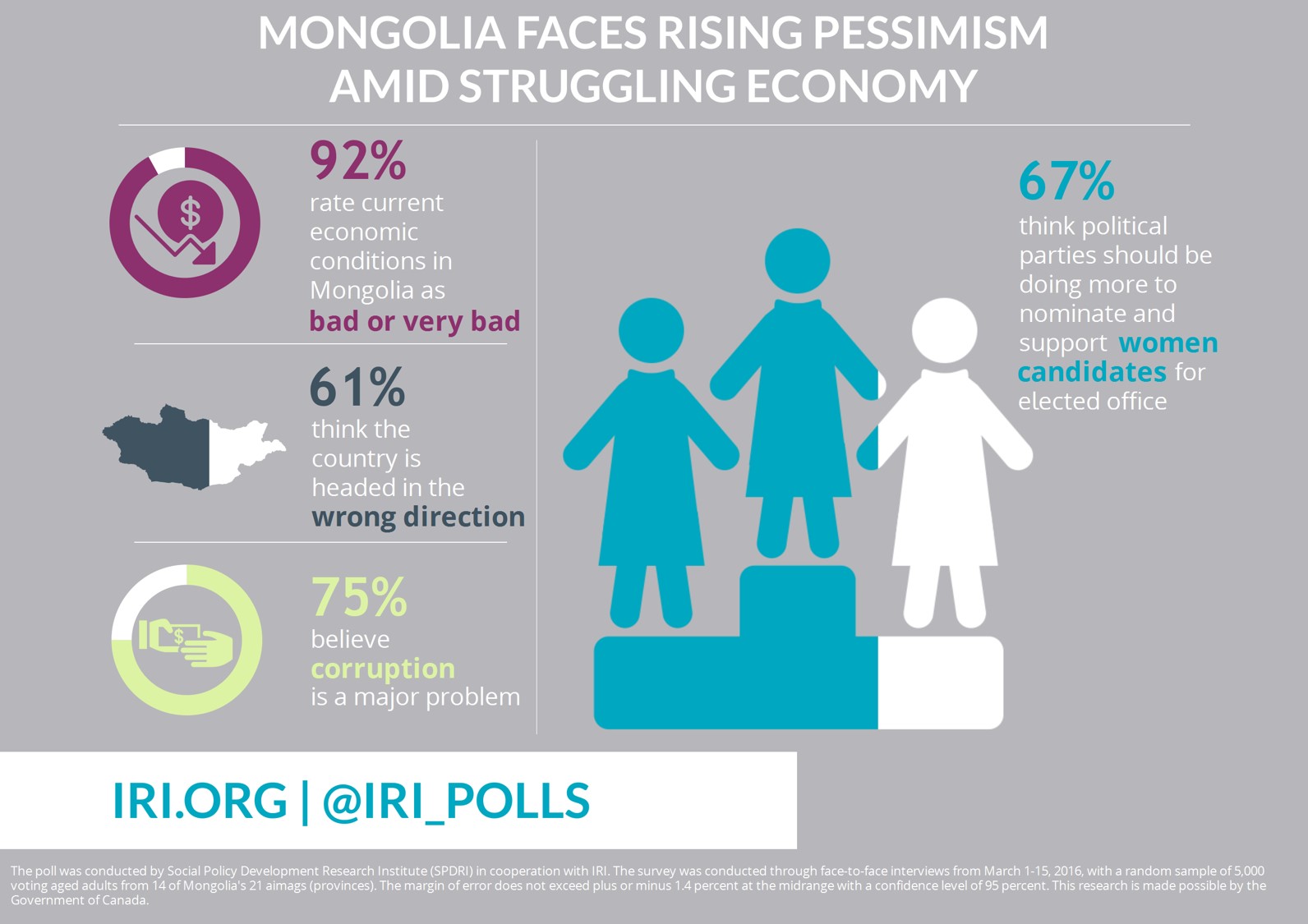 Ulaanbaatar, Mongolia—According to a new poll released today by IRI's Center for Insights in Survey Research, most Mongolians are feeling pessimistic about their country due to a mix of high unemployment, rising prices and corruption.
According to the poll, 61 percent of those surveyed say Mongolia is headed in the "wrong direction" – up 23 percentage points since 2011 – and 92 percent rate the country's economic situation as bad or very bad. Fifty-six percent say their personal economic situation has deteriorated in the last year and 48 percent say unemployment is the most important issue facing the country.
"Mongolia's economic struggles are clearly taking a toll on the people," said Derek Luyten, IRI's Regional Director for Asia. "Mongolians are struggling to find work and with the perceived high level of corruption, it's not surprising they're frustrated."
An overwhelming 83 percent of respondents rate the current government's performance as poor or very poor. Moreover, 75 percent say corruption is a major problem in Mongolia and one that the government isn't doing enough to address. Meanwhile, 15 percent of those surveyed say a political party has offered them a bribe in exchange for their support.
Even still, a majority of Mongolians continue to believe political parties should promote a stable, long-term and functioning government and want parties to remain active following the country's upcoming elections. According to the poll, one potential way Mongolia's political parties could improve would be to increase women's political inclusion. Sixty percent of Mongolians say politicians don't listen to the needs and ideas of women and two-thirds say the country's political parties should do more to promote women in political leadership.
Methodology
The survey was conducted in 13 of Mongolia's 21 aimags (provinces) and capital Ulaanbaatar from March 1-15, 2016. The national survey had a randomly selected sample of 5,000 residents of Mongolia age 18 and older and eligible to vote. The margin of error does not exceed plus or minus 1.4 percent and the response rate was 95.24 percent.
The survey, funded by Global Affairs Canada, was conducted by Social Policy Development Research Institute under the supervision of the International Republican Institute.
###
Top