New Burma Poll: Public Satisfied with the Country's Direction, Supports Further Political Reform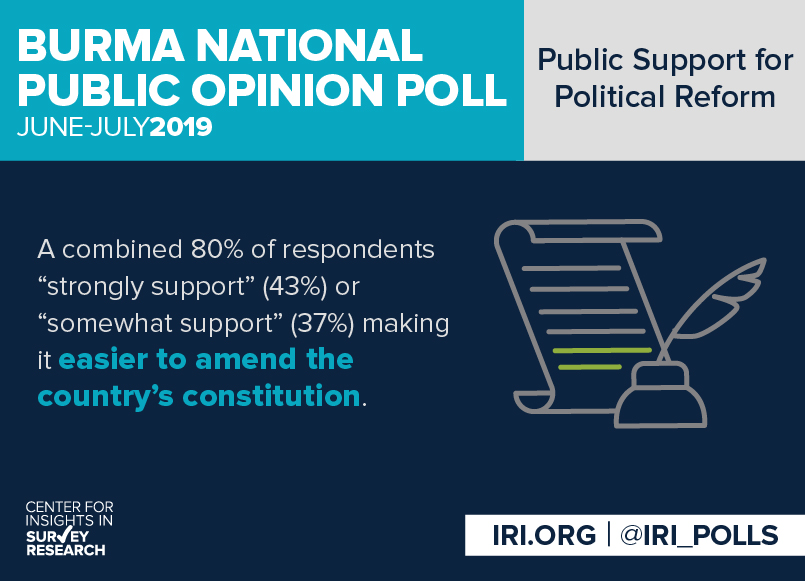 Yangon, Burma — A new nationwide poll by the International Republican Institute's (IRI) Center for Insights in Survey Research shows public satisfaction with Burma's current direction and support for further political reform, but heightened concerns over illicit drug use, the cost of living, and crime.
Seventy-seven percent of respondents felt that the country is headed in the right direction, consistent with IRI's April 2017 findings, but an 11-point reduction from February 2014.
"Throughout the ongoing political transition, the people of Burma have had a positive outlook about the country's direction. At the same time, they are concerned about a number of issues that are important for the government to address," said Rhonda Mays, IRI's regional deputy director for Asia.
Illicit drug use was most frequently rated as a "serious" problem by respondents in all 14 states/regions surveyed — ranging from 77 percent of respondents in Chin to 96 percent in Mandalay. Corruption and crime were the other two problems most frequently rated as "serious." There were notable state/regional differences when it came to problems such as land grabbing and ethnic conflict.
The poll showed strong public support for continued political reform. A combined 80 percent of respondents "strongly support" (43 percent) or "somewhat support" (37 percent) making it easier to amend the country's constitution. A combined 51 percent "strongly support" (28 percent) or "somewhat support" (23 percent) support states/regions having more control over their natural resources.
"This poll speaks to the desire of the people of Burma for far-reaching political reform. The country's leadership has a unique opportunity to undertake a number of changes to better represent all of Burma's people," said Mays.
Download the full poll in English and Burmese.
Methodology
Data was collected between June 19 and July 14, 2019 by Myanmar Survey Research (MSR) under the supervision of the International Republican Institute. A multi-stage sampling approach was designed to yield a nationally representative sample of the population aged 18 and older. Less populous states/regions were allocated booster samples to allow for analysis by state level. Each state/region had a minimum of n=200 interviews. The total sample size was n=4,030. Multiple townships in the Rakhine, Shan and Kachin states were excluded from the sample due to ongoing conflict. The margin of error is plus or minus 1.5 percentage points for national level analysis. The overall response rate for this study is 63 percent. Data and bases cited in the poll presentation are weighed for state/region, urban/rural, gender, age and education.
Top