WASHINGTON, D.C. – As the political and humanitarian crisis in Venezuela continues, more than 3.8 million refugees and migrants have fled dire food insecurity, hyperinflation, a collapsing healthcare system and widespread violence. Many of them have crossed over into neighboring Colombia — the country now hosts over 1.2 million Venezuelan migrants and refugees. While Colombia's welcoming response has been laudable, the societal and economic shocks accompanying this unprecedented migration inflow, combined with Colombia's own internal pressures, threaten to destabilize the country.  
Local governance institutions are already undertaking the delicate task of implementing the peace process that ended the country's 52-year armed conflict and are dealing with threats from armed groups and drugs. Now, they also find themselves on the frontlines of both the impacts of and responses to unparalleled migration from Venezuela. For example, already-stretched health and other service providers are being pushed to the breaking point as they address Venezuelans with complex health cases as well as overcrowded and under-staffed schools.
In an effort to better understand how the Venezuelan migration crisis is straining local and national governance institutions in Colombia, the International Republican Institute (IRI) designed and commissioned qualitative research in the city of Cali, Colombia, and the Colombian border town of Villa del Rosario. Through focus group discussions (FGDs) and in-depth interviews (IDIs) with Venezuelan migrants and Colombian residents and government and civil society representatives, this report identifies major gaps in the Colombian government's response to the Venezuelan migrant crisis, especially with regard to local-level implementation.
Shortcomings in effective migration management could have significant long-term implications as the flows from Venezuela continue unabated. Tensions appear to be growing between the Venezuelan migrant populations and their Colombian host communities, and societal stability is being put to test. And while assistance has flooded in to address desperately needed humanitarian measures, steps must be taken to consider the long-term, strategic impacts of the crisis and protect democratic governance in order to secure Colombia's stability. With the aid of public opinion research such as this report, IRI will continue to work with local stakeholders to strengthen community cohesion and local government capacity to ensure that Colombia continues on its path to democratic consolidation.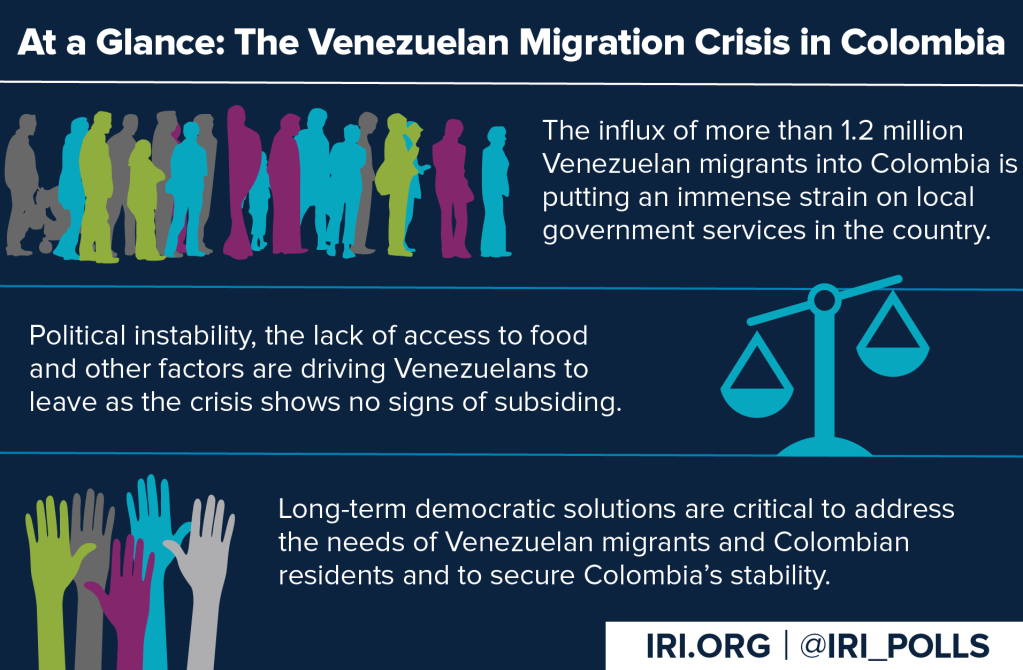 On behalf of IRI's Center for Survey Research, the Centro Nacional de Consultoría (CNC) facilitated FGDs from January to February 2019 with Venezuelan migrants and Colombian residents from Cali and Villa del Rosario. Ensuring anonymity, CNC also conducted 10 IDIs with government and NGO representatives to analyze their understanding of the situation, and to examine needs and gaps in the existing response. IRI sought to understand a diversity of perspectives, including Afro-Latino and indigenous populations. Findings from these FGDs and IDIs do not necessarily represent the opinions of all Venezuelan migrants in Colombia and Colombian residents. Moreover, they are a snapshot in time.
This research is made possible by the generous support of the National Endowment for Democracy (NED). The opinions expressed herein are those of the author(s) and do not necessarily reflect the views of the NED or the United States Government.
Top